Sydney, 5 September, 2019 – Organic media can often outperform paid media – and marketers run the risk of spending more than they need to on their paid media programs if they don't understand how organic (owned) media is performing across multiple channels.
Digivizer has made it easy to know exactly how organic media is performing, adding new features to its social and digital analytics platform to help marketers measure and compare the performance of their organic content.
For Facebook Pages and Instagram Business accounts, Digivizer now measures impressions, reach, video views, engagement rates and click-through rates. Digivizer has offered these performance measurements for LinkedIn Business Pages for some time.
Marketers can also sort by best-performing content against all these measures across Facebook, Instagram, LinkedIn and Twitter. And they can compare performance visually across multiple channels by simply selecting the dates and the metric they wish to consider – to see what post is driving the best performance against each brand, consideration or conversion objective.
Influencers can also be invited to share the performance of their content every time they post, using a brand's handle or hashtag, using Digivizer.
"Being able to measure the performance of organic media objectively is particularly valuable for global brands where organic media is key to engaging audiences from multiple countries," says Emma Lo Russo, CEO and co-founder of Digivizer. "Organic content is a key validation point for customers choosing to buy. It demonstrates a brand's understanding of their audience, it shows how authentic they are in managing conversations, and how timely, interested and up-to-date they are in engaging with their customers. Being able to easily and objectively measure organic content performance helps brands determine where to deploy additional paid budget, and create trust by building active communities.
"It also helps demonstrate the power of comparing impressions, reach, video views and click-throughs across channels and media. Great digital marketers will be able to separate emotion from real data insights – and focus on improving their reach, engagement, conversion and influence."
Digivizer offers a range of plans that scale depending on the number of users, the number of connected account paid search accounts, and the number of influencers and hashtags being tracked. The Digivizer Starter Plan costs US$89 per month, with all plans offering 30 days of immediate data across all paid, owned and earned, and an additional 30 days free.
Media assets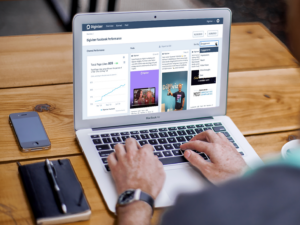 Picture supplied, Digivizer. Marketers can measure the performance of their organic digital and social media programs relative to earned and paid media
About Digivizer
Digivizer was founded in 2010. Digivizer helps businesses understand and get more from their digital investment by helping them measure their digital performance across owned, earned and paid media, and to easily identify what is working for them. Digivizer is a technology partner of Google, LinkedIn, Twitter, Facebook and Instagram, using formally-negotiated API agreements and user permissions to access data. Go to digivizer.com.
ENDS
Digivizer is at:
Twitter: https://twitter.com/Digivizer
Facebook: https://www.facebook.com/Digivizer
LinkedIn: https://au.linkedin.com/company/digivizer
Instagram: https://www.instagram.com/Digivizer
Web: www.digivizer.com
For more information: Alan Smith, Head of Strategic Business Communications, Digivizer.
Phone: +61 404 432 700. Email: [email protected]. Twitter: @alansmithoz