Build and share stunning reports
Create fully customized reports, and export them easily for your team, manager and stakeholders. Make social and web reporting a breeze with streamlined data, flexible filters and enhanced visuals.
Already using Digivizer? Login.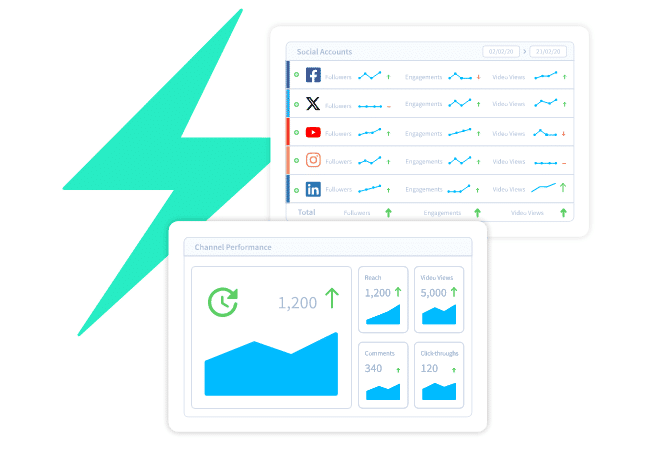 Digivizer is uniquely built to aggregate real-time data from all major social platforms and Ad Managers, plus Google Ads and Google Analytics. With data pulled daily via custom API's, you can compare any period and make quick decisions based on accurate data.
Make data-driven decisions with confidence
Easily customise and compare any period to benchmark performance on the metrics that matter to your business. Save hours of manual work dipping into multiple analytics platforms by consolidating all your account's performance metrics in just a few clicks.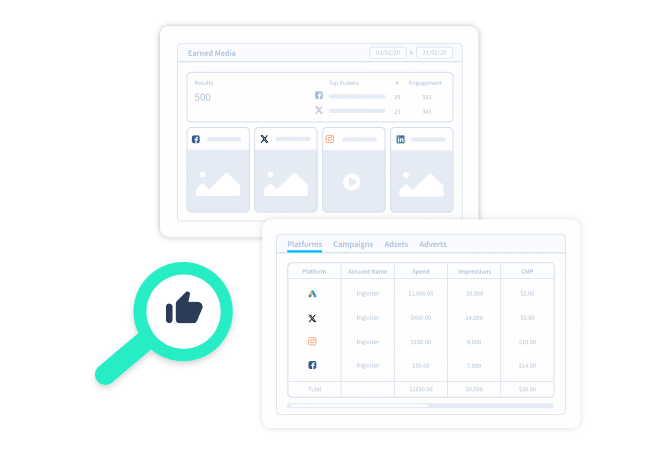 Weekly and monthly insights
Get snapshots of your progress
Never miss a win, with automated weekly and monthly performance reports delivered to your inbox. 'Digivizer Express' keeps your team across drops and spikes in engagement, traffic and even revenue, so you know where you stand and keep driving toward your goals.
Bring your reports to life
Cut through the noise with a lively display of visual highlights. Incorporate post content and creative alongside key metrics to show off dynamic campaign achievements. Present interactive graphs online from Digivizer's platform or export images into your reports.
Unleash Your Marketing Potential with Digivizer
Harness actionable insights from all your web, social, search, organic, earned and paid media. No complex setups or extravagant costs – just immediate, straightforward clarity.