We bring brands and customers together in real-time
Creating real connection through data insights
People buy from people. They buy not only great products and services, but stories, connections and magic. At Digivizer, we believe our hyper-connected, mobile-first world is brimming with opportunities for brands to engage and grow loyal customers. And nowhere more so than via social, search and web media. Our platform combines smart analytics, listening, influencer and insights reporting solutions across organic, earned and paid media, enabling businesses of all sizes to be more authentic, customer-focused and empathetic to create the delight, connections and better conversion journeys that propel business growth.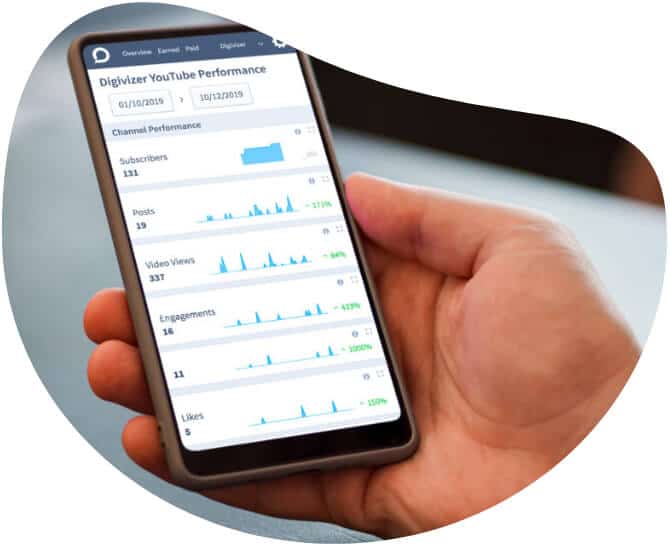 "It's our mission to help any business anywhere get the most out of their investment in digital marketing"
Emma Lo Russo, CEO and Co-Founder, Digivizer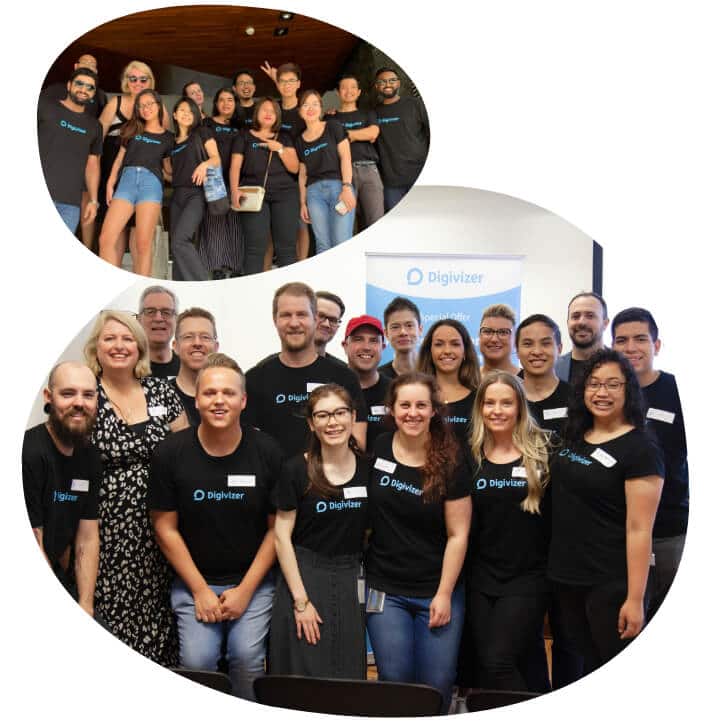 One diverse and driven team
We're a diverse team of 55 people living and working in 10 countries around the world. Embracing innovative tech and new challenges is in our DNA. Anchored by a strong leadership team, we're made up of passionate specialists in analytics, engineering, product development, digital strategy, content and creative, community management, influencer engagement and paid-performance optimization. We are champions of our customers and each other.
From Sydney to San Francisco
Digivizer serves hundreds of customers from North America, to EMEA and throughout 14 Asian countries, of all sizes from large corporates with global requirements, to smaller businesses. We are headquartered in Sydney, Australia.
Championing innovation and infinite learning
We define success not just by dollars, but also by the happiness of our customers and our personal growth and team collaboration along the way. Our core values remain constant and inform how we make decisions, how we interact with each other, who we hire and how we respond to challenges.
Software built for connection
Our real-time data analytics software and insights make it easy for any business to measure and maximise organic and paid social and web performance.
social posts analysed for our SaaS customers
social, paid and web analytics accounts monitored
paid digital marketing spend through our platform
Services powered by data and creativity
We offer agency services, delivering high performing content and creative, taking advantage of Digivizer's technology and data-driven insights, for organizations seeking added-value consulting and delivery.
2023 Digivizer placed as a top-5 global martech solution and a Judges' Pick for Product Innovation in the TMW 100 Awards
2023 Appointment to Financy Advisory Board
2022 Accepted into Austrade US Landing Pad Program
2022 Finalist NSW Premier's Export Awards
2021 ARN Innovation Awards for Management Excellence (Partner)
2021 ARN Women in ICT Awards (WIICTA) – Entrepreneur
2020 Financial Times FT500 High Growth Companies in Asia Pacific
2020 Finalist IT Journalism Awards
2019 ACS Thought Leader Award & Finalist in NSW Business Chamber Business Awards for Excellence in Innovation
2018 CXO Disruptors Award Winner
2018 23rd in the Financial Times' FT1000 High Growth Companies in Asia Pacific 
2017 & 2018  BigInsights Data Innovation Awards – Best Customer Insights & Best Data Analytics Application
2017, 2016 & 2015 Deloitte Technology Fast 50 
2017 SmartCompany Top 50
2017 NSW Tech Entrepreneur 2017 Awards, Pearcey Foundation – Emma Lo Russo
2015 Selected for Heads Over Heels Portfolio 
2014 Carnegie's Den Winner
We're excited for what's to come
When we started, social media was still vastly untouched, often mysterious. It's been quite a journey – one that continues…
Founded
Emma Lo Russo and Clinton Larson co-found Digivizer in Australia
Alliance with Deloitte
Digivizer and Deloitte sign an exclusive Strategic Alliance Agreement
Private investment
First round of private investment completed
Expansion into US, Asia and EMEA
Expansion of data and client engagement into US, Asia and EMEA. Digivizer supports enterprise clients in 14 countries
SaaS product early beta program
Early beta allows users to register and input to platform
Official launch of SaaS platform
Real time social analytics available to any business
Digivizer partners with LinkedIn Marketing Solutions to add Pages & Paid Media Analytics to its platform
Digivizer adds Paid Advertising Strategy & Support for all businesses
Digivizer joins Shopify Partner Program
Digivizer adds YouTube viewing and completion metrics, video views for all social platforms
Creative performance analytics added across all major social media platforms
Digivizer adds real-time ROAS measurement
Launch of Masters of Metrics podcast
Traffic Source strips out platform biases, adds impartial performance data
New round of funding completed
Amazon Ads added to platform
TikTok Ads added to platform
Microsoft Ads added to platform
Launch of Digivizer Free Plan
Enhanced Reporting Capabilities added to platform
GA4 Support added to platform
LinkedIn Marketing Agency (first Australian Company to be awarded)
Launched easy, affordable, accessible Search Query Tracking to Digivizer platform
Humbled by the recognition
These awards – for data insights, analytics, growth and tech innovation – reflect our commitment to serving our customers.
The Martech Weekly 100 Awards - 2023
Judges' Pick: "high calibre of excellence and unique innovation"

2018 ACS Digital Disruptors
CXO Disruptor of the Year

2018 Financial Times
1000 High Growth Companies

2018 BigInsights Data Innovation Awards
Best Customer Insights Application

2017 Deloitte Technology
Fast 50

2017 SmartCompany
Top 50

2017 Pearcy Foundation
NSW Tech Entrepreneur Award

2017 BigInsights Data Innovation Awards
Best Customer Insights Application

2017 BigInsights Data Innovation Awards
Best Technology

2014 M.H. Carnegie & Co.
Carnegie's Den
Got a burning question or want to show us some love? We can't wait to hear from you. Reach out to us on any channel. Follow us to stay connected with #TeamDigi.