Sydney, 26 September 2022: TikTok organic content is about new types of conversations, and TikTok users – over 1 billion of them – prefer brands that understand how to create entertaining content for the platform.
This is something that brands are still learning, made more difficult by often not understanding how content on TikTok performs compared to other social media or search platforms.
Digivizer has now added performance of organic TikTok content to its analytics platform, alongside TikTok Ads launched in February, that will help brands decide  when – and how – to use TikTok. 
TikTok organic content performance for brands and influencers
"Digivizer makes the lives of brands, businesses, influencers and creators easier by giving them the information they need about the performance of their content, whether it's organic, earned or paid, across multiple social, search and web platforms," says Emma Lo Russo, CEO and co-founder of Digivizer.
"Adding TikTok Organic to our platform helps brands in particular compare organic performance against their paid TikTok activity, and against every other social media or digital platform they deploy in their marketing programs.  
"When working with brands we see TikTok is reaching and engaging new audiences faster and at greater scale than in other platforms. Knowing how organic TikTok content performs is therefore important. Even Meta itself admits this: recent internal documents from Meta show that daily viewer figures of Instagram reels are just 8% of TikTok's.
"But it goes beyond comparing Reach, Views or Engagement across platforms, important as these are. Brands want to analyze how different types of content perform. Does user-generated story-telling beat corporate videos? Is humor appropriate? What content actually leads to sales?
"Every brand is different, and they are all chasing the same customers. Knowing where to deploy resources is the difference between creating new communities and staying relevant, or losing them perhaps forever. On digital marketing investment, it's the difference between spending budget effectively on content, on engaging others to produce content, putting it into paid media, or wasting it."
Analyzing TikTok performance is also important for influencers, many of whom use organic content exclusively. 
"I work with a number of brands personally as a gaming creator as well as in leading brand activations engaging other creators," says gamer Jack Huddo, also Head of goto.game, Digivizer's sister company. "Knowing that my personal TikTok views consistently grow and outperform other platforms gives me greater confidence about where to spend my time creating and publishing content. TikTok really finds your audience fast, but I also have to know how it compares across all my channels, to see which content is performing for me."  
TikTok was the most downloaded app of 2021, with 656 million downloads and over 1 billion users now on TikTok. With younger audiences – the employees and buyers of the future – TikTok has now surpassed Instagram for popularity (source: Insider Intelligence). Among Gen Z users (born between 1997 and 2012) in the United States, TikTok has 37.3 million compared to Instagram's 33.3 million, and is set to have more users than Snapchat in 2023.
TikTok Organic is available as part of all Digivizer monthly plans, from US$89 per month.
ENDS
Media assets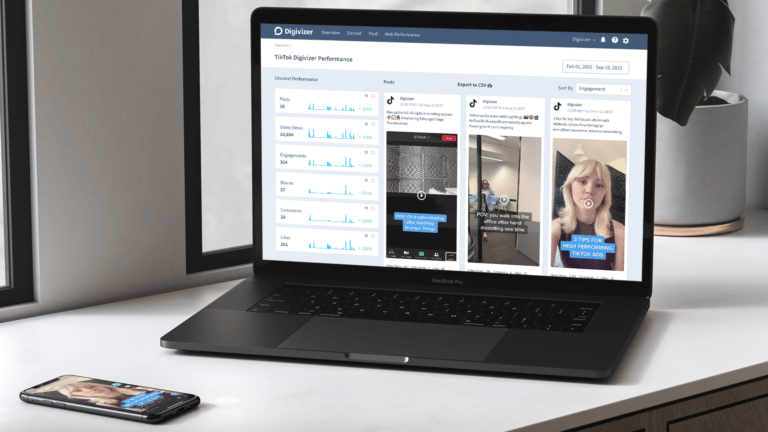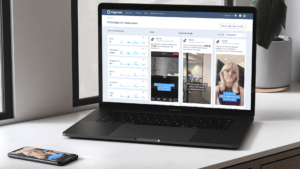 Digivizer has added TikTok Organic to its real-time digital sales performance insights platform, following the launch of TikTok Ads in February 2022. Digital marketers can view and compare the performance of  organic TikTok content alongside content served and budgets spent on other social media, search channels and web performance: Amazon Ads, TikTok Ads, Google Ads, Microsoft Ads, Facebook, Instagram, YouTube, LinkedIn, Twitter and Google Analytics. Picture: Digivizer.
About Digivizer
Digivizer, founded in 2010, is Australia's leading digital marketing analytics technology and activations company. Its digital insights help businesses get better results from their digital sales, across owned, earned and paid media, in social, search and web performance. Digivizer gives businesses the information they need to make better decisions and improve their marketing ROI. 
Digivizer's digital insights are available through a Software as a Service (SaaS) platform affordable to any business, and through add-on digital marketing services. Platforms on Digivizer include Facebook, Instagram, Twitter, LinkedIn, TikTok, YouTube, Microsoft Ads, Amazon Ads, Google and web.
Digivizer is an ad, development and technology partner of Facebook, Instagram, Twitter, LinkedIn,  and Google, and is a marketing and agency partner to Google, Facebook and Shopify. 
Contacts
Digivizer is at:
Twitter: https://twitter.com/Digivizer
Facebook: https://facebook.com/Digivizer
LinkedIn: https://au.linkedin.com/company/digivizer
Instagram: https://instagram.com/Digivizer/
YouTube: https://youtube.com/digivizer
TikTok: https://www.tiktok.com/@digivizer
Web: www.digivizer.com
For more information: Alan Smith, Head of Strategic Business Communications, Digivizer.
Phone: +61 404 432 700. Email: [email protected]. Twitter: @alansmithoz