On-line businesses can now measure digital sales performance in Amazon alongside social media, search media and web – quickly, easily, objectively
Sydney – 24 November 2021  – Digivizer has added Amazon Ads to its platform.
Businesses using Digivizer can now see at a glance the performance of paid media spend on Amazon and compare this with their investments in Facebook, Instagram, Twitter, LinkedIn, Google Ads, YouTube and their own website. 
Adding Amazon continues Digivizer's strategy of providing multi-channel insights across all digital sales and marketing channels, all within one platform. This makes it easy for marketers and business owners to investigate, measure and report on program performance. It also removes the biases and complexity common when seeking to understand and compare digital performance across multiple channels.
Emma Lo Russo, CEO and co-founder of Digivizer, said, "More businesses want to sell on Amazon. There are nearly 2 million SMBs selling on Amazon's marketplaces, and 92% of consumers are more likely to buy from Amazon than any other eCommerce company around the world. 
"At the same time, it's a competitive market. Amazon's ad revenue is now twice as big as Snap, Twitter, Roku and Pinterest combined. Consumer product marketers and consumer businesses want to know which of the ever-increasing digital channels available to them perform best.
"Adding Amazon Ads to our platform means that businesses can now measure how their investment on Amazon compares to other channels, and do so easily, quickly and simply. They can compare returns on advertising spend, or how expensive leads or sales have been, what the return on advertising spend is, and understand more about advertising content performance.
"And from there, they can make better decisions about how much to invest in their digital sales and marketing, and the channels to choose. Amazon in the mix  is particularly important to product marketers wanting to reach new markets and audiences"
Digital performance in one view, made simple and easy
The addition of Amazon to Digivizer is the latest move in the company's long-term objective to build the world's most-integrated digital sales performance software platform.
It follows the latest round of private investment funding, completed earlier in November. Digivizer is already discussing a new round with interested parties.
Businesses small and large seek to deploy their on-line sales and marketing budgets where they will perform best. To do that, they need the freedom to make those choices, and the insights needed to give them that freedom.
"Where businesses sell and market online, we will support them," said Emma lo Russo.
"Businesses of all sizes no longer accept complexity in understanding whether a program is performing. In seeking those insights, businesses also know that anything other than real-time is too slow. And that anything other than multi-platform is deficient, blinkered and prone to bias. 
"We're seeing tremendous validation for this approach. Boards and management teams want to know where budgets are being spent, spend only where they need to, and to work out where an increase in spend will deliver a quantifiable increase in returns."
The company's focus in the forthcoming months is to add new channels and reporting capabilities to its technology, and to grow its end-user base alongside its managed digital services business. Recent new Digivizer customers include Turboforte, Carsa, Nashtackle, Elvie, MoYou, Boost Lab Co, Eu Yan Sang and Dynabook.
ENDS
Media assets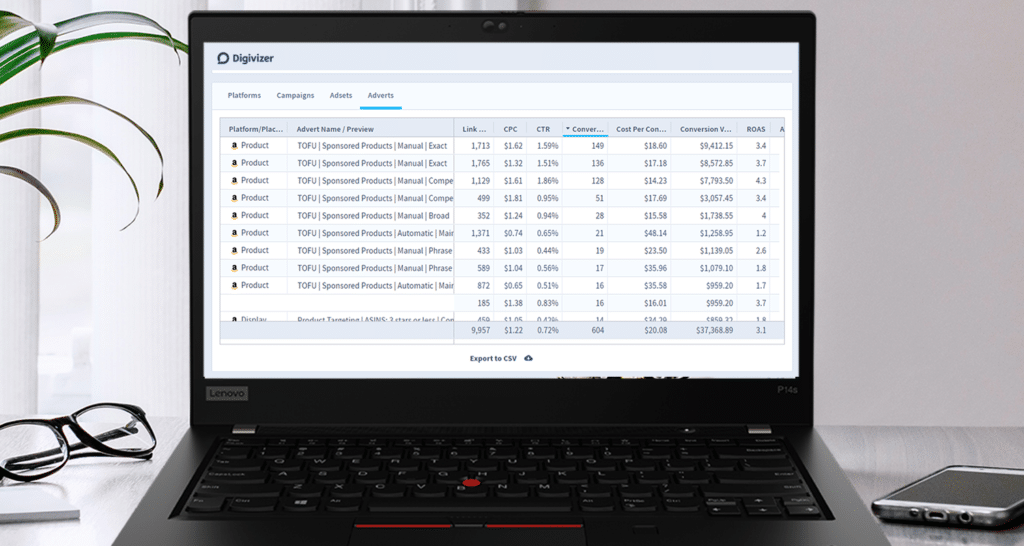 Adding Amazon continues Digivizer's strategy of providing multi-channel insights across all digital sales and marketing channels, all within one platform. Picture: Digivizer.
About Digivizer
Digivizer, founded in 2010, is Australia's leading digital marketing analytics technology and activations company. Its digital insights help businesses get better results from their digital sales, across owned, earned and paid media, in social, search and web performance. Digivizer gives businesses the information they need to make better decisions and improve their marketing ROI. 
Digivizer's digital insights are available through a Software as a Service (SaaS) platform affordable to any business, and through add-on digital marketing services. Platforms on Digivizer include Facebook, Instagram, Twitter, LinkedIn, YouTube, Amazon Ads, Google and web.
Digivizer is an ad, development and technology partner of Facebook, Instagram, Twitter, LinkedIn, and Google, and is a marketing and agency partner to Google, Facebook and Shopify.
Contacts
Digivizer is at:
Twitter: https://twitter.com/Digivizer
Facebook: https://facebook.com/Digivizer
LinkedIn: https://au.linkedin.com/company/digivizer
Instagram: https://instagram.com/Digivizer/
YouTube: https://youtube.com/digivizer
Web: www.digivizer.com
For more information: 
Alan Smith, Head of Strategic Business Communications, Digivizer.
Phone: +61 404 432 700. Email: [email protected]. Twitter: @alansmithoz