When you dive into search engine marketing (SEM), there are a lot of terms and acronyms to grasp. But in the end, it comes down to where your website shows up on a search engine results page (SERP), and whether you buy that ranking with paid tactics or optimize for it with organic or free tactics. That is, organic vs paid search marketing.
When it comes to what's better for your business and which path you should pursue, the answer is both. That's because your paid search ads will be far more successful paired with great organic optimization of your website (also known as SEO). Similarly, your organic optimization efforts will be aided by the insights your paid ads provide.
What is organic search marketing?
'Organic search marketing' is when your company invests in tactics to improve your website's natural rankings on SERPs. Search engines rank websites by relevance to the keyword typed into the search, so a lot of organic search marketing involves making sure your titles, tags, meta descriptions, URLs, keywords, and the content on your landing pages and blogs are all highly relevant to your potential customers. 
All of this effort has a name: SEO, search engine optimization. SEO is a long-term game that requires regular attention from the person maintaining your website. 
It can take a business six months or more to achieve front page rankings, and once you're there, continual upkeep is needed to ensure you stay there. But you could see earlier results in terms of increased traffic and customer interest from the day you start optimizing your website.
What is paid search marketing?
With paid search marketing, an advertiser essentially pays to purchase an immediate ranking on a results page, above the organic search results and other SERP elements like a featured snippet or a "people also ask" section.
You may find paid search marketing called Pay-Per-Click (PPC) marketing or PPC advertising. This is because with PPC ads, the advertiser only pays when someone clicks on their ad, and this is the most common kind of search ad. 
Paid search ads or PPC ads are typically text ads but they can involve images, such as with product listing ads or display ads on partner websites. In a paid search or PPC campaign, advertisers will often be concerned with improving their ads' quality scores, and the relevance of keywords to landing pages, in order to achieve a better ad rank and lower cost from the three available positions on a SERP.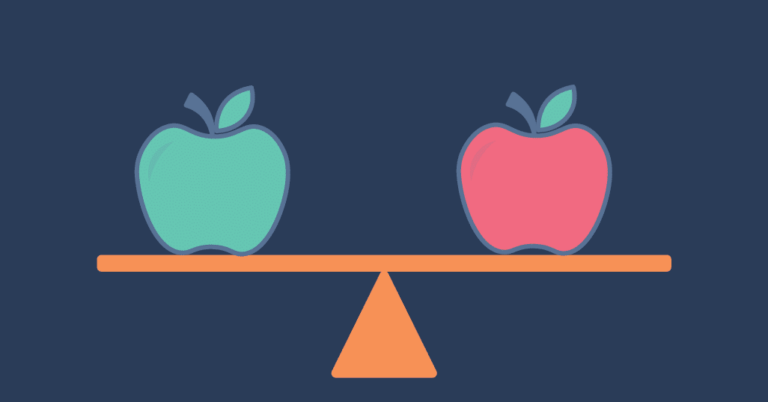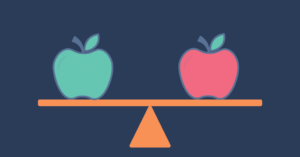 What is the difference between organic vs paid search?
The main differences between organic and paid search marketing are in time and money. With paid search ads, you're essentially paying for immediate results in search engine rankings on the results pages of Google, Bing, or other search engines. With organic marketing tactics, you're investing in long-term results in  search engine results page rankings. 
It might take longer to get your website on the front page, but you can achieve it without budget, and the organic ranking can last much longer than a paid ad ranking.
Side note: Search engines drive more traffic to websites than social media networks. With stats like that, search engine marketing is definitely worth your time to learn and master!
Is organic or paid search better for your business?
While you could pursue only one of either organic vs paid search, doing so would have a negative impact on your bottom line. That said, if you can only pursue one, decide if you need fast short-term results. Yes? Go for paid search. Or do you have the time to pursue long-term continuing results that require long-term maintenance and optimization? If so, then organic search is going to be better for your business.
Undecided? Here's some statistics to consider.
70% of marketers

consider SEO (organic search tactics) better than PPC (ads) for sales; they say being found via organic search resulted in better click-through rates, more time spent on the page, and more eventual leads. 

80% of people who search for things on Google completely

ignore the paid ads

. Of the links searchers do click, 70% are organic.
Think all that justifies only investing in organic search? Here's some evidence in favour of paid search.
In the end, if possible, think of it not like organic VS paid search, but organic AND paid search. And don't forget the complementary role of paid social. For another comparative angle, check out our in-depth dive into paid search vs paid social marketing.
What is a good digital marketing strategy for using paid and organic search?
Paid and organic search work together to improve your search marketing as a whole. Pay-per-click advertising on search engines should drive conversions and web traffic in the short term; make use of Google's options for broad and phrase match keywords in order to capture customers at a more general level. 
Then, use Digivizer's Search Query feature or Google Ads' Search Terms report to analyze the keywords that receive more traffic  and conversions. This will provide answers as to what your customers are looking for, and therefore inform which keywords you should set to exact match in your paid campaigns. It will also inform your long-term website optimization. 
The better and more relevant your website is, the better your organic search rankings will be. You want to be on the front page for your best-converting keywords, as the top three results on a search page capture nearly half of all the clicks.
What is Google Ads?
Google Ads is the platform through which you manage your paid search ads and campaigns that appear on Google. Bing, Yahoo, Baidu and other search engines have their own platforms for managing ads. It used to be called Google AdWords, so if you're reading or researching, keep in mind that any info that refers to AdWords is older (and might be out of date!). 
Google has the lion's share of the market, processing over 100 billion searches per month compared to its nearest competitor, Bing, which processes 6 billion searches per month. That's why most guides on paid search deal primarily with Google. Google was also first in market, meaning that if you learn how to create search ads on Google, such as with Google's many certifications and courses, you'll be in a good position to learn the other platforms more easily. Winning!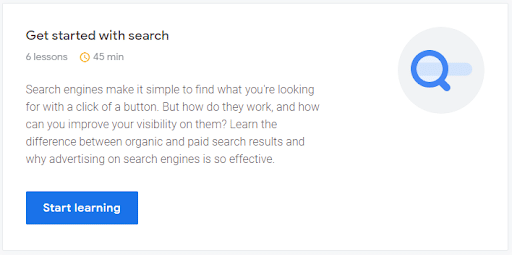 How can you measure search engine marketing ROI?
Measuring what you've done gives you the chance to figure out what to do better next time. You can track your results natively in Google or Bing ad platforms, and with tools like Digivizer.
If you decide to use SEO and PPC in tandem, you'll need a central place to measure your KPIs for both channels. Digivizer makes it easy to pull metrics from Google Analytics and Google Ads alongside and display them all in one consolidated, visual and shareable dashboard. This way you can more easily turn performance results into insights.
There are four critical things to measure in paid search campaigns:
Impressions: each time your ad is displayed on the keyword SERP

Clicks: when a searcher clicks on your ad

Conversions: when a searcher takes the action you nominate on a landing page

Spend: how much you have spent on your campaign so far
These basic metrics combine to give you more advanced metrics like click-through rate, conversion rates, cost-per-conversion, and cost-per-acquisition. All these metrics can tell you where your strengths and weaknesses lie, and there are many ways you can improve each.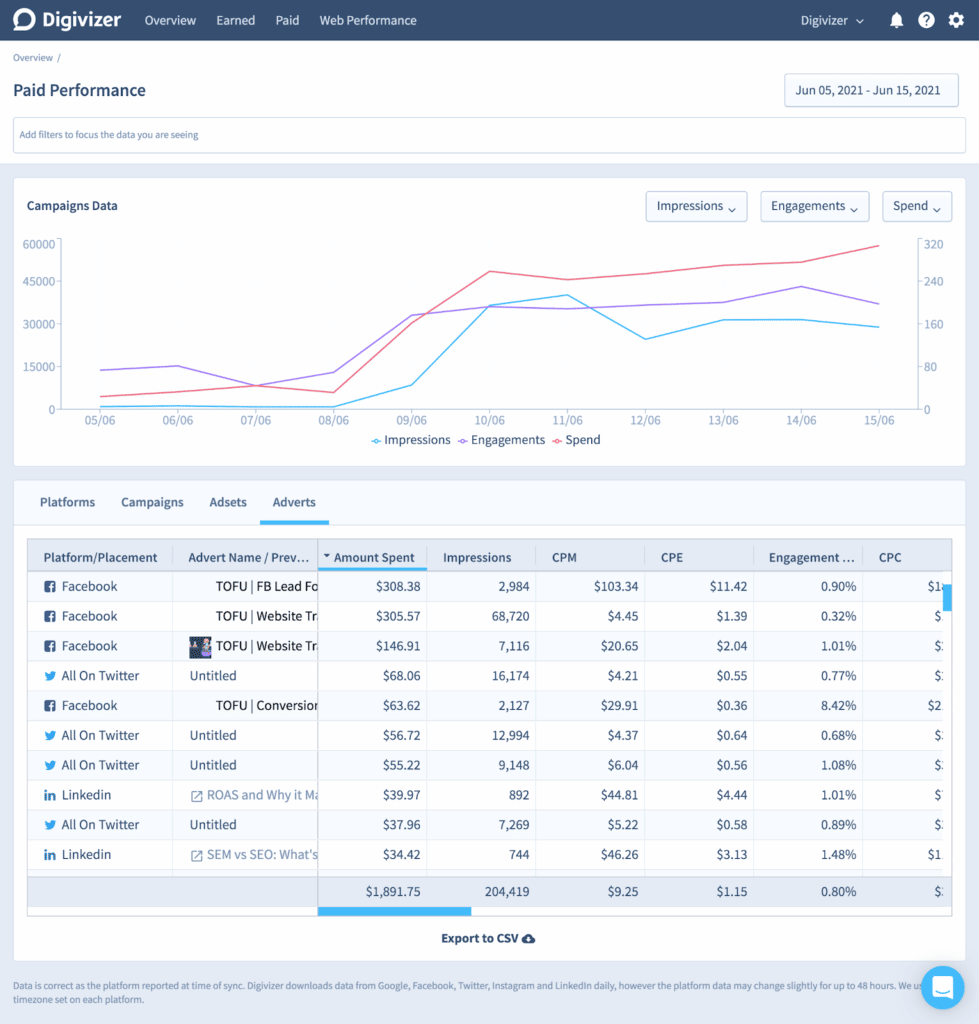 For organic search marketing, the metrics you need to care about include:
Traffic: how many people are visiting your webpages

Bounce rate: how quickly people leave your webpages (lower is better)

Page Ranking: where your webpages rank on keyword SERPs (see below Top Page insights for Digivizer's blog)

Page speed: how fast your website loads and where improvements can be made (more than 3 seconds and most users bounce!)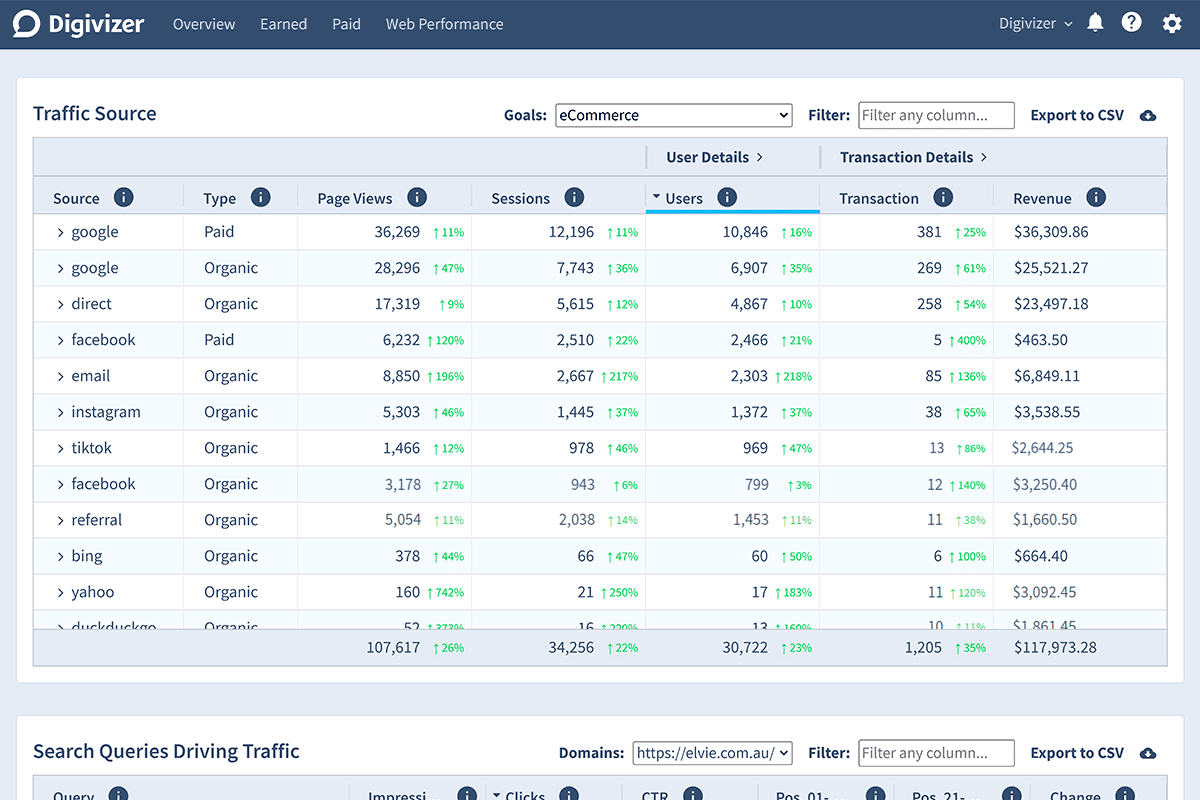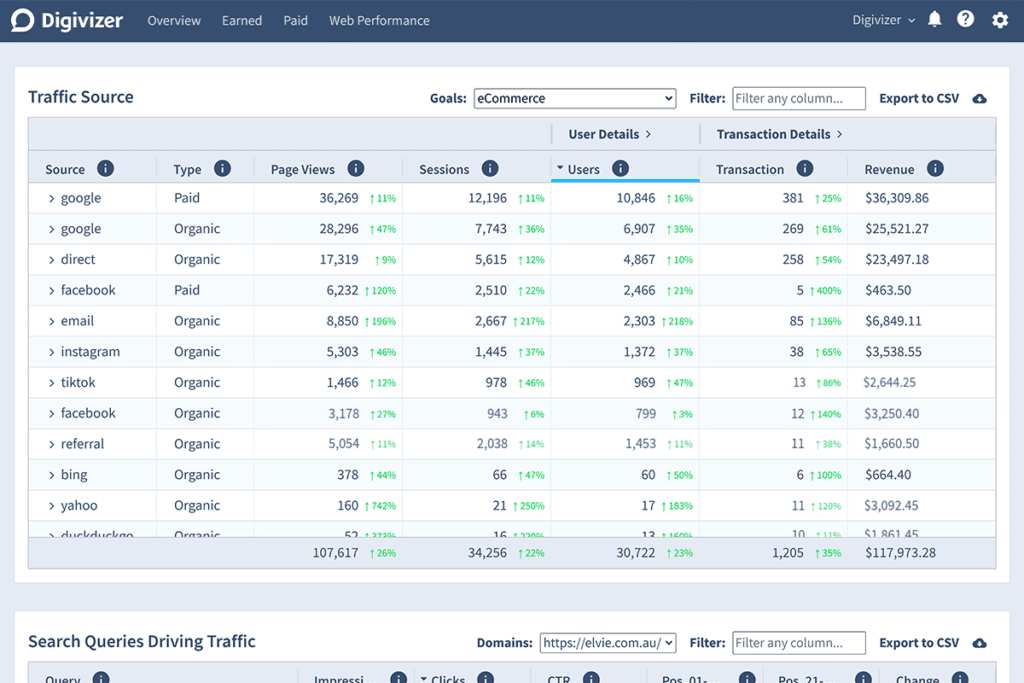 Seeing which search terms drive traffic to your website can also help you to optimize your organic content accordingly.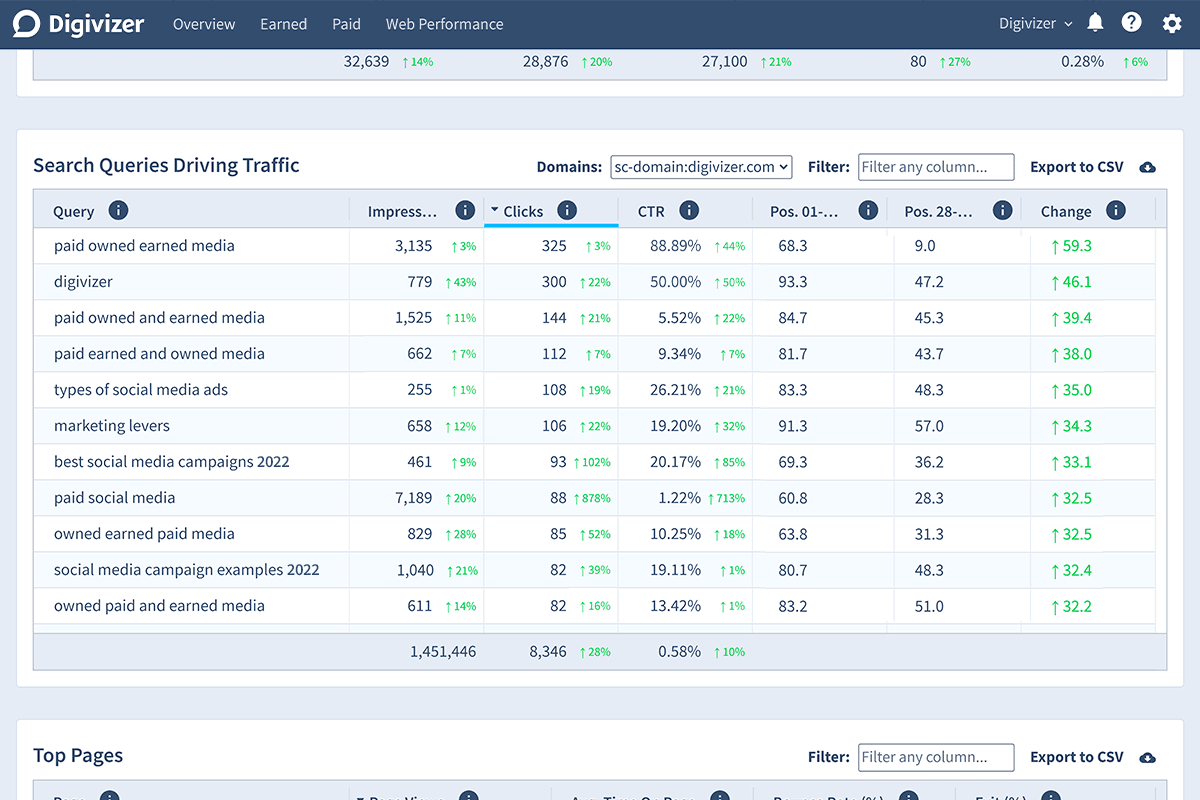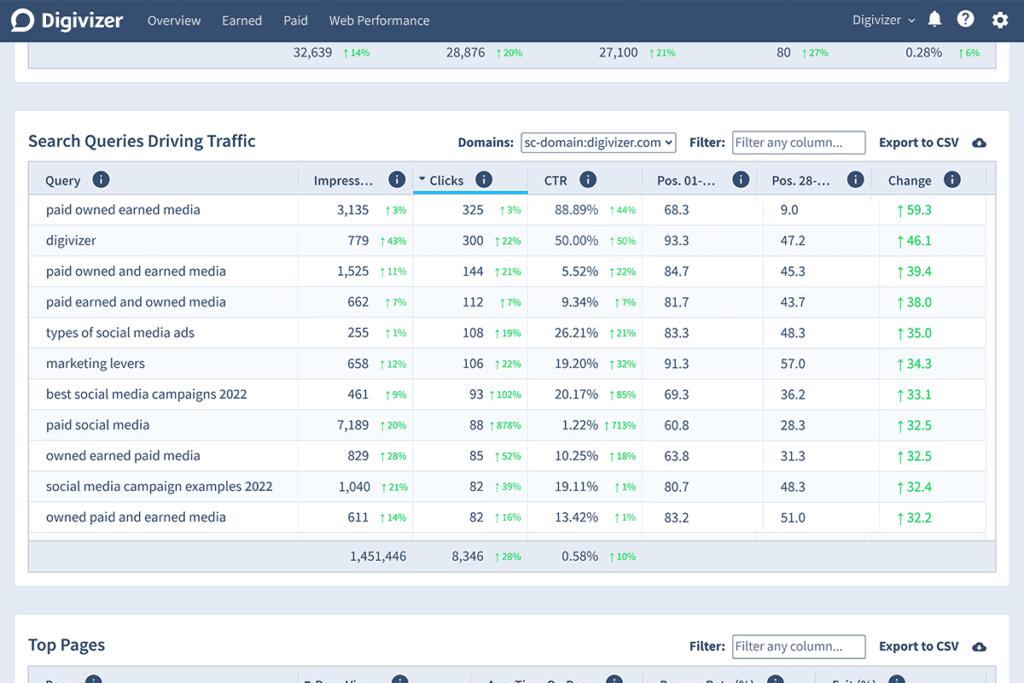 And that's all the details on whether organic or paid search is better for your business. We hope you found this comparison guide useful. Share it with your friends or bookmark it for later for a quick guide to the ins and outs of both paid and organic search engine marketing.