SEO (Search Engine Optimization) is all about figuring out where your web pages rank on search engine results pages and then improving those ranking positions.  There's no way to generate leads or conversions if nobody can find you! 
To make it easier for potential customers to find your business online, the first step is to understand the value of search engine ranking (some also refer to it as SEO ranking). Improving your Search Engine Ranking Position can sound like a monstrous task, but don't fear – it's actually quite achievable if you know how to understand it. We'll break down exactly how you can do it in this article!
Start with keyword research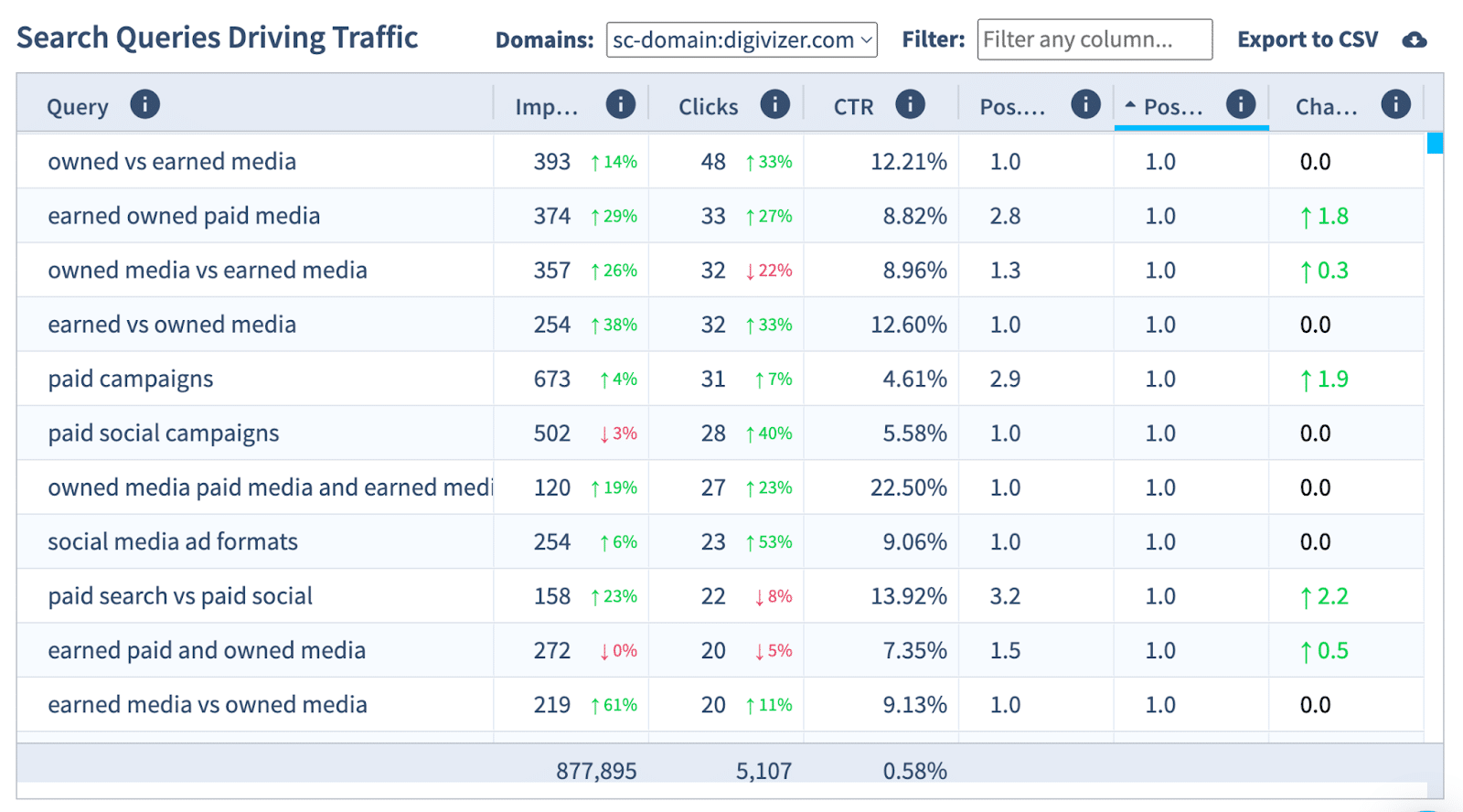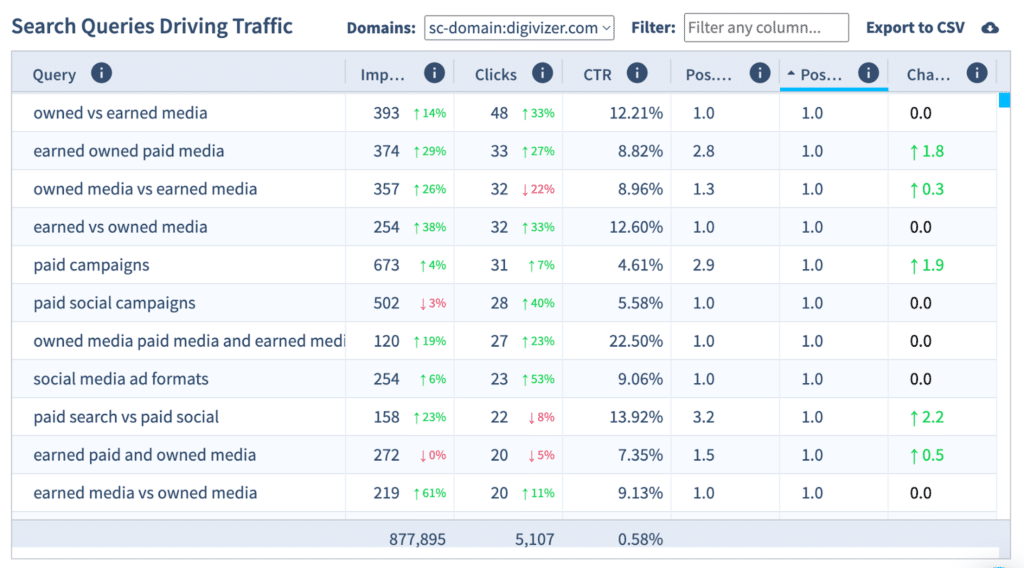 Keyword research can help identify what your customers are searching for on Google and how (and if) they're finding you. One important thing to note: when we say "keyword", that keyword could be any length phrase. For example, "paid social targeting methods" is one keyword.
In the above image, you can see how the Digivizer platform allows you to easily identify what keywords you're already succeeding in, in this case, which search terms are driving traffic to our website over the month of February. If you sort this table by Click Through Rates (CTR), you'll get a good idea of which search terms people are actually clicking through to your website for. That tells you where you're already succeeding in terms of optimizing your search engine rankings. You can also sort by impressions, to identify search terms where you rank in the top 10 but aren't seeing click-throughs – areas where your content needs to be revisited in your SEO strategy.
Google search results rank individual web pages by which page has the best quality content that is most relevant to what the Google user is searching for. Other things play a factor, too – the quality and trusted authority of the overall website domain, site speed, and more. Each search engine results page has up to 10 results, which is usually a mix of ads and organic results.

Find the opportunities in keywords
When looking at keyword rankings, you're looking at search keywords where a certain page on your website shows up at positions 1, 2, and so on, on that keyword's search results page. Any Google ranking from 1-7 will probably show up on the front page, with 8-10 being 'maybes' depending on ads. From 11 onwards, you're on page 2 for that keyword, which means you're probably not being seen.
But that doesn't mean you give up on those keywords. Far from it!
For keywords where you're on the front page of Google rankings, you'll definitely want to keep that ranking. Keep doing what you're doing for those keywords by continuing to create content and mentioning them on your website where it's relevant. You should also keep an eye on what your competitors on page one are doing to succeed. Consider how that might play in line with your SEO strategy. 
But keywords, where your website is hovering around 11-20 in the rankings, are opportunities.


From a quick look at where Digivizer's web pages are ranking around 11, it's clear that in February people were really keen on content about Linkedin, and also some straightforward answers to digital market questions like "what is organic content?" and "what is carousel?". Here we can quickly identify two areas we could address in a content plan for next month! Super easy to use for businesses of any size and any background.
Making the most of SEO ranking opportunities
Like in the first image, we're ranking first on those search terms because we've centered a lot of our owned media around them. A business that knows people are searching for specific topics related to them can tailor their content to make sure they're an authoritative source of information.
If we'd wanted to focus on these keywords and move up from 11 to a front-page ranking, here are some things we could have done to optimize the search engine rankings for these keywords:
Revise the original blog with these SEO keywords in mind (which is called "on-page SEO")

Create an updated version of the blog for the current month and year (because Google likes timely, up to date content)

Revise other blogs to link to these topics in smart ways to

optimize your content to rank well on search engines

(aka backlinking inside your own website. This helps Google figure out which pages are most important to you. It should improve your bounce rates since people might stay on your site longer reading relevant content)

Optimize meta descriptions and URLs around this topic

Try to achieve a "featured snippet" (the most relevant answer to a question which will be featured in a breakout box on the top of the front search page)

Claim, verify and update your

Google My Business

listing regularly. (Did you know you can treat it a bit like social media and add your latest business updates to it?) 
If you want to take advantage of your Google search results rankings when you're planning your future content and website optimization, Digivizer's Search Queries Driving Traffic and Position Ranking feature is a great place to start.
All you have to do is connect your Google Analytics account and make sure your Google Search Console is set up. If you need help with sorting this out, contact our support team via the bubble in the bottom left of your screen. Want to know more about the Digivizer platform and its features? Check out this video explanation.
Alternatively, book a demo with our strategists to get your personalized walkthrough of Search Queries and how to make them work for your business!