Do you know where your web traffic comes from?
Many business owners struggle to understand the importance of web traffic. It can be difficult to know why visitors are coming to your site, through which channels, and what happens when they arrive. Developing new strategies for driving greater organic and paid traffic can feel like pulling gold out of thin air!
The good news? This article is an easy to digest crash-course on everything you need to know about growing and optimizing website traffic. Growing your business just got easier!
Watch our introduction to measuring and understanding your web analytics.
What even is 'web traffic'?
Web traffic is the number of visits to your website from web-connected devices. These visitors are often referred to as sessions. Understanding the duration of each visit is important. This metric can be used to measure customer interest in your products and services through analytics tools like Digivizer!
Web traffic is measured by tracking visits (aka 'sessions') and the length of each visit via a 'server log'. Think of a server log as being a bit like a hotel guest book – it tracks who checked in and when they checked out!
Visits alone are not a strong enough metric, though. When optimizing web traffic, your goal is to ultimately ensure customer engagement. You don't want potential customers to just pass through. The quality of each visit is just as important as web traffic volume.
Why is it important to understand traffic?
If you solely focus on transactions, you only see a teensy piece of the puzzle. When you understand where your visitors come from, their intent, and what captures their interest, you gain valuable insights into what your customers are attracted to. That knowledge makes it easier for you to highlight the sections of your website that you want them to be attracted to. You're also more likely to develop stronger avenues to consistent sales as you funnel consumers directly to that check-out button.
So, clearly web traffic is an important element of digital sales and marketing. But how can you see what drives the best traffic to your site? It's actually quite easy with the right tools! The Digivizer Web Analytics tool was developed to help businesses of all shapes and sizes to see what's driving traffic and sales in a one-stop platform.
Digivizer has three key features designed to help you understand your web traffic, and know what's working and what's not:
Traffic Source – track web site visits to their source
Search Queries – see which keywords and search queries drive traffic
Top Pages – identify which pages perform best
Traffic Source and how to use it
In Traffic Source, you can see an up-to-date ranking of each platform your business is present on (from search pages to social media channels ), filtered by how many visitors have clicked on your website directly from that platform.
By understanding which platforms are driving the most traffic, you can make informed decisions based on where your most engaged consumers exist. This makes it easier to invest your time, energy, and resources into the platforms that serve you best!
You can also expand each traffic source row to see a granular view of which particular campaigns, referrals, or projects delivered traffic. Got particular traffic goals for your company? Sort by e-commerce transactions or measure traffic from a specific platform to a designated page.
Know how you rank with Search Queries
Search Queries allows you to see which search terms/keywords are driving the most traffic to your site. If you were a skincare brand, for example, you would want to be driving significant traffic from search terms like "clear skin" or "acne treatment".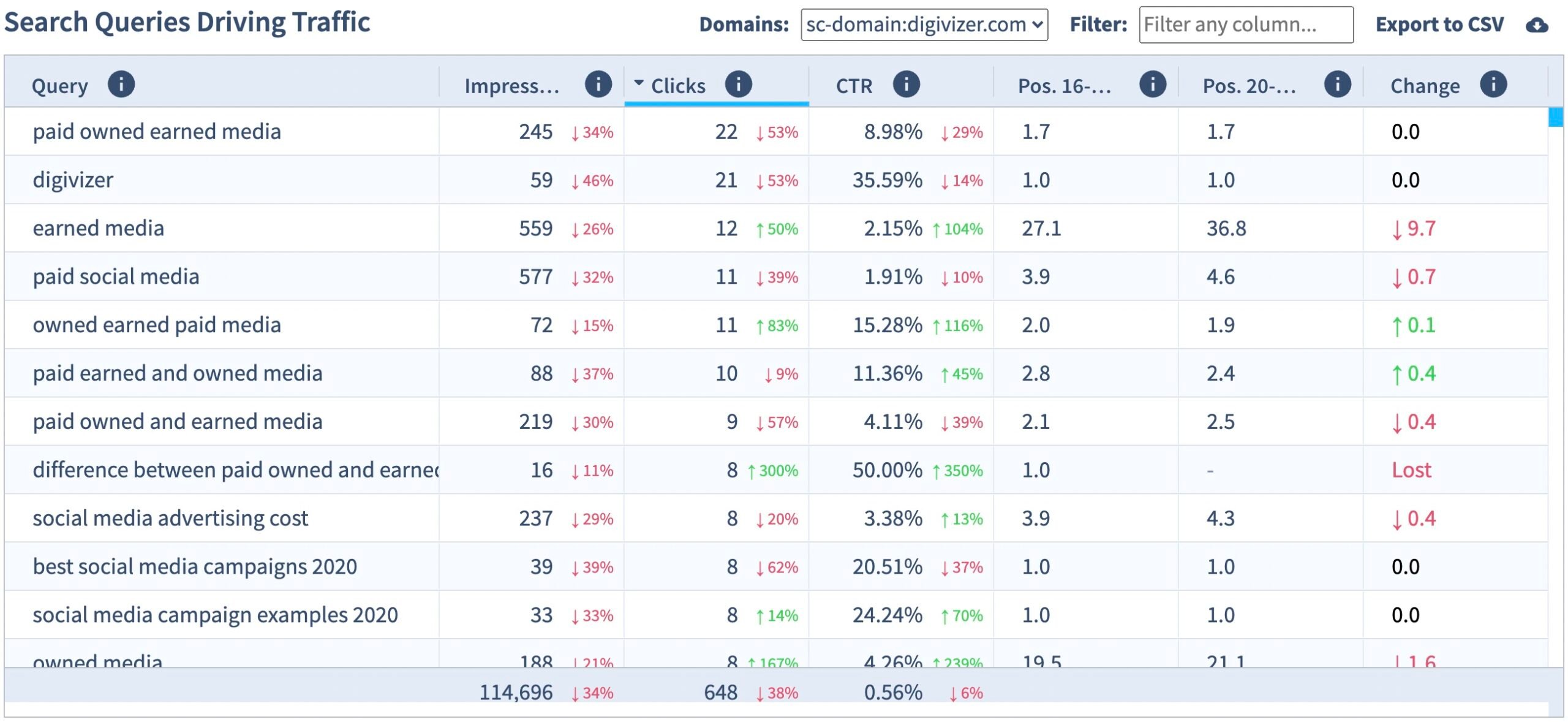 There are two main ways this tool is super helpful. Firstly, you can see which terms you are winning (successfully driving traffic to your site). This informs what keywords you might include in your next campaign or social posts, knowing that customers connect your brand to those terms.
Secondly, you can see which search terms are popular in Google searches, but aren't driving customers to your website. This is where you might gain the most opportunity in developing your strategy. You can now tailor your new content to the keywords customers are searching.
Identify your top performing pages
In Top Pages, you'll be able to identify which pages of your website perform best on web traffic metrics. The 2020 Digital Experience Benchmark report analyzed over 7 billion user sessions and found users spend on average only 62 seconds viewing a website.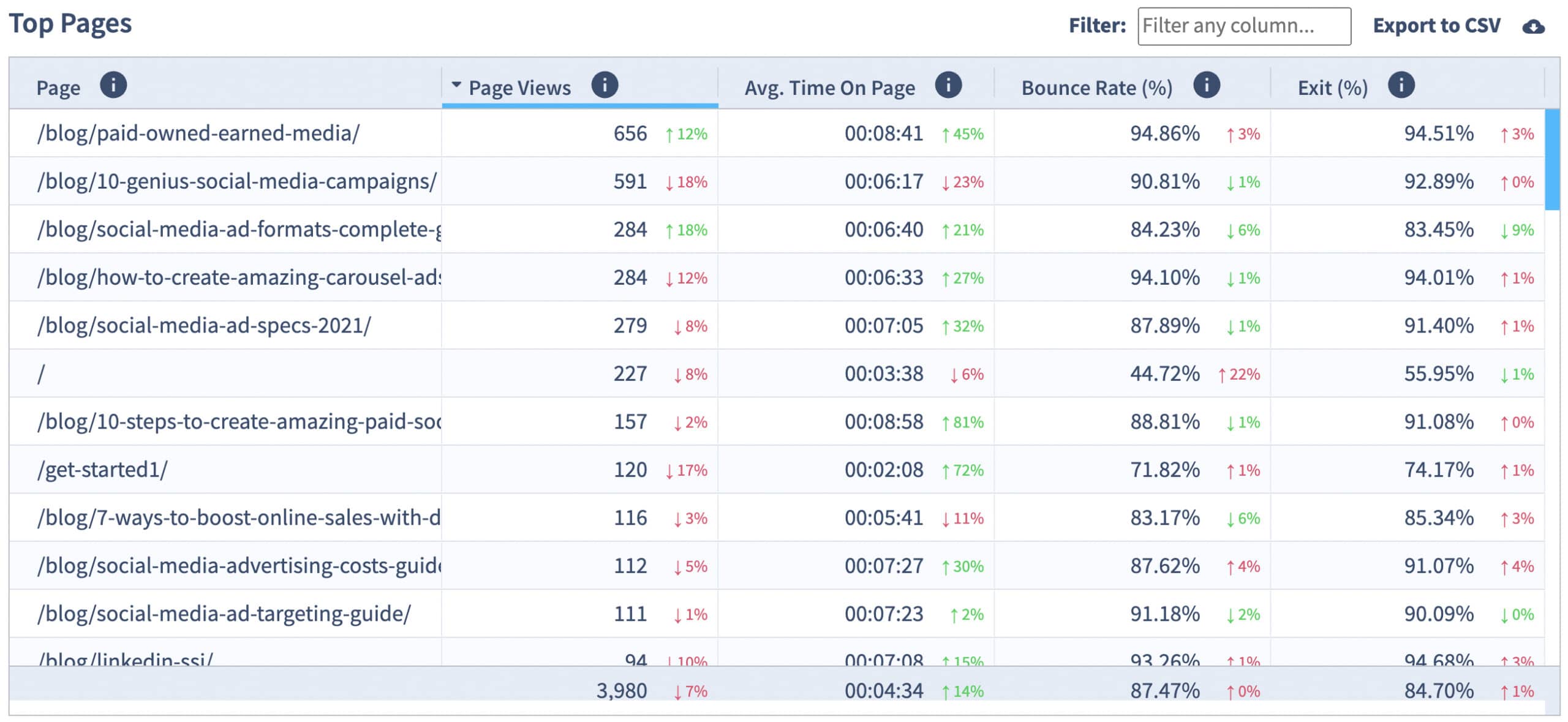 Even if you're gaining traffic, you still need to optimize every page of your site. This is so you can engage a visitor for long enough to convert them. By understanding the pages that are best performing for web traffic, you can identify what content, layout, and products resonate with your customers. From there, you can use that information to draw more traffic, keep visitors engaged and encourage them to further explore your site.
A single source of truth
Digivizer provides all the features you need to optimize web traffic. It's designed to be simple to use and understand, while providing all the insights you need to make smart decisions. Keen to learn more about what this could do for your business?Sign up for free.