The prominence of online shopping in a COVID-19 world continues to grow rapidly. As a result, understanding how to boost online sales is becoming increasingly important.
Globally, the pandemic has forced more people to shift their purchases from physical stores to online e-commerce stores. A survey done by UNCTAD has shown an increase in active online shoppers across both developed and emerging markets [1]. Therefore, it is evident that e-commerce is becoming a core part of any consumer business.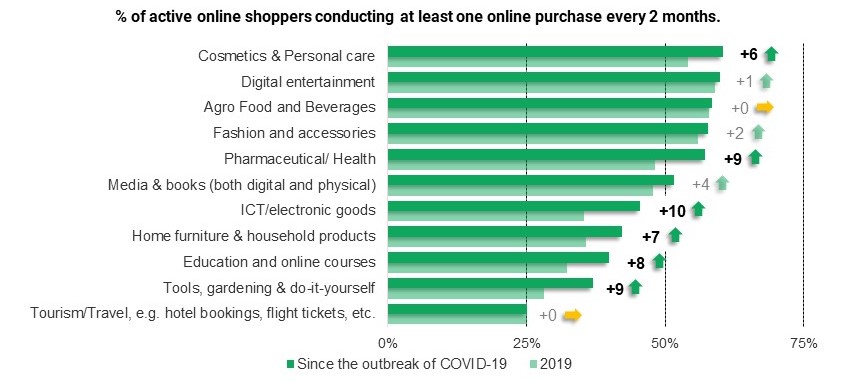 With customers shifting their purchases from physical brick and mortar stores to online, establishing your brand's online presence and reputation is crucial.  93% of customers read reviews before purchasing a new product.[2]
In this case, leveraging data and digital marketing to understand and optimize your customer's buying journey is fundamental. This ensures that your business continues steering ahead during this period of change and uncertainty. 
On October 29 2020, we at Digivizer hosted a webinar with Shopify, unpacking some timely strategies you can use to drive online sales. Search, social and a strong eCommerce platform were all key components covered. 
Here are some key takeaways to help you get more out of your digital marketing and boost your online sales:
Be where your customers are: choose your social media presence strategically
Your brand's online presence extends beyond an e-commerce or digital shop front. Besides ensuring that your brand is discoverable on search engines, you need to be where your customers are at. 
Social media is a key component of your digital marketing strategy. To pick the right social media platforms for your business, it is important to have a deep understanding of these:
Your product offerings

Target audiences

Key attributes and user behavior on each social media platform.
Firstly, consider the range of platforms your potential customers might favor. For consumer products, Facebook and Instagram are essential to ensure discoverability when your customers search on social networks. If you are selling primarily to enterprise customers, establishing a presence on LinkedIn is crucial. 
Next, consider your product offerings and how each social media platform can be leveraged to showcase that. If you offer some visually aesthetic products, an Instagram Shopfront is great for garnering new customers and click throughs. Pinterest is also increasingly used to discover inspirations. Imagine a potential customer pinning your product to a mood board, and eventually returning to purchase it. In this instance, these platform behaviour are potentials to be tapped on.
Finally, it is important to ensure that your social media feed is updated regularly, Hence, choosing the right platforms at the start will pave your way to a robust social media presence. 
Stand out on social media, and keep it brief 
The average person is now scrolling through 91 meters of content daily [4]. This makes their first encounter with your business' content even more important. Studies have shown that the average consumer will start to lose concentration after about eight seconds. [5] Hence, your content must get to the point quickly. 
As you are designing your digital marketing strategy, consider the changing attention span of consumers.
People are generally more inclined to read short paragraphs. On top of that, most prefer to engage with videos (rather than static content) that immediately entice them. As such, you should aim to:
Create and publish videos from 30s-2min max

In your videos, hook viewers in the first 5 seconds!

Utilize

carousel

and the range of

social ad formats

Follow the 20% text rule
Optimize your content for your audience
We are living in a mobile-first world, where people are using their phones more than ever imagined [6]. For businesses, this means that all digital marketing should be designed to maximize customer experience using a phone. As society continues to move towards this new way of living, social media platforms attempt to follow suit. The new and improved Facebook shop and Instagram shop are great examples of revamped social platforms designed to complement the recent increase in online shopping [7].
"The platforms are changing because they are optimizing for what the users want to see," said Brian Gibson, Digivizer's Head of Digital Strategy who presented on "Using Social to Drive Online Sales".
It can be difficult to stay on top of changes to social media algorithms and user experience optimization opportunities across every platform. But these changes are designed to support your customers in their social media journey. It allows users to be directed to content they will get the most out of. 
For example, to beat the 2020 Instagram algorithm, you need to make sure that your content solves a problem for your customers (think: shoes that fit orthotics or jewelry for a gift), and keep a consistency that the algorithm will recognize [8]. Here are some tips on how to beat the Instagram algorithm [9], most of which can be tweaked to optimize for each platform:
Encourage More Interactions with Instagram Stories Stickers 

Drive Conversations with Engaging Captions  

Cross-Promote Your Instagram Content for Maximum Engagement  

Optimize Your Hashtags to Reach Relevant Communities 
And don't forget – always check to see if your recent post on Facebook looks as good on mobile as it does on the desktop or laptop you posted it on. Make sure it is visually thumb-stopping.
Strategize for Search: Be there to offer a solution when your customer is searching for one
Customers are always searching for a solution to their problem. Every single search is an action of interest and intent. This is the most important insight when you are considering how to approach search, whether paid search or organic search. 
What you need to do, is to ensure that you are there to offer a solution. You need to do that faster than your competitors and lead potential customers to your website. 
A key way to do this is in improving your search ranking with SEO. Google processes over 100 billion searches a month. So it's worth finding out more about how you can use organic (longer term) and paid (shorter term) search tactics to be seen by customers on search engine results pages (SERPs) – who are usually hungry to buy.
You should combine the power of organic and paid search to drive your online sales. We break down these two powerful strategies in "Organic vs Paid Search – What's Better For Your Business?"
"Search actively funnels those actively interested towards you," said Jordan Schofield, Head of Digital Performance at Digivizer, who presented on 'Driving Customer Acquisition with Search'.
If you are doing paid digital advertising, an advantage of incorporating search in your digital marketing strategy is that search engines actively steer interested customers towards you. 
As such, your word choice in ads is so important. Your ad copy needs to be straightforward, with a strong headline and a call-to-action in the description. Use as many of the possible characters as possible!
Most importantly, your ad will come up when someone is searching for a solution to their problem, so make sure you prove to them that you offer the answer!
Be available for your customers
75% of customers will expect to find a solution to their problem within five minutes of the time they encountered it. [10]
If you do not offer a solution, there is a good chance that they might not return to your business. 
The online world is 24/7, so while you might not be actively available to your customers all the time, it is important that you set up a live chat, even if that is a bot. 
This means that the integration of a Facebook Messenger bot could be fundamental for maximizing the user experience with your social accounts. [11] These days bots can answer customers' most common questions straight away, even before your customer service reps can see a message. There are many incredibly innovative bots that can have an almost humanlike conversation with your customers, answering some of the most common questions and queries on your behalf. [12]
Over-communicate to your customers
Transparency is key in a digital world. Where face-to-face communication is limited, trust is especially important.
Building trust and then delivering on your promises is a key part of maximising customer experience and ensuring your brand reputation is as strong as it can be to ultimately boost sales.
There are plenty of ways to establish trust on your eCommerce site [13], such as:
ensuring accessibility 

making a strong first impression

promoting user reviews
"Don't be afraid to over-communicate," said Mike Barnett, Head of Shopify Plus APAC who presented on 'Building a Powerful Online Sales Platform'.
Mike emphasised the importance of optimising your sales platform for mobile, with the value of a slick landing page and the selection of mobile-suitable graphics and font types being key. 
With more and more people shopping online using their mobile, it is fundamental that you don't risk losing customers due to poor user experience. 
To test your UX, use the "phone preview" tool that Shopify offers or use an awesome tool like Screenfly which allows you to see what your website will look like on different devices.
Get your metrics right and leverage on data to optimize your marketing efforts
Exactly how much traffic did your digital marketing initiatives drive to your homepage? What is the Return on Advertising Spend (ROAS) for your paid advertising? 
One of the most powerful aspects of digital marketing is the ability to quantify and measure the effectiveness of your marketing efforts. It is great to see a sales uplift as a result of your hard work on social media and digital marketing, but it's even better to know what you could improve on to continually grow your online presence. 
If you are spending time and money on content creation, paid advertising and other initiatives like influencer engagement, it is important to understand what is working well, and what needs to be improved upon.
"There's nothing worse than running a campaign, whether it's organic social or paid advertising, and not knowing what's going on when those users get through to your website and where they're getting lost," said Brian Gibson, Digivizer's Head of Digital Strategy who presented on "Using Social to Drive Online Sales".
To do that, it is important to know the right metrics to measure success. For example, to evaluate content performance, consider what was done on days where the cost per engagement (CPE) is low and Engagements are high in comparison to days where CPE is high and engagements are low, you can optimize your next campaigns to maximize your return on investment.
If you are doing paid advertising, it is important to get a quick view on your Return of Advertising Spend (ROAS) by aggregating your total advertising spend and online revenue, and to understand which of your paid advertising campaigns are delivering the highest revenue for the lowest cost.
Now we have the metrics, where do we get the data?
The Power of a Digital Marketing Analytics Platform
It is important to consolidate all your data into a single view for deep insights. However, with digital advertising being done on different platforms, getting your data consolidated can be time consuming and hectic, especially if you are running multiple campaigns across multiple platforms. 
This is where using a dedicated digital marketing analytics platform like Digivizer can help you measure and optimize all your digital marketing efforts with ease. To help you measure the success of your efforts, Digivizer brings together social, search, website and e-commerce data into single powerful dashboards which help you monitor your success with ease. 
Designed for businesses of all sizes, we are especially driven to help any business make the most of their digital marketing spend without burning a hole in marketing budgets.
We hope you have gained some insights from our top tips on boosting your online sales with the right social media platforms, search strategy, and a strong online sales platform. 
Stay in touch with us for more digital marketing insights by signing up for our mailing list: