Small businesses and major retailers have been able to sell products on Facebook and Instagram for years. From the customer-to-customer Facebook Marketplace to online Stores attached to your Facebook Pages and Instagram Business accounts, Facebook has been gradually making social media a one-stop place to shop.
So what's new? Facebook has revamped this patchwork ecommerce infrastructure into an online shopping experience that is both end-to-end and purpose-built. As more and more businesses launch online presences or move entirely online, this is an important new tool in business owners' ecommerce toolkit. Say hello to Facebook Shop and Instagram Shop!
Facebook plans to roll it out globally across their 'family' of apps – Facebook, Instagram, Messenger and Whatsapp, and we hear they want to make it friendlier for services-based businesses. This is clearly a big area of focus for the Facebook family and we'll be seeing regular useful updates. Keep your eyes peeled.
What is Facebook Shop?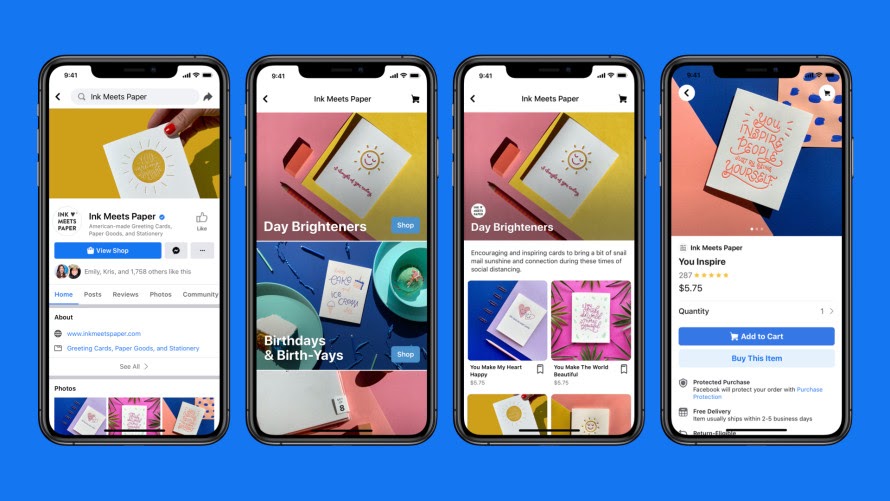 Facebook Shop is a free digital storefront available to all businesses and recommended for businesses selling products online. It is simple to set up, but currently only available to a small number of businesses that use Facebook Page shops and stores. It will soon be rolling out globally and will include both the ability to convert from those old Facebook Store pages and the ability to integrate with existing ecommerce platforms like Shopify, BigCommerce and more.
Facebook Shopping features include building your customized product catalog with your own images, descriptions, cover images and accent colours, and saving these products into convenient Collections to help make things easy for your customers. You can communicate with your customers via Messenger; in future, your customers will even be able to purchase via chat!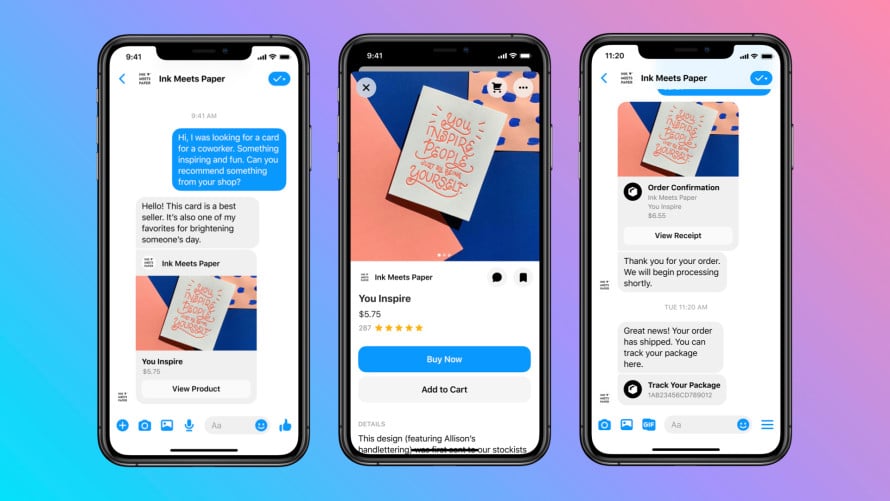 Facebook Pay
To help you sell on Facebook more securely right now in the US, you can activate checkout via Facebook Pay, meaning your customers don't need to enter their payment information over and over again each time they shop. They can save their debit card, credit card and/or Paypal details to Facebook Pay and shop securely across the whole family of apps. Note that businesses using this native checkout feature do pay a fee to Facebook from each sale.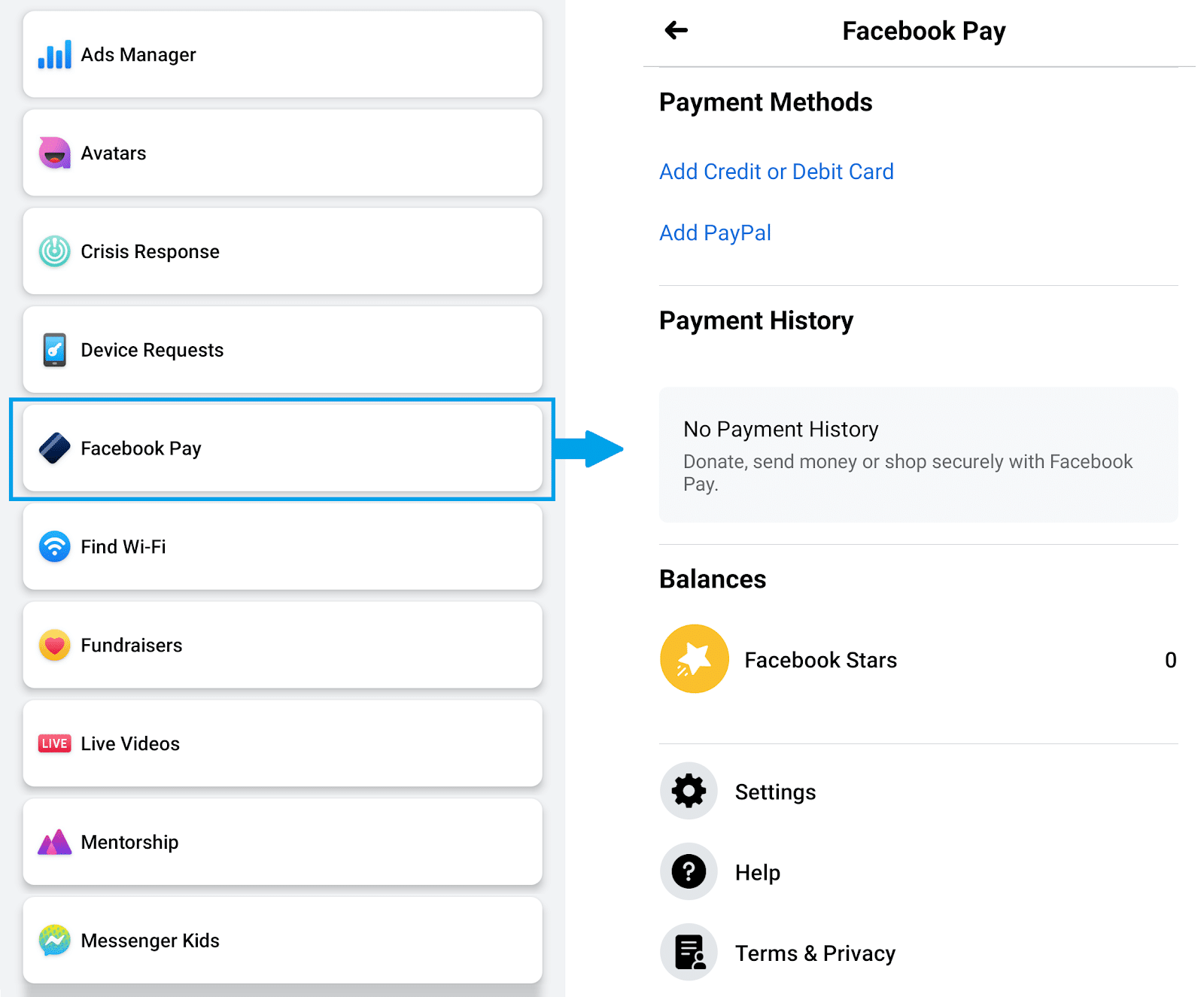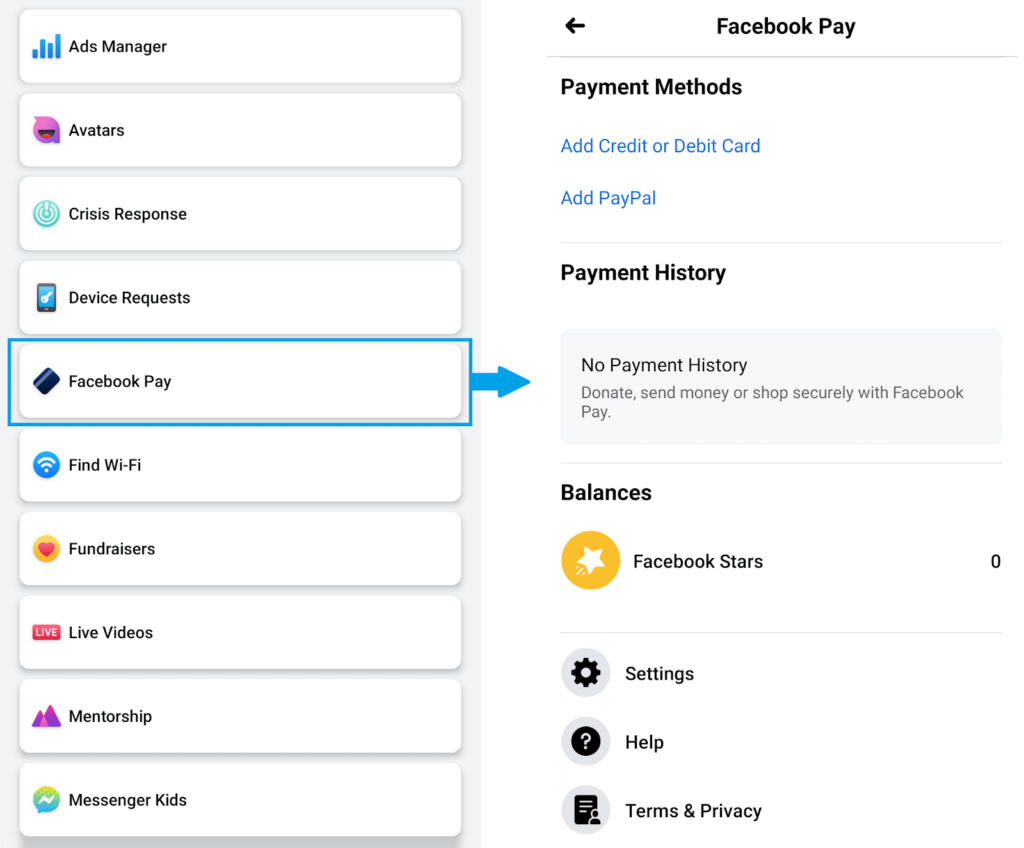 What is Instagram Shop?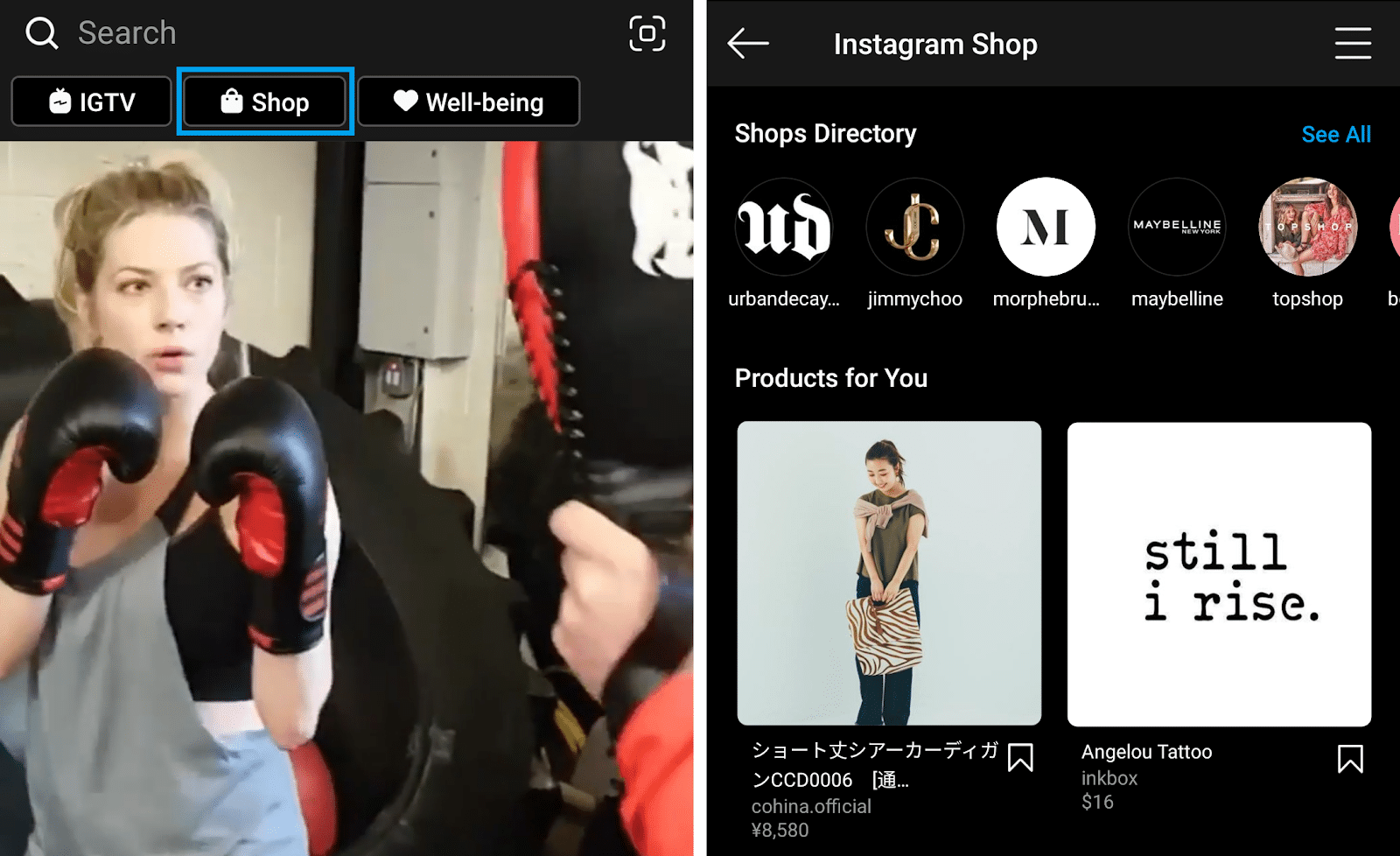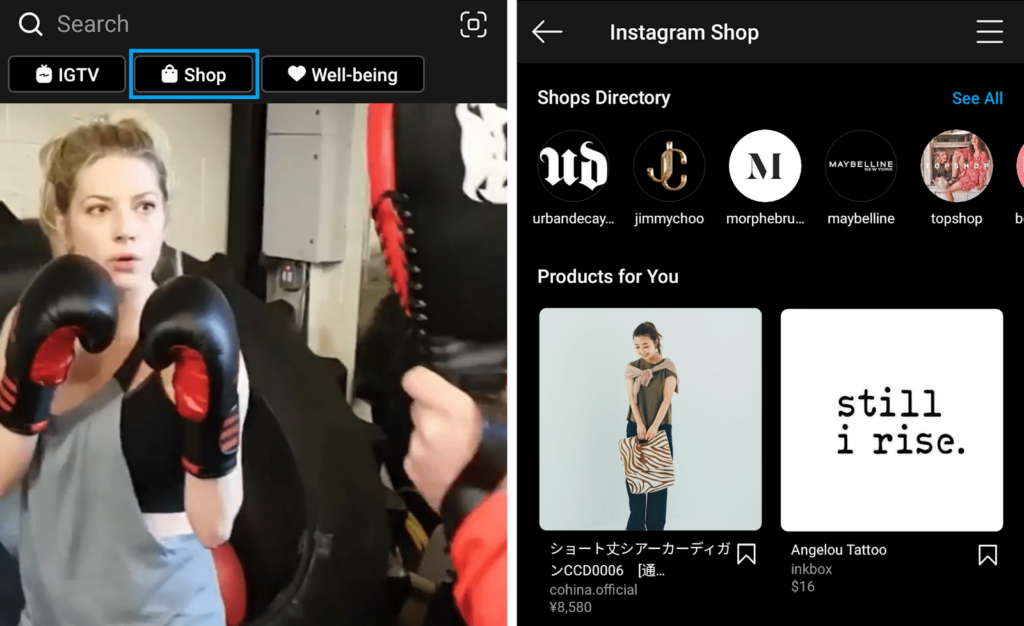 Instagram Shop is the name of a shopping destination for Instagram users; you'll find the Shop tab linked to the Explore page. For businesses, an Instagram Shop is an upgrade for stores attached to Instagram Business and Creator accounts. It's easy to set up via Facebook's Commerce Manager. It's currently only available to businesses in a limited number of markets, and you have to be approved for access.
Like with Facebook Shop, businesses can set up their individual storefronts which are listed in Instagram's Shop Directory. Reflecting Instagram's mobile-first nature, however, products can also be pulled into "Products For You", a centralised marketplace. It has recommendations for individual Instagram users based on browsing history, interests and the shops they follow.
Also similar to Facebook Shop, businesses can activate the secure, in-app checkout feature powered by Facebook Pay. As you can see in the image above, Instagram Shops can use their own currency! Meanwhile, Facebook Pay checkout is currently restricted to checkout for US users only – otherwise users will be directed to view the product on your nominated business website and checkout there.
When you first navigate to an Instagram Shop, you'll receive this message. It really is all one underlying infrastructure!
How do you set up a Facebook Shop?
Once Facebook Shops are available to everyone with business Facebook accounts and Pages, they'll be a snap to set up! Build your Shop catalogue using Facebook's Commerce Manager and Catalogue Manager. If you're brand new to this, here's a quick rundown:
Choose whether you want to create your catalogue natively on Facebook, or create an online store with one of Facebook's e-commerce partners like Shopify or BigCommerce, and connect that to Facebook instead.
Enter your business information and connect your shop to an existing or new Facebook Page.
Choose an existing product catalogue to add to, or create a new one. Set your shipping options, your return policy, and where you want your sales money delivered to.
Add products! In Commerce Manager, select 'Inventory', then 'Add Product'. For each product you're selling, upload high quality pictures, set the name and product description, and more optional details like current price/sales price, availability, shipping and more.
Separate your products into Collections to make them easy for your customers to browse – for example, all your bracelets in one Collection, all your earrings in another Collection, and so on.
Adjust your cover image and your accent colours to make your Shop 'pop'.
Double-check how your Shop looks at any time by hitting the 'View Shop' button. You should be able to go back to adding things to your catalogue via a button labelled 'Manage your catalogue' in your Shop that is only visible to you.
And that's how you set up a Facebook Shop! Once you're live, you can start making Facebook posts and ads with your products tagged front-and-center. Keep an eye on your Business Direct Messages and Inbox to see if your customers are talking to you. Use Facebook Insights and the Digivizer platform to monitor the performance of your posts and ads so you can refine your content marketing and product sales strategy.
How do you set up an Instagram Shop?
There are just three easy steps to set up your Instagram Shop, and two more things you should definitely do once you're up and running.
Check your eligibility for the Instagram Shop feature by answering these questions:

Are you in a supported market and is the new Shop available in your country?
Does your business sell physical products?
Are you in compliance with Instagram's commerce policies?
Is your Instagram account a Business or Creator account?
Is your Instagram account connected to a Facebook page?
Build your Shop catalogue using the steps above for the Facebook Shop (yes, even though this is Instagram! It's all one big shop in the backend). You'll see the option to set up Instagram Shopping in your Facebook Commerce Manager. Alternatively, if you have an existing Facebook or Instagram store, this will be automatically converted to the new Shop and you can skip this step.
Here's the key difference with Instagram: once you've connected your catalogue, you then need to submit your Shop for review and approval by the Instagram team. You can do this via the Settings in your Instagram app. Check back any time to see the progress of your application.
Once your Shop is approved, you're ready to start selling! Here's what to do next:
Create Instagram Posts and Stories for your products. You can do this by creating an ordinary post or Story and then tapping 'add product' to add product tags and stickers to your posts and Stories. Stories can feature one product tag per Story. (Hot tip: You can and should go back and tag products in your old posts on your profile!)
Make sure you're tracking the performance of your Shop posts and Stories using either Instagram's native Insights or the Digivizer app for full visibility. Analytics tell you which products are performing best, so you can give your customers more of what they want.
That wraps up our guide to the revamped Facebook and Instagram Shops. If you have more questions, jump into the support chat with our social media ecommerce experts via the bubble on the bottom right hand side of this page. Otherwise, bookmark this guide for when you're ready to set up your beautiful Facebook or Instagram Shop. Happy selling and shopping!