If you want to display products, tell a story or explain a process, carousels are an awesome social media ad format to show off multiple features, engage audiences for longer and test what's working and what's not.
People love content they can interact with on social media and that's exactly what an effective carousel ad provides – an enticing invitation to interact and explore. If you're just starting out with carousels, or looking to improve, remember these four tricks to drive higher click through rates and brand awareness: 
Tell a story, give a lesson or create a showcase
Use high-quality and cohesive visuals
Keep text short and enticing
Start with 3 to 5 cards and keep an eye on results to optimize
What is a Carousel Ad?
Carousel ads or carousel posts are one of many types of advertising formats on social media. A popular choice for their power to maximize screen real-estate by combining multiple images or videos into a single ad. They contain up to 10 single images or videos that can be swiped through by users on mobile or clicked between on desktop. Carousels combine cards, post, headline and link copy sections and are proven to achieve higher conversions (leading to greater return on ad spend or ROAS) and more engagement than static ads.
What social platforms are Carousel Ads available on?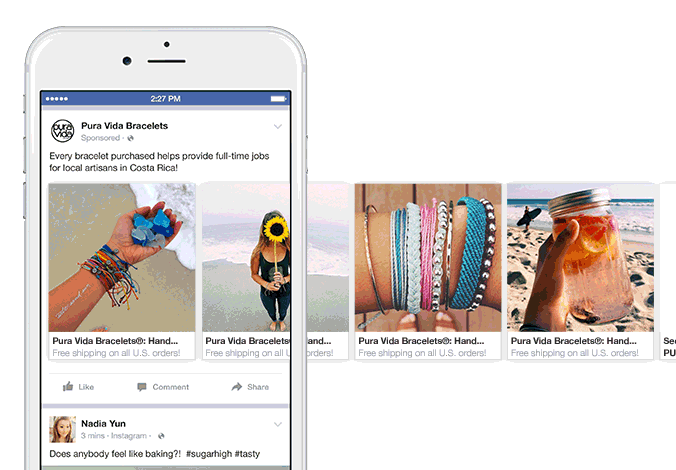 How to create a Carousel Ad
Here's step by step instructions for how to create a Facebook carousel ad:
Go to Facebook Ads Manager.
Click Create.
Choose an objective that supports carousel (not Engagement or Video Views)
Fill in the Audience, Duration, Budget and Schedule sections.
At the ad level, choose Carousel as your ad format.
Tick or untick the box next to Automatically show the best-performing cards first.
Upload your image or video
Add specific landing page URLs, descriptions and calls to action buttons for each.
Repeat steps 7-8 for all cards. We recommend 3-5 to begin with.
Check your ad previews on all platforms (e.g. desktop and mobile).
Review and confirm!
If you're looking for how to create carousel ads on other platforms, we've included a section below linking to platform-specific guides.
Are Carousel Ads Effective?
Facebook advertisers say carousel ads drive 30-50% lower cost-per-conversions and 20-30% lower cost-per-clicks. LinkedIn advertisers reported lifts in engagement and click-throughs when LinkedIn debuted carousel ads in beta. Instagram says carousel campaigns perform better for advert recall, driving an additional 2.5-point lift on average. Whatever platform you're working with, carousel ads can provide an excellent return on your ad spend.

Three options to create an amazing carousel ad
1. Tell a story (with emotion)
When we're given facts and figures, our brains activate their language processing parts. But when we're told a story, emotional connections are made and imaginations are sparked. Our natural empathy creates real interest and we're more likely to buy into what someone is selling!
In order to do this, create your ad with the goal of making the customer the hero. Then, weave in something intriguing or something that promises happiness or joy or fulfilment if the customer clicks… and make sure that each card links to a landing page that delivers what the ad promises.
The ad below for Mercedes-Benz doesn't even show the car until the third panel. It uses stellar photography and the human desire to explore to catch the audience's interest. The ad copy encourages users to keep swiping in order to watch the explorer surmount his challenges… with the aid of the Mercedes-Benz, as they discover. This kind of story urges the viewer to put themselves in the shoes of the person in the ad.
Another option with storytelling in carousel ads is to let the customer tell the story for you. By combining user-generated content, testimonials and reviews in a carousel, you can give new or repeat customers evidence that you're the right choice – "just look at all these other people who thought so".
Carousel ad examples that tell a story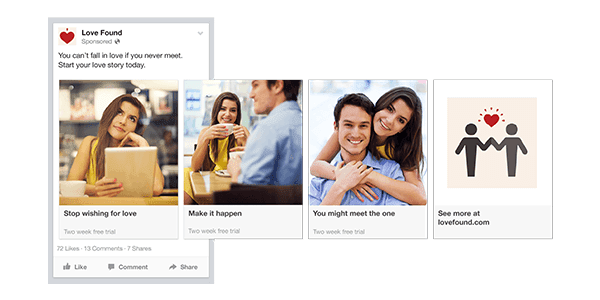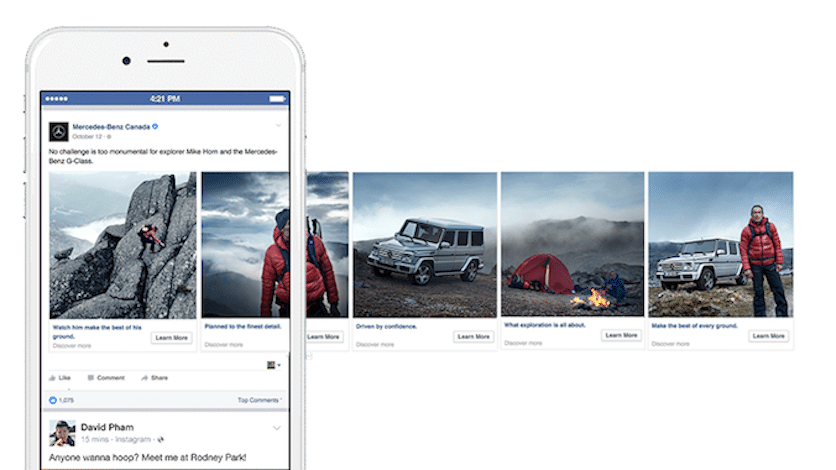 2. Give a how-to lesson
In a case where a visual demonstration would be your best selling point, a carousel is a great way to convince your audience that you know what you're talking about. Carousel ads are effective at explaining a process or giving a quick, free lesson. Take curling hair or baking a cake! And it's as easy as 1… 2… 3! (And often you'll see brands include their logo at the end – reminding customers exactly who they're looking at.)
If your business provides services or content, rather than a physical product, you could run a how-to lesson carousel that is more focused on enticing customers to reading articles or signing up for a webinar or appointment. Each card in a carousel should link to a landing page that delivers what you talked about in the ad. 
On LinkedIn, for example, many businesses run carousel ads that draw audiences towards signing up for lead forms when they want to learn more than has been shown in the ad. Card one is insight or statistic one, card two is insight two, and card three is the lead form sign up with a teaser for insight three and beyond.
Carousel ad examples that teach you something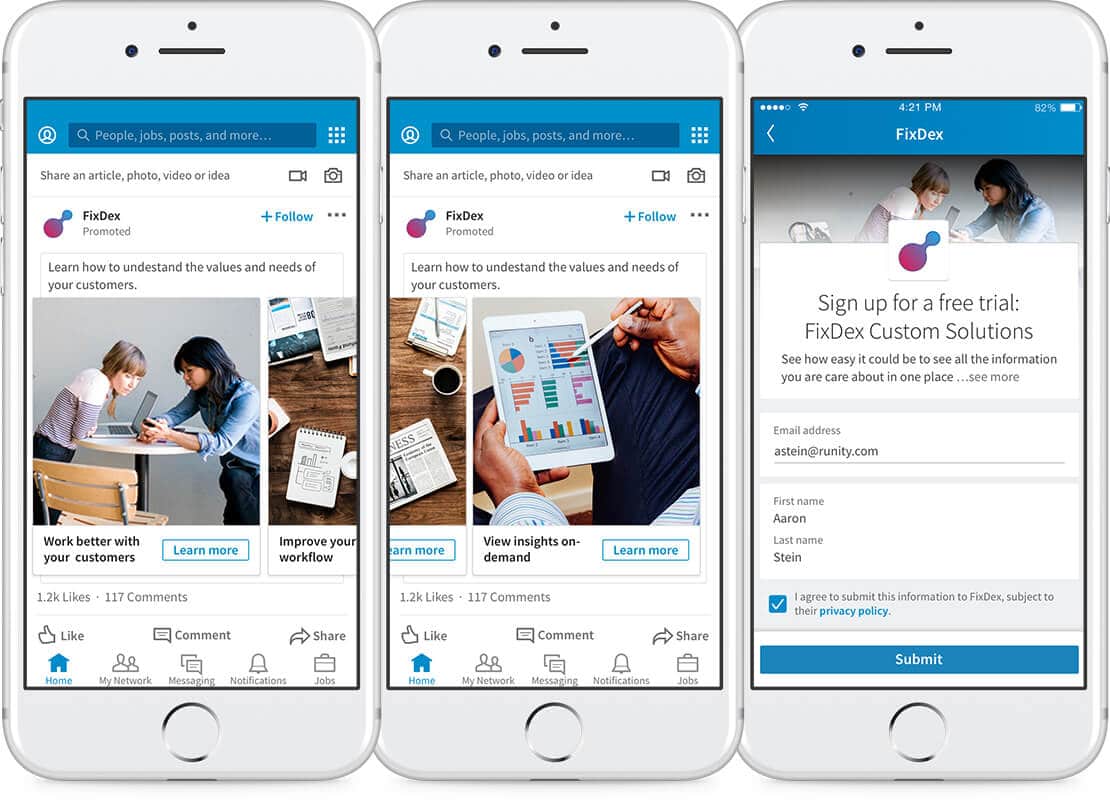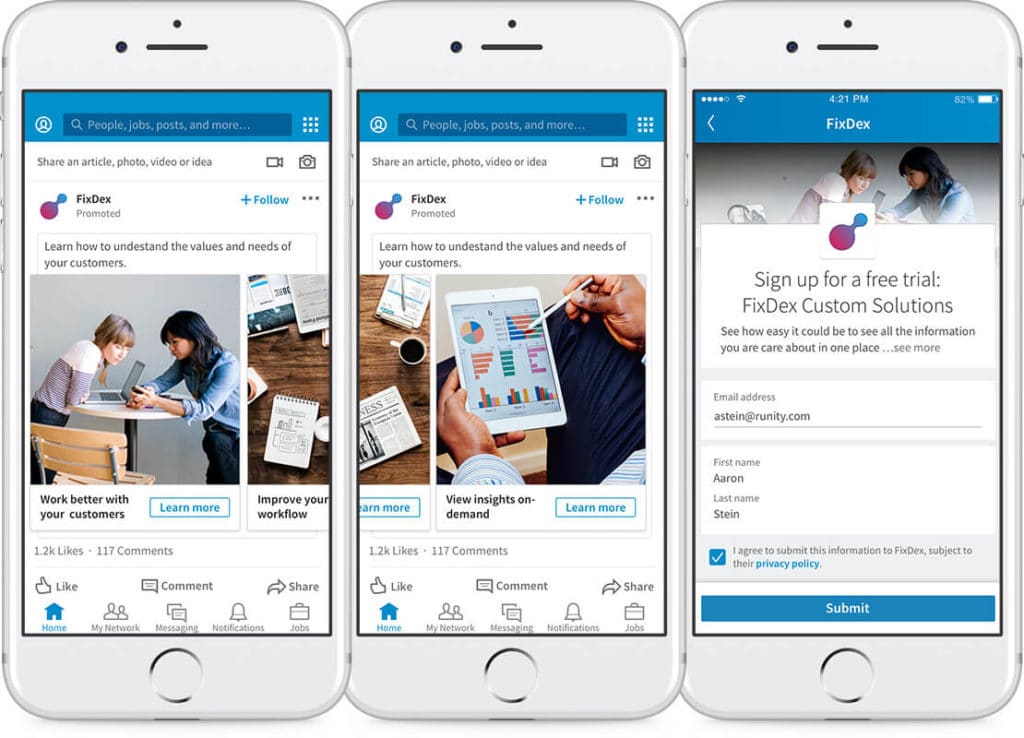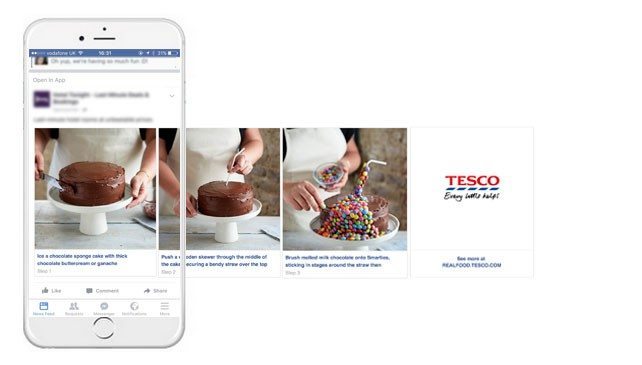 3. Showcase your best products or content
Carousel ads are effective for showcasing a wide range of products or articles, linked to corresponding landing pages where you can buy or find out more.
One of the most interesting parts of carousel ads on Facebook and Instagram is that they can be dynamic. Thanks to behind-the-scenes technology, you can load a series of product ads into Facebook and Instagram via Ad Manager and the platform will show audiences the best-performing products or the ones that are most likely to appeal to the target audience's taste. 
Pinterest says carousel ads are amazing for brand awareness and performance goals like traffic and conversions and encourages up to 5 cards to an ad. When a user clicks on a card, they're drawn into a branded immersive experience that can include lead forms or store pages. When you're on an image-heavy website like Pinterest or Instagram, you want to pack as much into your ad as you can, and yet not overwhelm the viewer.
Carousel ad examples that showcase products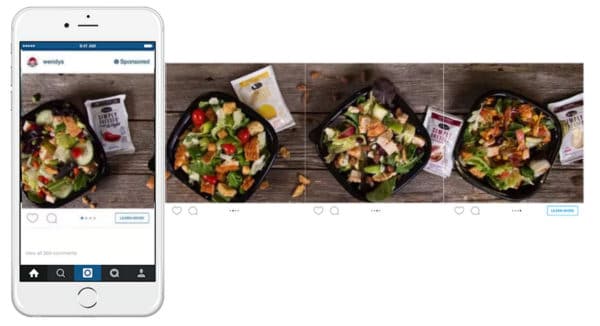 Three rules to create an amazing Carousel Ad
Once you've decided which route to follow, here are three absolute musts that will help your carousels drive higher click-through rates and higher conversions:
1. Use high quality visuals
2. Use ad copy wisely
3. Optimize based on results

Here's how to get those results:
1. Use high-quality visuals
The best carousels work because they feel like they're one image, or at least one experience, so make sure you've thought carefully about the style and sequencing of your imagery. Facebook's design specifications for Carousel Ads include a recommended image resolution of 1,080 x 1,080 pixels; aspect ratio of 1:1; and like static ads, should not include more than 20% of text on an image.
If your carousel uses images or videos that are inconsistent in style and quality, your ad may look disjointed and distract from the message you're trying to send. If you're mixing images and videos in a single carousel, cohesiveness is even more important. 
The mountain climbing carousel example below feels like one scene even though it uses different models, colors, and outdoor activities. This is largely thanks to the images all being of a high quality, all in high-end photography style, using similar color tones and landscape themes. 
A panorama is always an impressive visual 'experience' for exhibiting different parts of your concept or product along one extra-wide image, so if you have one, go for a panoramic carousel!
Editing tip: Once you decide how many carousel cards the image is going to cross, create an image with a height of 600px, and a width that is 600px multiplied by the number of carousel cards used (eg. 2400x600px for a four-card image). Once you've designed the carousel on this single image, crop it using editing software like Photoshop or the free Pxlr to divide it up across appropriately sized cards. That way you can see the whole carousel from the beginning!
Carousel ad example of high-quality visuals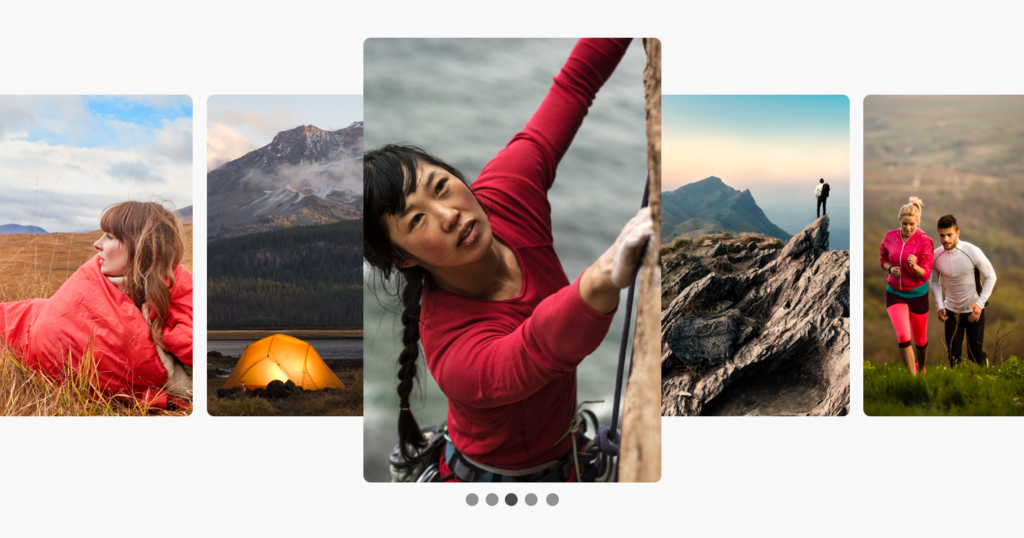 Panorama carousel ad example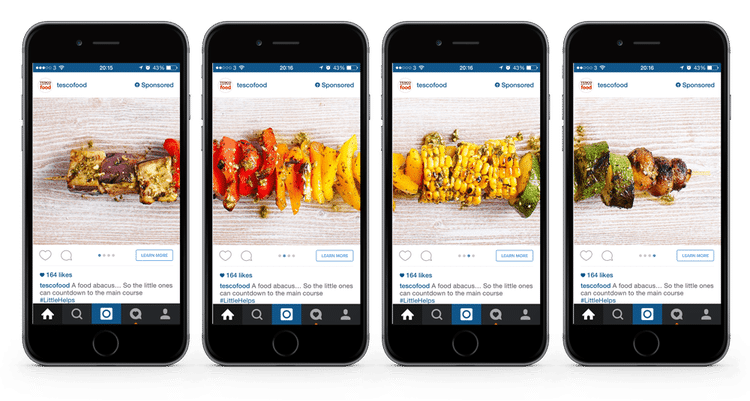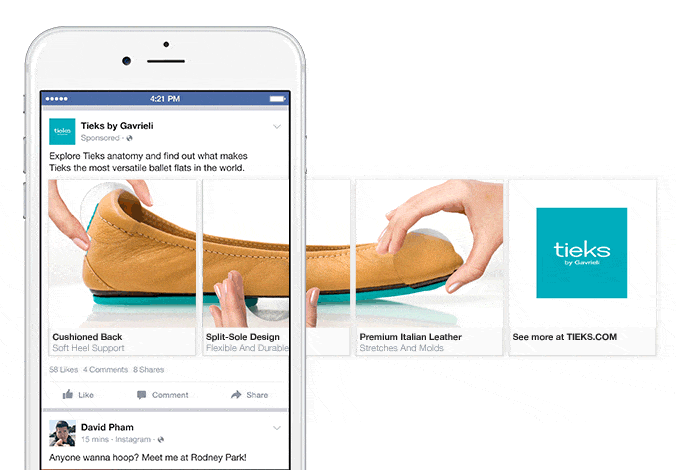 2. Use your ad copy wisely
The text that goes along with your carousel is a gift which, used wisely, will keep audiences jetting along your carousel. The most effective ads use very little text – less than 20 words in the post copy and max 5 words in the link headline, according to AdEspresso's extensive Facebook Ad analysis. 
Some good ideas to work into your ad copy to encourage higher engagement include: literally telling people to swipe/click; using polls and asking people to vote by clicking their favourite product; including a bonus offer, discount or tease of more content e.g. "This is just the first lesson, click for more!"

How long should my carousel ad copy be?
When it comes to copy length on Carousel Ads, Facebook recommends:
90 characters for post copy
40 characters in headline
20 characters in link description
Your post copy shows up above your carousel graphics just like it would above an image you post on your own personal Facebook page. Some advertisers leave it blank to move the audience's focus directly to the carousel and headline copy, but it can be a great spot to call attention to the 'why' your target audience should care and support the explanation of your product/services below. But don't go overboard! Keep to 2 lines max for best impact. 
Your headline and a link description feature below each card. These should be highly succinct, attention grabbing, actionable and relevant to each corresponding card. If you're leading people to different pages on each card, keep track of the results for each destination url (and the performance of each card) using Google's URL Builder to create a unique url that you can track in your analytics. 
Your landing pages should use consistent messaging, tone and ideally 'look and feel' to your Carousel Ad. This helps continue the seamless user experience and builds trust with an audience who get served a familiar environment and the concept they expected when clicking the ad.
What are the different text sections of a Carousel Ad?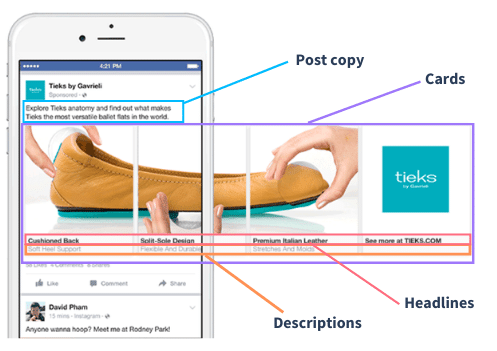 Examples of great ad copy on Carousel Ads
This Facebook Carousel Ad uses copy cleverly, encouraging people to pick their focus (and corresponding favourite card) so they click through and are sent to a lead form!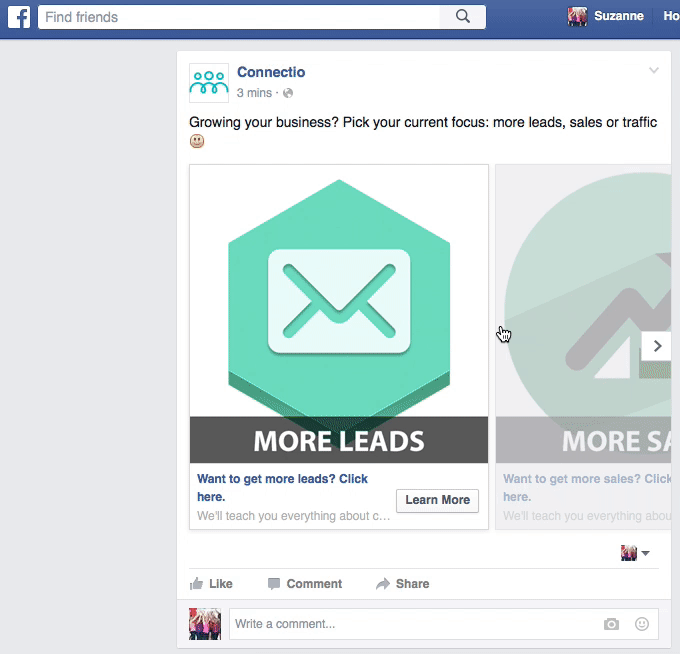 3. Optimize your ads based on results
Advertising on social media should never just be "set and forget"! When it comes to carousel ads, there are lots of things you can do to create a good starting point, and then an even better second version through optimization. Here are our hottest tips to optimize Carousels:
How many cards should I include in my carousel ad?
Our experts say 3 to 5 cards is the best carousel length (3 is the default setting). If you want to do more (or less), test first. You can also change up the order of your carousel, and like we mentioned earlier, Facebook and Instagram offer the option to create dynamic carousels that show off your highest-performing cards.
What is the best CTA for carousel ads?
When you're optimizing, don't forget your call-to-action (CTA). Different CTAs perform better for different brands and audiences, so test yours to make sure you're using your best one. Our ad experts swear by "Learn More", and we also suggest creating urgency with fitting "Now" in there if you can ("Shop Now", "Subscribe Now"). "Subscribe", "Download", and "Send Message" are also good options, as they encourage specific action.
How do I optimize carousel ads?
You can easily optimize your carousel ad yourself on Facebook and other platforms, by keeping an eye on your analytics and watching which carousels and cards perform the best. Whether you're optimizing for increased reach, more conversions, higher click-throughs or otherwise, it's always a good idea to test, analyze, optimize, and test again! Don't be afraid to stop an advertising campaign and try again when you have a better idea of what your customers want.
Visit the Digivizer Academy for more videos to help you harness the power of digital marketing performance insights.
Here's where to find the automatic optimization option for carousel ads in Facebook Ads Manager
Go to Facebook Ads Manager.
Click Create.
Choose an objective that supports carousel (not Engagement or Video Views)
Fill in the Audience, Duration, Budget and Schedule sections.
At the ad level, choose Carousel as your ad format.
Tick or untick the box next to Automatically show the best-performing cards first
Continue creating your carousel ad.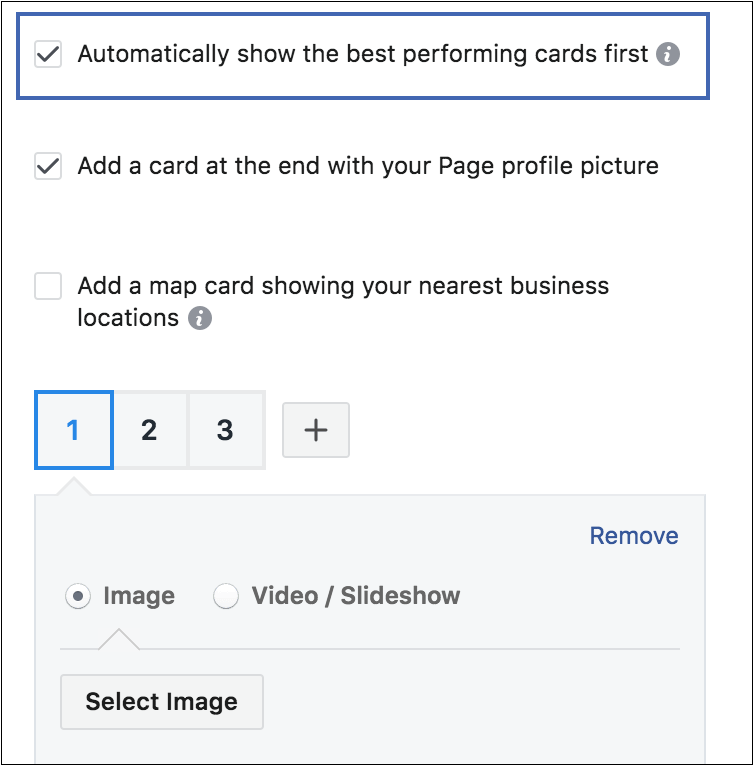 Want more info about carousel ads?
Learn more about how to create your carousel ads across each platform here: 
If you have any other questions about carousel ads, please open up a chat with us and let us know! One of our digital ads specialists can walk you through it.
We hope you found this article useful – you're now ready to go create your own amazing carousel ad. Bookmark this article for later or share with your colleagues for everything you need to know about the carousel ad format on social media.
Sign up for free today to access performance insights across all your marketing channels in a single view. It's the fuel marketers need to drive targeted web traffic, greater conversions and customer engagement.