Here's some exciting news for advertisers: the long-anticipated Carousel ad format is now available on Twitter, just in time for the holiday shopping season.
Facebook and Instagram have dominated Carousel ads since 2015, with other social media platforms debuting their own versions since. Twitter tried it out in 2015 with app installs only, and in 2016 with up to twenty tweets per Carousel, but it didn't prove very successful either time.
But Twitter has been experimenting with Carousels in beta again since 2019. And happily, they found Twitter Carousel ads led to a 15.9% increase in click-throughs on average vs single image cards, and an impressive 24% increase in app installs per impression.
Twitter calls this debut an 'early step in the journey'. No doubt there's more exciting news and features to come for advertisers and users alike.
What are Twitter Carousel Ads?
Carousel ads are an advertising format on social media. Carousels maximize screen real-estate by combining more than one image or video into a single ad. Users swipe between Carousel 'cards' to go to different images or videos; Twitter allows up to 6 cards in a Carousel. We recommend sticking to 3-5 for best effect.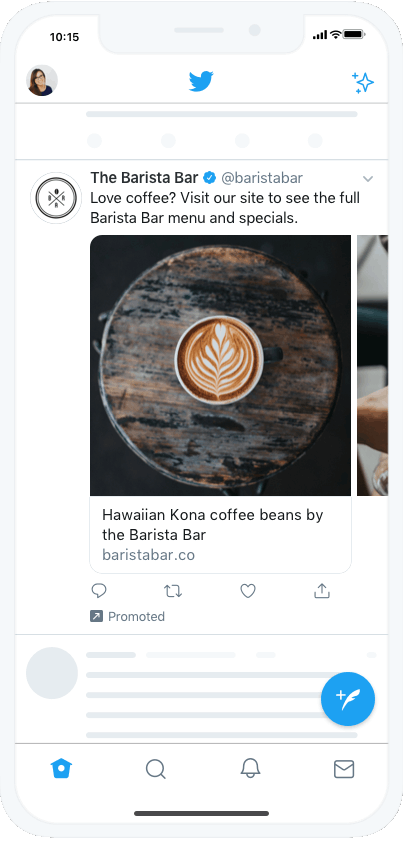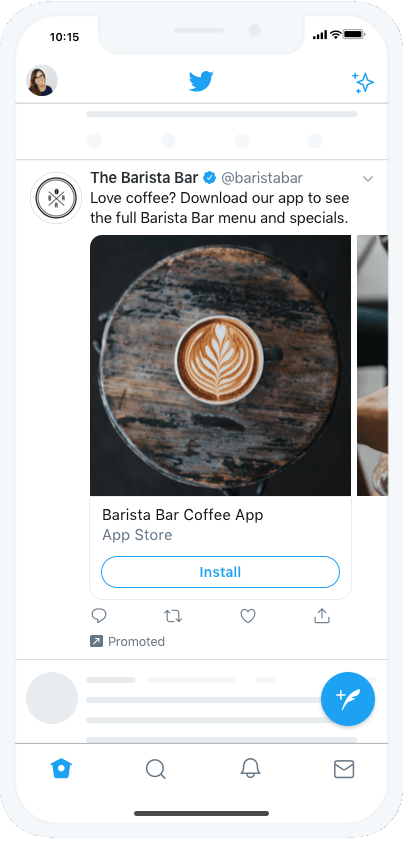 Using Twitter Carousel Ads for Business
Are Carousels effective for advertising businesses? Well, Facebook Carousel ads often achieve higher conversion rates, click-through rates, and better engagement than static ads. One report from Sprout Social said Carousels drive ten times more traffic than single image ads!
We've yet to see if any of this proves true for Twitter Carousels. But in general, Twitter advertising is good for brand awareness objectives. That means if you're focused on getting your brand story out there in a visual way, Twitter Carousels will be an amazing tool to deploy in your ad campaigns.
They can also be organic or promoted (paid), meaning you can now use Carousels in your organic Tweets too!
Twitter calls it 'edge to edge' design, since the ads go from one edge of the device to the other, taking up way more of the screen in an eye-catching way. Users can swipe right and left across images and videos, seamlessly transitioning through assets.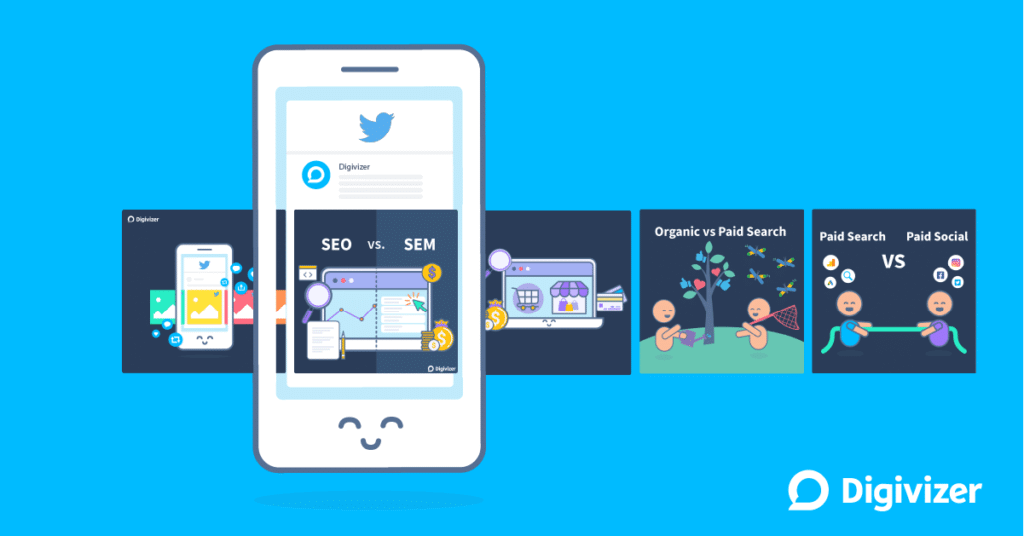 How to Upload Carousels to Twitter
Carousel ads on Twitter are now available across all website app objectives, plus awareness and engagement goals. You can create them in Twitter Ad Manager or via the Ads API.
Open Twitter Ads from the 'More' menu on your Twitter profile.
Click on 'Creatives'.
Click on 'Tweet Composer'.
You'll see the option to create a photo or video ad, or a Carousel. Choose 'Carousel'.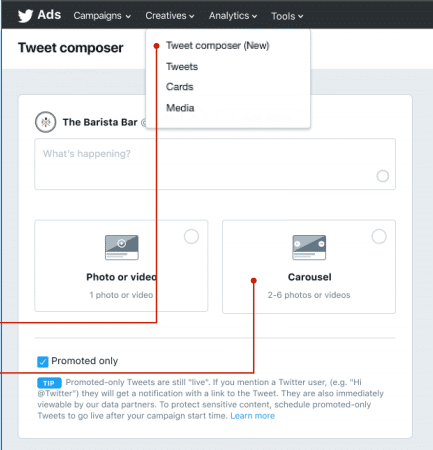 Add your Carousel's post copy into the 'What's happening?' field like a normal, organic tweet.
Click 'Add Media'.
Choose up to 6 images or videos from the Media Library or upload them to the Library from your hard drive.
Click the back button to return to Tweet Composer.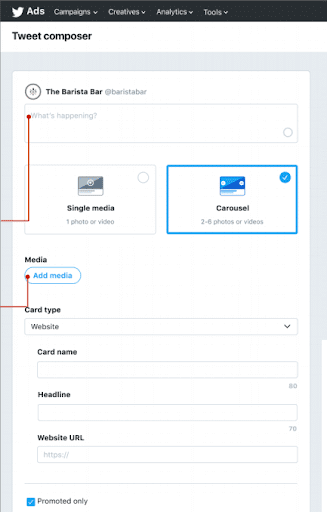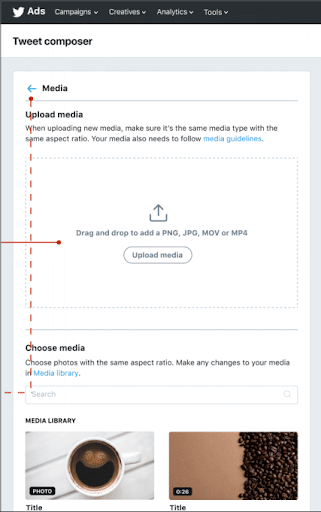 Sort the images or videos in the order you want them to appear to your audience.
Choose your preferred card type (Website, App, or No Card).
Add a headline associated with the card's intended URL.
Add the URL for the landing page or app you would like clicking on the card to go to.
Click the blue 'Tweet' button in the upper right to publish now. Alternatively, click the down arrow to choose a time to schedule it for publishing later.
You only get one card type, headline and URL for the entire Carousel ad. Make sure you're using your best call to action and landing page for your target audience!
Carousels on Twitter also do not support mixing image and video formats. It's images or videos only within a single Carousel. This is pretty standard across social media.
Finally, Twitter does not (yet) support auto-optimization of the order of the cards in the Carousel: you choose the order.
Creative specifications for Twitter Carousel Ads
Here's what you need to keep in mind for making all the different types of perfect Twitter Carousels. You can also double-check these specifications on Twitter or peruse our complete guide to social media ad specs.
Image and App Website Carousel

Basic specs:
2 to 6 image cards
280 characters in the Tweet copy, but the link may reduce this to 257
70 characters in the Website title, but 50 is recommended due to possible truncation
One website or app destination for all cards
Image specs:
800 x 418 pixels for 1.91:1 aspect ratio images
800 x 800 pixels for 1:1 aspect ratio images
Maximum image size of 3MB
Maximum file size per card of 20MB
PNG and JPEG file types recommended; BMP and TIFF are not accepted.
Video Website and App Carousel

Basic specs:
2 to 6 video cards
280 characters in the Tweet copy, but the link may reduce this to 257
70 characters in the Website title, but 50 is recommended due to possible truncation
One website or app destination for all cards
Video specs:
File size must be below 1GB; Twitter strongly recommends below 30MB
Videos up to 2:20 are supported, but 15 seconds or less are recommended
Logo in the upper left corner recommended
Closed captioning or text overlays are mandatory
MP4 or MOV file types
1:1 aspect ratio is recommended, but any aspect between 2:1 and 1:1 is acceptable

9:16 will always render in 1:1 space

1200 x 1200 pixels recommended, 640 x 360 minimum if not 1:1 aspect ratio
PNG or JPEG are supported for thumbnail files, should match aspect ratio of video
Technical video specs:
6,000 – 10,000k bitrate for 1080p (lower end recommended)
5,000 – 8,000k bitrate for 720p (lower end recommended)
29.97 or 30 FPS (frames per second/frame rate); up to 60 FPS is supported
AAC LC (low complexity) audio codec
H264, baseline, main or high profile with a 4:2:0 color space video codec
Does Twitter have a 20% rule?
Facebook recommends that advertisers using image or video ads keep text on those images or videos at less than 20% of the visual space. Twitter doesn't have this rule. Twitter does have a 20% guideline for something else: content type. In general, Twitter says a user should post around 80% valuable information for followers, and promote themselves just 20% of the time.
Carousel Ad Best Practice
If you're keen to get started, Twitter shared the following creative best practice tips for those who are interested in using Carousels.
Use all your components: visuals, headlines, descriptions, and calls-to-action.
Tell a story: Craft a visual narrative with a beginning, middle, and end.
Consider the audience: Show different product images to re-targeted customers than you would show to new, prospective customers.
Highlight the product and its benefits: The product should be visible and there should be clear, simple communication of benefit to the consumer.
We've written our own comprehensive article on how to make amazing Carousel ads for Social Media, too!
How to Report on Twitter Carousels
If you're going to use Carousel ads in your campaigns, be sure to track your performance metrics to make sure they're working for your business. Twitter has made Carousel-specific metrics available in its Campaign Reporting analytics to improve your understanding of how your Carousels are performing.
In order to see your Carousel metrics, you'll have to select 'Customize Metrics' from the dropdown box where you usually choose between seeing reports on things like conversions, engagements and reach. You can add swipes and video metrics to your reporting dashboard.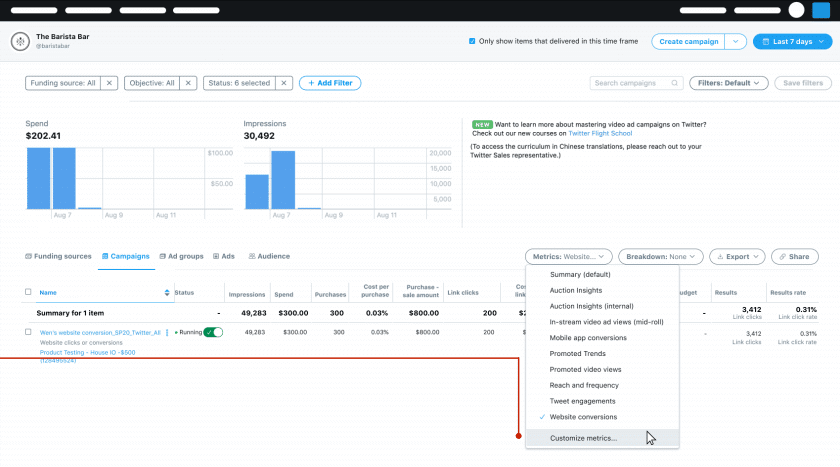 You can also adjust the 'breakdown' dropdown box on the report. If 'none' is selected, you'll see total ad performance, but if you select 'Carousel', you'll see reporting on the level of each card inside a Carousel. That way you can even see if some cards are working better than others for the metrics you care about (for example, impressions or clicks)!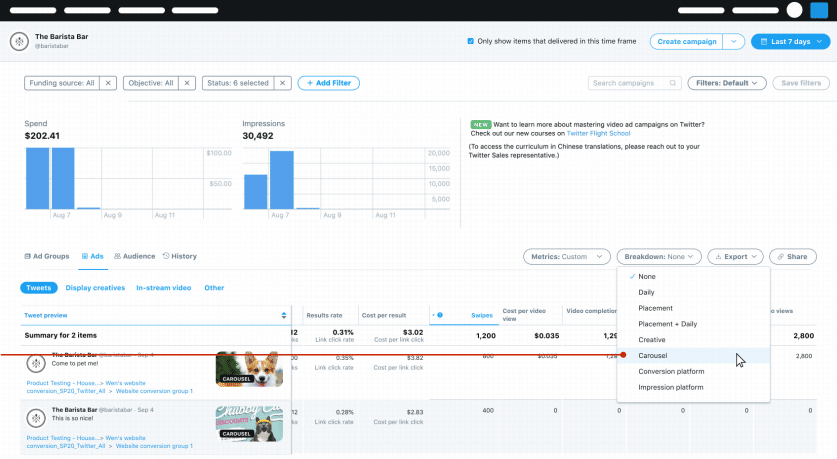 This is important. Since Twitter carousel ads don't offer auto-optimization (yet), you'll need to know the best performing cards yourself to use in Carousels.
If you're after a high level quick snapshot of which Carousels are driving the highest number of click-throughs and conversions, Digivizer's 'View Paid Creative' feature is your friend. You can preview not only Carousels but any creative ad type and compare their impact to optimize performance.
We hope you enjoyed this dive into using Twitter Carousels for your business or brand advertising. Hopefully there's a lot more news to come in this department, and we'll do our best to keep you updated! Bookmark this page for later use or to share with your colleagues.