See how Turboforte used Digivizer to grow at scale by optimizing their marketing and sales efforts.
Tim Allwood is the Founder and Global Director for Turboforte, or Turboforte Lung Physio, an all-natural, handheld medical device that helps patients with mucus producing respiratory conditions.
A period of strong initial demand for Turboforte's handheld, drug-free device to clear airways and strengthen lungs, saw Tim selling 10 units per day on Amazon on average, and maintaining a Return on Ad Spend (ROAS) of 2.1 – about the average revenue most companies generate in ratio to their advertising costs.
To scale up and ensure sustainable growth, Tim began looking for a partner with expertise in end-to-end digital marketing who could prove  it was continually optimizing for growth at the best return on investment.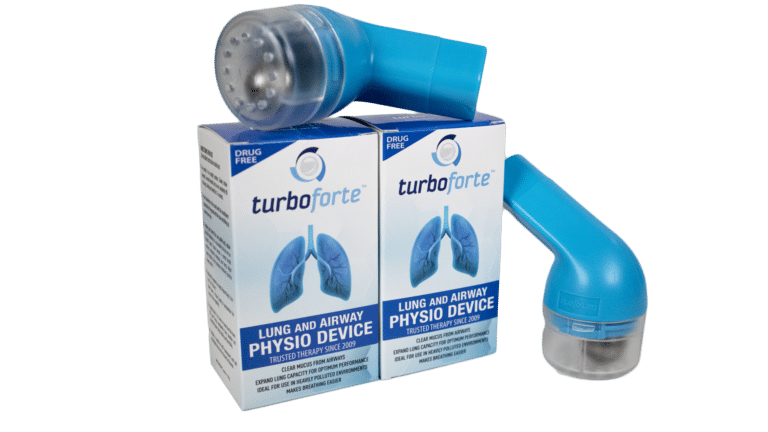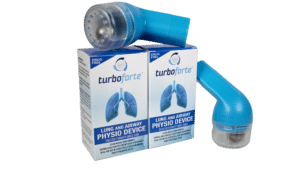 Marketing systems in silo with low lead visibility
Before Digivizer, Turboforte was using multiple marketing and sales channels in silo. Disjointed tracking systems and insufficient lead monitoring meant it was difficult to see how prospects were behaving when they landed on Turboforte's website, or social media ads.
This meant Turbofote's reach to relevant new audiences was limited and its leads were being generated and converted at a much slower rate than they could have been.
Tim knew this data-driven approach was key to his ambitious mission to rescue 18 million lives by helping those suffering from asthma, bronchitis and other respiratory illnesses to breathe easier.
Setting up an enhanced sales and marketing funnel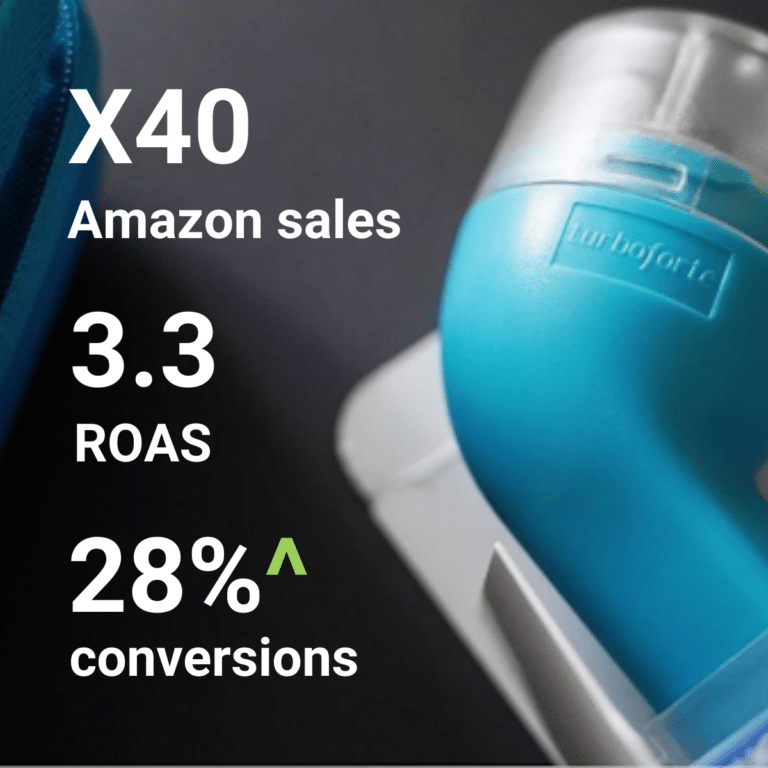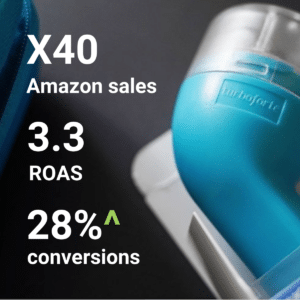 Turboforte engaged Digivizer to do a full audit of its sales and marketing strategy and functions. The results saw a surprising number of positive digital opportunities.
Knowing that Amazon would be an increasingly important digital shopfront to play in, Digivizer recommended setting up local Amazon websites and engaged Amazon Selling Partner Support to maximize Turboforte's stock limits and utilization.
Digivizer also recommended an influencer led brand awareness strategy to boost Turboforte's credibility and audience reach. 
Athletes, performers and health ambassadors in particular can speak with conviction to the importance of maintaining lung health and capacity. Sharing their impressions and reviews of Turboforte's device became a key ingredient in the marketing mix:
A new organic social content calendar and regular posting schedule, optimized by insights and brand ambassadors, saw Turboforte's brand social pages gain a significant boost in followers.
Using the Digivizer platform, which tracks all social media, web, search and paid analytics (including Amazon) in one place, insights emerged as to which organic post types, creative and copy were working, on which platforms. 
These insights were then used to inform marketing strategy and optimize advertising spend.

Turbocharging Facebook, Google and Amazon advertising
Using real-time insight into sales performance from Digivizer, Turboforte is now making it's Facebook, Google and Amazon advertising investment work harder.     
Turboforte's Amazon sales have gone from less than 10 units per day to 50+ units per day, and are still growing. 
ROAS overall improved from 2.1 to just over 3.3 in the space of two months.
Using the Paid Performance feature in Digivizer, Turboforte is keeping tabs on which campaigns are driving the highest ROAS across all platforms, all Social Media Ad Formats, Search Campaigns, and Amazon Sponsored Products.
"I strongly recommend Digivizer and their data-driven marketing agency services approach. If you want real truth and optimization for your organization and a company who operates and generates results globally, I could not recommend them more highly." 

 –  Tim Allwood, Founder & Global Director, Turboforte
Digivizer gives Turboforte the ability to track all key metrics for its sales, conversions and ROAS daily, by region, campaign, ad and adset level. This allows it to directly compare (apples for apples) metrics with Facebook, Instagram and other platforms to get the most insight out of all the available data:


With over 2.44 billion monthly visits to Amazon and with over 60% starting with Amazon to search for products, it made sense for Digivizer to include Amazon in the platforms it supports.  
"Amazon advertising represents more than 10% of the US digital ad pie. Its ad revenue is now 2.4 times as large as Snap, Twitter, Roku and Pinterest combined"

– Emma Lo Russo, CEO & Founder, Digivizer
"It impressed me that Digivizer was not only a tech and ad partner to all the major social, search and ad platforms, but they were also a top agency partner for Facebook, Google, Shopify and Amazon Advertising," said Tim.
It is so hard to find one partner who has expertise in every facet of digital marketing and can track in real time what is working so it is being continuously optimized for growth at the best return on investment."
Turboforte and Digivizer have big plans, not only to drive ROAS higher in the lead up to Christmas, but to tell the story of more Turboforte users who are breathing easier around the globe.
With a data-driven marketing and sales strategy optimizing it's customer journeys, Turboforte is breathing easier too.

About Turboforte
Turboforte works through OPEP (oscillating positive expiratory pressure) to cause vibration in the airways, loosening mucus so that the user can easily cough it up on their terms. Clearing this excess mucus makes it a beneficial tool to people suffering from conditions such as asthma and bronchitis. It also helps in areas of poor air quality, or just generally as a lung strengthening tool.  Turboforte is backed by Medical Research and Science and holds certification and approval with  the U.S. Food and Drug Administration (FDA) for the production and distribution of medical devices intended for use in the United States, with  the Australian Governments Therapeutic Goods Association (TGA) as a Class 1 Medical Device and CE, the European Union's (EU) standards for health, safety, and environmental protection. With over 7,000 devices sold and over a thousand 4&5/5 star ratings from customers, this product is a positive force for athletes, musicians, those with chest mucous issues, something that improves lung health for all.  Turboforte retails for US$59.95 or AU$79.95 + shipping. Check out https://turboforte.global/