When it comes to advertising, both in the US and around the world, there is an established duopoly that dominates where brands choose to advertise: Google and Facebook. But Amazon Advertising is quickly climbing the ranks. If you're advertising online, here's why Amazon Ads needs to be part of your ad strategy for 2022. 
Amazon Ads' revenue exceeds all forecasts
Amazon's global ad revenue is set to reach US$26 billion (with a b!) this year. Its growth rate is no joke: in comparison, Amazon made about US$13 billion from advertising revenue in the first three quarters of 2020, and US$9 billion the year before that. By 2026, its ad revenue is forecast to increase to US$85 billion. 
To put it in perspective: that makes Amazon's ad revenue twice as big as the combined ad revenue of Snap, Twitter, Roku, and Pinterest. And it's growing 1.7 times faster than they are. Importantly, experts are noticing that Amazon is exceeding their forecasts – doing better than expected, quarter on quarter, year on year. 
With global ecommerce sales of over US$400 billion and almost 3 billion monthly visits to its websites, Amazon is a huge destination for retail buyers. Which means it needs to be a huge destination for sellers and advertisers. More and more brands and retailers are jumping onto the bandwagon to advertise on Amazon. It's time for you to make the jump, too.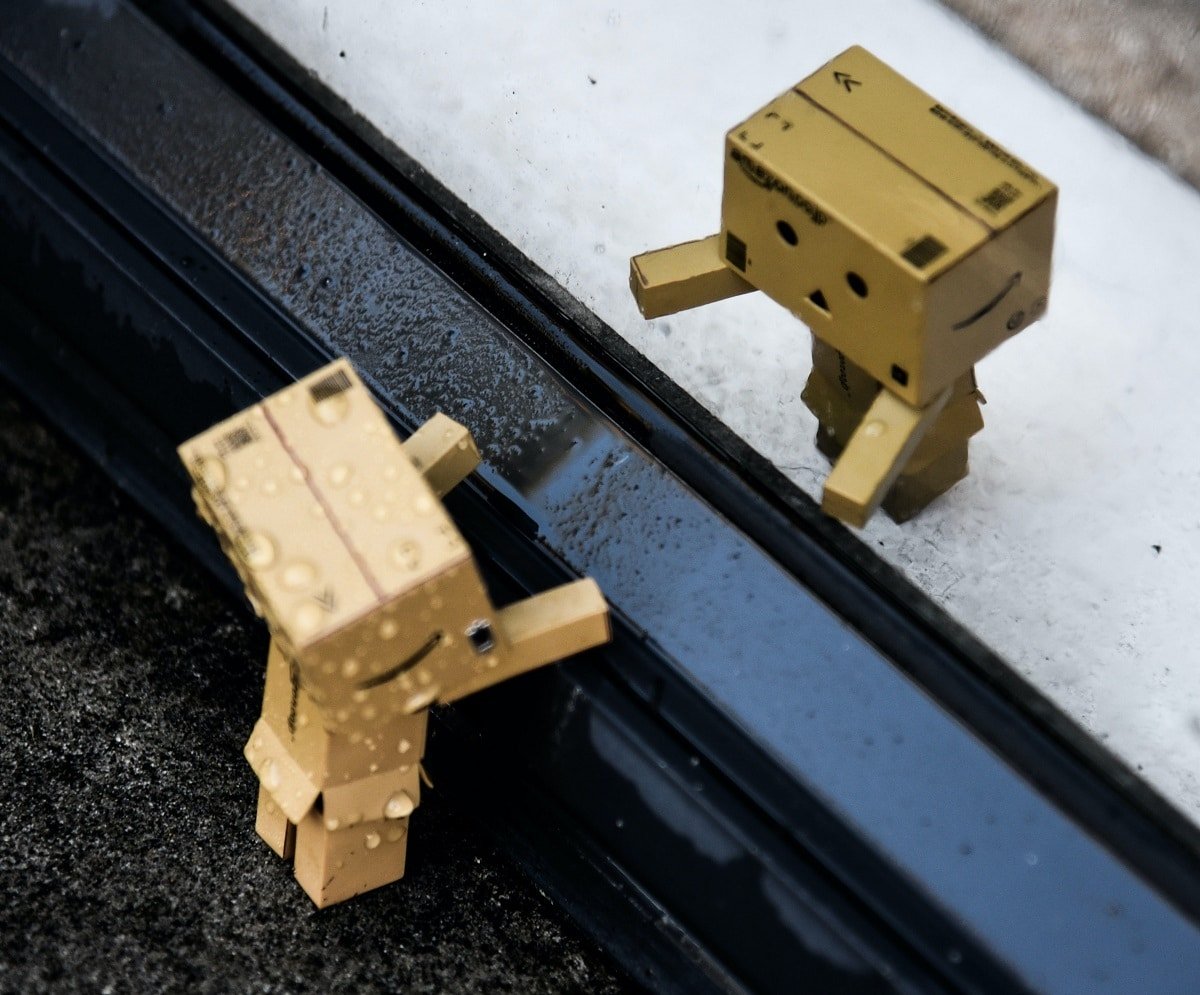 Amazon Ads in the global digital ad market
Let's look at this growth in terms of the digital advertising pie.
Since the year's not quite yet over (and the Christmas holiday period is ongoing), we have to stick to projections for 2021. Amazon is projected to account for 8.67% of the global digital advertising revenue this year, and 13% by 2026. 
Elsewhere we can see a more complete picture of the ad pie – and Amazon's surging growth within it. While the Google-Facebook duopoly isn't at risk from Amazon yet on the global stage, Amazon is definitely trending up. While Google's growth is negative and Facebook's has markedly slowed – or stabilized, or matured, depending on your interpretation. 
Google, Facebook and the overall ecommerce market reported strong recoveries from the global pause on ad spends during the COVID-19 pandemic. Once brands turned their ad spends back on to take advantage of all the locked-down, homebound online shoppers, where did they start to spend their money?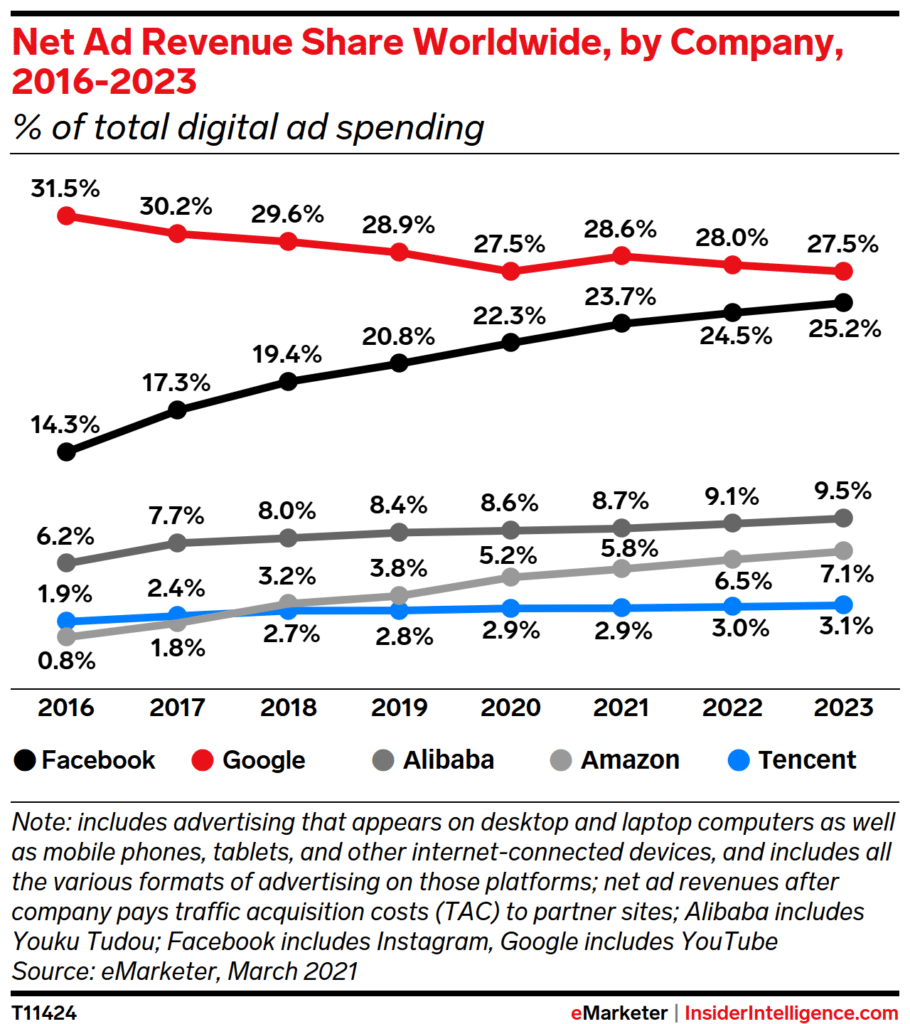 Amazon Ads in the US digital ad market
The Google-Facebook ad spend duopoly is still strong on the world stage. How about in the United States' ad market – the world's leading global market for advertising spending? 
(China is a distant second for advertising expenditure, if you're wondering; Japan is third. The UK and Germany are top in Europe, and Brazil leads the pack in Latin America. As for the digital advertising in total in the US: there was nearly US$153 billion spent in 2020, 42% on search, and this will grow to US$200 billion by 2025.)
In 2020, Google accounted for around 29% of the total digital ad revenue generated in the US. Facebook came close on its heels at 25%. Amazon came in third, at 10%. It's projected to grow to 10.7% of the US market this year, 11.9% in 2022 and 12.8% in 2023. 
It's definitely aiming to disrupt the duopoly on the national front. And it's doing that by chipping away at fellow display-and-search advertiser Google. 
What is driving Amazon's advertising success?
Customer trust is driving Amazon Ads' success. Nearly 90% of Amazon's ad revenue is driven by search ads that appear on its shopping websites and apps. (The other 10% seems to come from its owned properties such as Twitch, Fire TV and IMDb TV.) 
92% of buyers agree they are more likely to buy products from Amazon than other ecommerce sites. It's the buyer's destination of choice – so it should be the sellers' advertising destination of choice, too. 
Almost 60% of Amazon's traffic is direct: consumers go straight there to search for something specific. 66% of shoppers start their search on Amazon, reading full product descriptions and reviews, and comparing prices. 
Amazon is a shopping website. People are there to buy products. That makes it the definition of a high-intent marketplace, perfect for advertisers!
Search ads for sponsored products and brands that blend into organic search results make up a large portion of Amazon's success. Retailers who advertise on Amazon report strong performance and a great return on investment as the reason they keep coming back for more. 
Trust levels are high
When shopping on Amazon, 35% of surveyed respondents remembered clicking on a product advertisement. Younger shoppers are more likely to click ads – of those between ages 18-21, 57% have clicked on a product advertisement on Amazon. That makes Amazon an excellent choice for brands trying to get in front of younger consumers.
When they were asked how they felt about ads on Amazon, one-third reported rarely noticing the ads. The audience was split on whether they were distracting (25%) or helpful (21%). The best validation for Amazon Ads, however, comes in the form of only 6% of respondents saying they don't trust Amazon Ads. 
Amazon has worked hard to become one of the most trusted retail institutions online. They focus relentlessly on optimizing the customer experience even in the advertising space, and it looks like they're succeeding.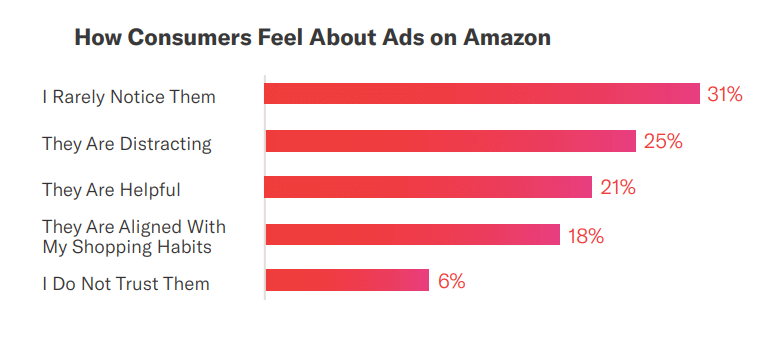 What's next for Amazon Ads? 
Growth, growth, growth. Amazon Ads is expected to grow on both the global and US scales in 2022 and beyond. Meaning ecommerce advertisers should strongly consider adding it to their omnichannel advertising mix. Moreover, mobile advertising is also predicted to go from strength to strength, while desktop ads will see declines. So invest time in learning how to make mobile and app-based Amazon Ads work for you in 2022! 
(In September 2018, 63 million users accessed Amazon sites exclusively through their mobile devices. In September 2019, 150.6 million mobile users accessed the Amazon app! See: growth, growth, growth!)
We hope you found this article useful. Bookmark it for later! Or share with your colleagues when you need to convince them that Amazon Ads deserve a key place in your digital advertising strategy for 2022.