Want to know how you can get the most out of a TikTok Ad campaign? Keep reading to find out how to use TikTok for Business to construct compelling campaigns that cut-through the noise of the fyp.
TikTok reportedly passed one billion users in September 2021, providing a compelling case for adding the platform to your digital marketing strategy. After exploding in popularity during the pandemic, TikTok has become inescapable – even if you don't use it, the social media you do consume is heavily influenced by it.
There's a reason that #tiktokmademebuyit is perennially trending. Video-focused, fast and furious, TikTok is a trend machine that has taken the social media world by storm. And it has generated countless niche audiences, at least one of which is bound to be the ideal fit for your brand or product. 
What's your goal?
First, make sure you're clear about what you want to achieve. Start with some basic questions. How do you want to present your brand on TikTok? What do you want people to do after they see your ads? How can TikTok ads be used to expand your customer base? 
It's important to consider the platform's point of difference if you want to create a campaign that resonates with the platform's users. You'll need to be ready to generate multiple, fresh ideas on a weekly, if not daily, basis. You'll also need to decide how you can translate your brand values and services into something that works on TikTok.
You can have fun with campaigns. TikTok ads offer opportunities for brands to be creative with their storytelling. The speed and impermanence of the platform also allows you to experiment in real-time. Provided you don't post anything heinous, mistakes go largely unnoticed and are unlikely to have any lasting impact.
Know your audience
TikTok most definitely is not just for teenagers. It may skew to a younger demographic, but the sheer numbers of engaged users means that there is an engaged user base spread across the demographics. It should be possible for every brand to connect with their ideal audience.
And connection is king on TikTok. In conflicted times, people want to feel connected to brands more than ever. That is definitely true of Generation Z, and of TikTok users in general. Brands that establish positive connections with their audience can foster greater loyalty than you'd expect given the speed of the medium.
Influencers and Creators
Influencers have a very powerful voice on TikTok and the good ones build a seriously sticky following. This can be a harder task for brands to achieve, but if you're open, surprising and authentic, you might end up being surprised yourself by the fervour with which your message is adopted.
To build and maintain the kind of relationships that make TikTok tick, you need to know your audience inside out. Who do you hope to reach with your message? What do they value? What are the challenges they face? How can your business help improve their lives? 
Build a thorough profile of your intended audience before you get started. It will help you generate content that is focused, succinct and impactful. 
Choosing the right format
There are a range of formats available through TikTok for Business. Here is a quick run-down of the most common types: 
Video ads:

They usually run for 5-60 seconds and are displayed in full-screen mode. These types of ads get placed in the user's "For you Feed" (fyp). Each ad includes a video, an ad display image, brand or app name and ad text. 

Branded hashtag ads:

These ads offer a TikTok challenge based on your branded hashtag to encourage user engagement. These ads are great at generating brand name recognition and user-generated content.

Top view ads:

These ads appear as a full-screen takeover for 5-60 seconds when users open the TikTok app. 
Data is key to knowing how to refine and optimize campaigns – TikTok for Business is now on Digivizer.
Your budget is going to play a part in deciding which ad format to choose. There's always an element of risk involved in starting something new. You can minimize room for error by setting an exploratory budget and schedule and then opting to launch your TikTok ad campaign with one of the lower cost options. Then test and learn and use the data to help you decide how to optimize your efforts.
TikTok for Business offers creative insights
On TikTok, your ad needs to hook people in super fast – you have a second or two to make an impact and stop them scrolling straight past. Getting the creative right is the single most important thing you can do on TikTok. Packing your message with features and offers is pointless if your audience has scrolled past. 
In that way, the platform turns much received wisdom on its head. Luckily, TikTok have some pretty good resources to help get you off to a good start – including success stories for inspiration and a creative centre that contains most of the tools you need. What ever style you go for, it's best to have some cohesion in your content. And use all of the elements on offer – use text for anything wordy, add stickers and use trending sounds. Anything that strikes a chord with your audience and keeps them watching long enough to consider your offer is a win. 
Taking creative risks can pay-off big time
Anything and everything is a creative option on a platform where Shrek In The Sky was an overnight sensation. Experiment with design elements that are too cutting edge for other mediums, humour that goes close to the edge or, if you're fully committed, go down the Duo Lingo route. The language app created a character so unexpected and irreverent when they brought the Duo Lingo owl to life that their account became a genuine sensation. It's all about cut-through. Brands can thrive on TikTok when they hit the right note so keep trying until you hit a winning approach.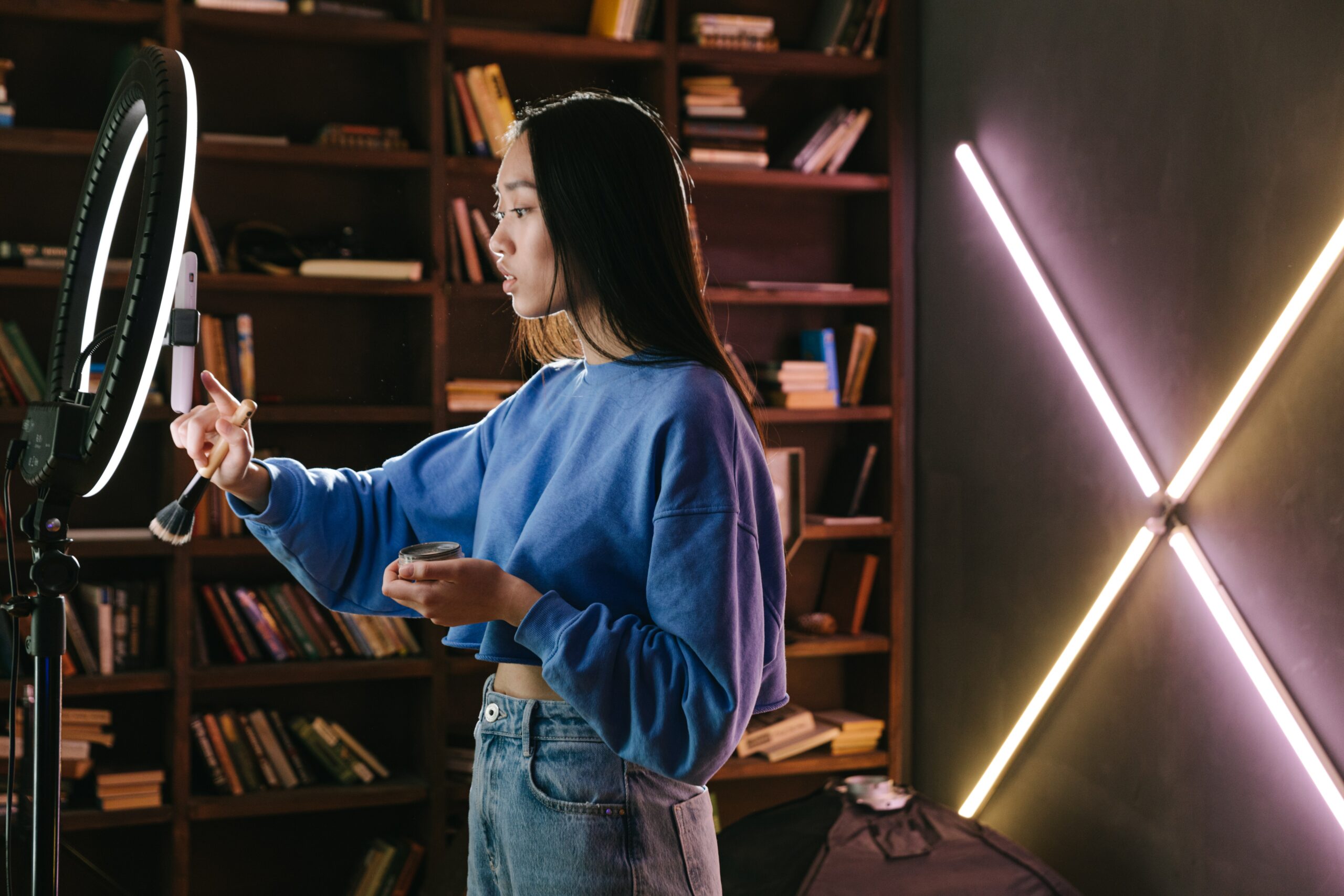 That can mean reflecting your audience right back at them – either in style or tone. That's the special something that makes the best influencers so successful on the app. If you don't want to work with creators, consider posting like one. You don't have to look like your audience, but your message needs to resonate with them. Juxtaposition works well in this medium, it's immediately obvious and can capture attention long enough for a user to commit to watching your TikTok.  
Turning a TikTok ad into a campaign
Now that you know which elements need to come together to make an ad and then nurture it into an effective TikTok campaign, here are the steps you need to take to make it happen. 
If you haven't already, create a TikTok Ad Manager account. Then click the "campaign" button. TikTok has seven ad objectives, which are grouped into three categories:
Awareness
Reach:

have your ad seen by as many people as possible.
Consideration
Traffic:

drive users to a URL. 

App installs:

drive users to download an app.

Video views:

maximise the amount of times your ad gets played. 

Lead generation:

collect leads by using a pre populated instant form. 
Conversions
Conversions:

drive users to perform specific actions on your site (e.g. purchase or subscription).

Catalog sales:

create dynamic ads based on your product catalog. 
Choose the format that best suits your aims and you're ready to launch your brand into the wilds of the fyp.
TikTok for Business works for brand awareness too
An emerging medium for advertising, TikTok ads are a great way to extend your brand storytelling as well as connect with customers. Watch out for our next article – a deep dive into how to grow your brand across multiple social media platforms, including TikTok.
Want real-time insights into how your TikTok Ads are performing? TikTok for Business is now integrated into Digivizer. Connect your TikTok account to Digivizer to know what works and what doesn't on all your campaigns, across every platform. Digivizer lets you create your own single-source of truth to help fast-track your digital marketing strategy.  
Sign up for free and win with data-driven marketing!