When a friend tells you about a new product, brand or service – where do you look? 
With over 2 billion active users worldwide and 90% of that user base already following a brand account, we're fairly confident you would have said Instagram. 
As a mobile-first application for sharing photo and video content, Instagram marketing can enable brands to build immersive, multi-modal storytelling experiences that lessen the gap between themselves and their target customers.  
Here's our take on how brands can harness the power of Instagram marketing. 
Experience before product
To engage those your brand seeks to reach, design content around the experience (or the lifestyle) people can have with the product rather than straight product promotion. 
THINK: How will the user feel after using the product or service? What pain points can be resolved? What do people gain? 
As users scroll through your brand profile, they should be able to get a feel for your brand and the experience they can have with your products – just like users can with Ikecho, one of our valued customers.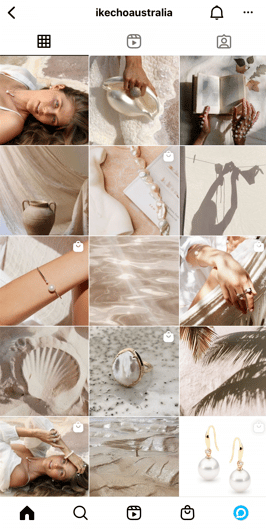 Between photos, videos, Reels, Stories and Instagram Live, Instagram enables brands to be multi-media storytellers and engage users in the different dimensions of their personality. 
Here's a quick rundown on what the different features of Instagram can be used for:
Instagram Live – real-time Q/A sessions with followers, event streaming
Reels, photos and videos – product launches, new offers and evergreen content (content that isn't time-sensitive) including how-to, top tips, fun facts, customer testimonials, and lifestyle content
Stories – sign-up/registration links, sharing content your brand has been tagged in, BTS (behind-the-scenes) moments of products, shoots, etc 
When brands effectively leverage Instagram features to tell their brand story and engage with customers, they build the bones of an appealing online presence which continues to gain traction. 
Build connections – Don't forget captions!
Although Instagram is a visual-first platform, captions can't be made an afterthought. Captions are important for all industries as it makes posts feel more directed to the user. 
It creates an intimate experience where the user feels like they're viewing someone's digital scrapbook, while hearing the author's narration as a voice-over in their minds. This has the power to foster much greater brand rapport than images alone, no matter how beautiful or thumb-stopping they may be. 
The best captions: 
are concise and easy to follow
include hashtags that are relevant and have a high search volume
offer greater context/meaning to posts while also being entertaining for users
position mentions and hashtags at the end
situate the most important information at the start (e.g. GIVEAWAY)
Brands also shouldn't shy away from using Instagram posts as a springboard for users to take further action (e.g. browse our range, sign up to our newsletter, register for our event, share with us, donate to our charity, etc). 
Creating quality captions requires brands to understand their followers. 
Before brands start sharing content on social media, they need to know:
how their target market likes being spoken to 
the demographics that define their audience – will they understand certain references? 
the hashtags their audience follows 
the jobs users perform (in relation to your product or service) 
user pain points, values and interests
Seize instant sales
Instagram marketing is highly influential over consumer purchasing decisions, with one study citing the application as being responsible for 72% of purchases among consumers. 
Thanks to the launch of Instagram Shops in 2020, brands can now take the ability to compel users to take action to a new level. With Instagram Shops, there are less steps consumers need to take to convert and become paying customers. They can directly buy from the platform. Provided that the user is engaged, conversion can happen almost instantly as a result. 
According to recent data from Sprout Social, more than two thirds of consumers have already purchased directly from social media, and the momentum is only set to continue.
Optimize your profile for search
Instagram marketing is a lucrative medium for brands to increase leads and conversions. Brands can unlock this power by optimizing their Instagram profile for search. Brands with optimized profiles appear more frequently in search results when users search for relevant keywords or hashtags in the search bar. 
Before you optimize your brand's Instagram page, ensure you know the search terms people use to seek content like yours. Use the Instagram explore page to search a general hashtag (including the # symbol) related to your business (e.g. #pasta) and note the hashtags that appear in the search suggestions (e.g. #PastaTips, #PastaRecipes, etc). This provides insight into what your target market actively looks for on Instagram as well as the hashtags you need to include in your content as a result. 
To begin optimizing your brand's Instagram profile, focus on the Instagram handle your brand uses. If your brand is already well known by its brand name, make that the Instagram handle so your profile can be easily found. It's also advantageous to add a keyword to your Instagram handle if there is room to do so. 
Now, it's time to direct attention to your brand's Instagram bio. Under the Instagram handle is the description. It needs to communicate what your brand does in a sentence, while including a relevant keyword (e.g. See all your digital marketing results, including social media, search and web, in a single, simple view). Under the brand description, add a link to your company website for a seamless customer journey and search experience. Also include the location of your business – if relevant. 
Tap into earned media 
Earned media, which refers to any content where people talk about you, can enact free advertising for your business and radically increase brand exposure. 
In the context of Instagram, earned media usually involves content where other users have tagged or mentioned your brand handle. This is also known as user-generated content. Brands can bolster the momentum of earned media by sharing the mention via an Instagram Story or reposting the content (and tagging the original user). 
Sharing earned media significantly drives engagement among followers, a fundamental component involved in being favored by the Instagram algorithm.
But how can brands keep track of who's mentioning them?
Brands can instantly see their mentions when they connect their social accounts into the Digivizer platform. They can then compare the results of their earned media against all their paid, search and organic channels in a single view. This gives brands the high-level visibility they need to understand the digital marketing initiatives that are delivering positive results as well as the areas that require a pivot. 
Sign up for free to enjoy immediate access to digital performance insights across all your channels today.