Understanding digital marketing analytics is a critical requirement for modern marketers. As competition intensifies, only a good understanding of data about consumers and their behavior on marketing platforms differentiates super marketers from average marketers. When you access real-time data, you automatically achieve a greater ROI by making better decisions.
So how can you become a super marketer with digital marketing analytics?
For years, only large enterprise companies with big budgets could afford analytics solutions and that helped them grow. However with internet advertising spend growing by 21% year on year, per Mary Meeker's Internet Report, and as social platforms increasingly drive algorithms to make it harder to win on organic efforts alone, every business, big or small, needs to understand where it is getting the best return on investment in real-time. This encompasses:
Content in each of your social channels
Earned Media – eg influencers, partners, advocates and employees – those who are talking about you
Paid Advertising across social and search
There are a number of options for marketing analytics tools in the market. Many of them are still out of reach for small and emerging businesses. Platforms that help you measure end to end are either too expensive, require too much programming and technical support or only provide part of the picture.
Alternatively, without them, you spend too much time manually looking into each platform for data, exporting CSV's and discovering data and metrics that can be compared like-to-like. The time you spend trying to find data should be spent on making better decisions led by insights.
Digivizer, a leading digital marketing analytics technology and activations company, powers better decisions for many of the world's (and Australian) leading brands and small businesses. Digivizer's digital marketing analytics platform makes it easy for you to connect your social and search accounts and see, in real-time, the performance of all your owned, earned and paid media in one place. providing you with the ability to make fast decisions.
Top 5 reasons to choose Digivizer for your digital marketing analytics
1 Gain greater insights by seeing everything in one place
See what content is performing best for you across Facebook, Instagram, Google, LinkedIn, Youtube and Twitter across all aspects of your organic, earned and paid media programs within one platform. All measures have been transformed already to make them "like for like" and able to be easily compared helping you see where and what is your greatest (and worst) performing content.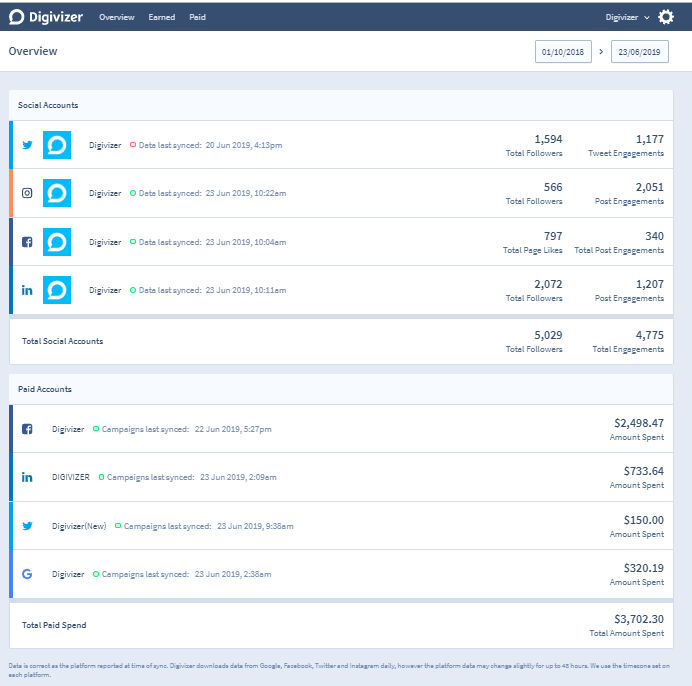 2. Save time in reporting
By having all your social and search in one easy-to-use platform, you no longer have to spend hours preparing your reports. If you use more than one platform to do anything, especially if you are driving paid media, you will know how difficult it is to create a single view for a report that answers your total cost of every aspect of your funnel – from brand, to engagement, to conversion. Digivizer also makes it easy to 1) see best-performing content and 2) export all visualizations and graphs to place immediately in reports.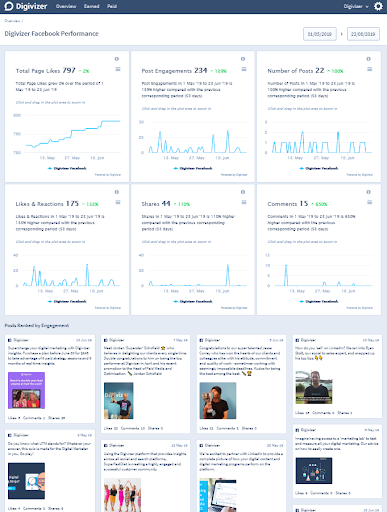 3. Create different brand spaces if you run multiple brands & easily invite those who need to see insights per brand
Agencies or larger companies, in particular, enjoy the flexibility of being able to manage and easily switch between various individual brand spaces. Here is a snippet of Digivizer's view of brands we manage, that allows us to easily choose at one click, to see all relevant live metrics between a large number of chosen brands.
Each brand shows their own owned, earned and paid performance, allows you to securely invite only those you want to provide access to per brand space, allows you to invite influencers in to track per brand space and allows you to track relevant hashtags per brand space.
You don't have to be a technical expert to see all performance data in real time with the ease of a click between multiple brand spaces.
What also makes Digivizer unique is you can invite anyone into an individual space eg You can invite your client, manager, different colleagues – as long as someone had the original admin authority to connect the accounts, you do not have to be an expert to gain relevant and easy to read data.
You can also invite and connect multiple people who have admin to different channels to help you create a single view, eg someone may have the search admin credentials, and another the social admin – you can even invite multiple external groups (eg another agency running some part of your marketing) to the one brand space. Again making it easy by providing one single view.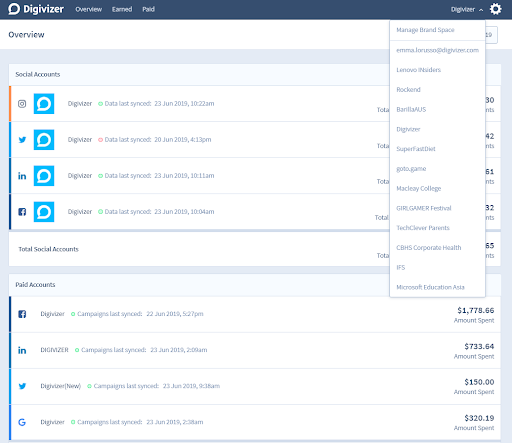 4. Easily invite and track influencers or hashtags across all platforms in one view
Digivizer makes it easy to invite influencers into your brand space. The invite automatically goes from the brand to the influencer who accepts for the brand to only see their post data when the brand or agreed hashtag is mentioned. With GDPR and privacy laws, you can not track someone without their permission. All permissions are built into the Digivizer platform allowing you to easily see best performing content.
You get to see all earned media – influencers, and those talking about you or using hashtags you are tracking all in one view.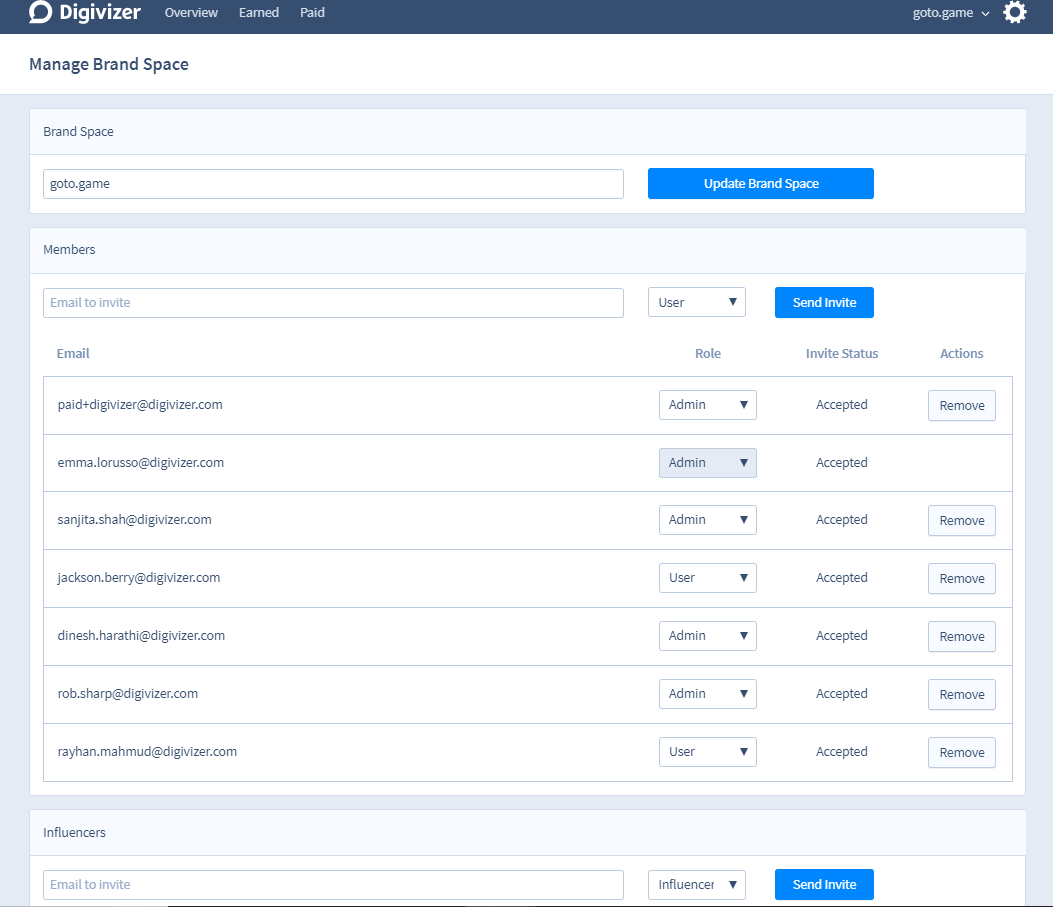 You can easily filter your earned media by:
Platform
Influencer
Hashtag
Most engaged earned posts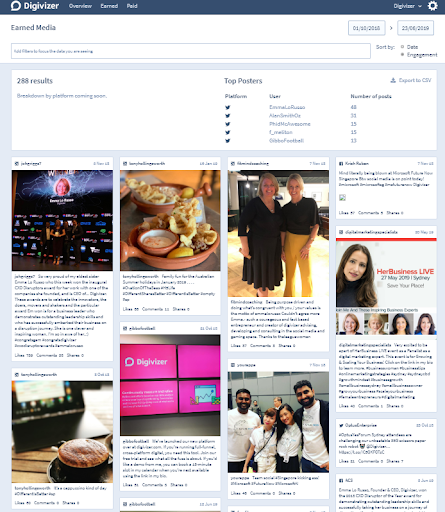 You can add hashtags and upgrade your plan as you need them – which is a great way to help you see all those using hashtags at an event, or as part of your brand campaigns.
5. Free Digital Strategy sessions with every plan
Digivizer plans start at very affordable US$89 per month and allow you to see all your social and search owned, earned and paid media in one platform with lots of new valuable insights and developments being delivered all the time.
Every account holder can take advantage of our Premium Ad Support to gain access to our Digital Marketing Certified Experts who can help you interpret your results and to give you tips and guidance on your strategy so you can do more of what is working for you (and stop doing what is not). Digivizer really is your one-stop solution.