Having traveled much of the world for business, it is interesting to see the differences in digital maturity of different companies and countries.
The larger the population and the potential customer base, the more likely they understand the importance of ensuring everything is always tested, measured and iterated. They also know it's impossible to be successful through treating groups as homogenous.
The key lesson I've taken from this is that it is crucial to set up an environment that allows you to continuously test your best-performing audience, platform, content, and call to action.
With everything in digital able to be measured, it is good to think about everything you do within the concept of a 'marketing lab'. Not a service so much as a discipline that provides full visibility into the performance of every part of what you create, and where you serve that content, across your social and search, owned, earned and paid programs.
This concept of a marketing lab enables you to be in a state of deliberate and continuous experimentation. Digital marketing should never be about setting the path and then allowing the system to run without regular review.
There is plenty of research that shows setting up a data-driven environment can improve results by between 20% and 30%. What's more, these levels of improvement apply equally to companies of any size.
At Digivizer we advise businesses to consider everything they do to be considered within a digital funnel – mapping content to customers – from not knowing you, to knowing you, to considering you, to buying from you, and, ultimately, to referring you.
It really is about seeing the engagement of your customer as just one point in a continuous relationship and journey with them. Tagging or linking everything, so that you know where they are in their journey, where they go next, and what matters to them, is key to nurturing them towards the result they seek (a need that's been satisfied) and the result you seek (a delighted customer).
Through taking this approach, we regularly see improvements by as much as double, even triple in some cases within months, in the measurements that matter – such as cost-per-lead or cost-per-acquisition, by continuously measuring and optimizing within the one view of the marketing funnel.
For those who feel they are already in an optimized state, there is always improvement to be found! Consider picking one metric each week to improve and setting it as a KPI. Perhaps you seek to increase engagement by 2% mid-funnel, increase the number of click-throughs to a landing page by 5%, or improve conversion on one particular piece of content by 1%.
By isolating one metric, putting your best thinking and creative to play, and then measuring everything in real-time, you can set tests and hypotheses about what is and can actually improve your performance. Once the performance is achieved on one metric, you pick the next metric. If performance is poorer, you can discard that particular combination with confidence, and focus on the next real-time, digital marketing 'experiment'.
The point here is that testing to see what works best is about delivering an ROI and impact. It is not a one-off test or something you do away from your core product or marketing programs. It is your core marketing program.
And it works because creating a digital lab where everything is being measured and optimized is a mindset supported by tools that make it easy to test.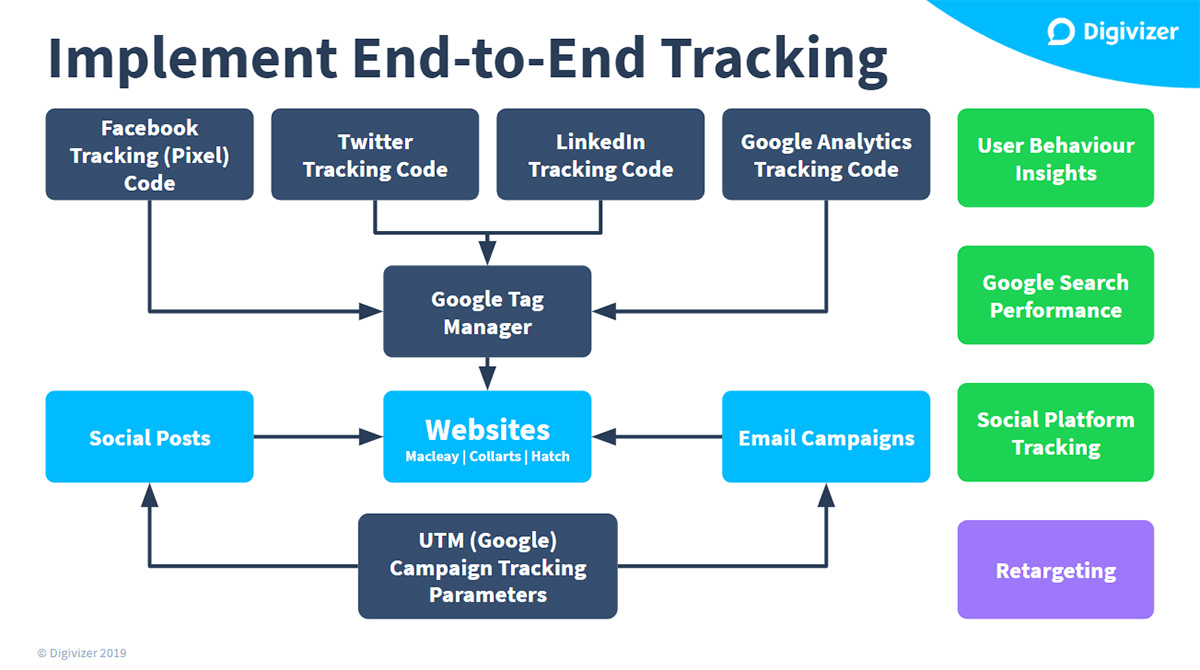 With everything in digital able to be measured, it is good to think about everything you do within the concept of a 'marketing lab'. A marketing lab enables you to be in a state of deliberate and continuous experimentation.
Our Top Five Tips for Data-Driven Marketing:
Implement tracking across every part of the funnel using:

Facebook tags
Google Analytics tags
UTM tags

Set objectives for every piece of content (is this brand, consideration or conversion, for example) and see it as a journey. If customers have engaged with one piece of content, what should you serve them next? If they engage with that new content, what should you use next to further convert them or should you now take them straight to conversion?
Break down your audiences and test, geo, content types, and objectives in the way you label your ads, adsets, and campaigns. Plan and adopt a naming convention that allows you instantly to see how performance compares across channels, programs, and budgets. Read our article on how to name your campaigns.
Link everything into a real-time environment – allowing you to easily see and filter on performance (per the above):

Best performing audience
Best performing platform
Best performing content
Best performing call to action

Be prepared to look for insights, continuously iterating to do more of what works and stop doing what doesn't. Make adjustments to your content, who you engage and to your paid budgets accordingly.
How to Open Your Marketing Lab Now
Opening your own live marketing lab is straightforward, and takes just a few minutes up-front to set all your measurements.
With Digivizer, we make it easy by delivering you real-time insights across all aspects of your content across your social and search accounts' owned, earned and paid programs. This allows you to continuously measure, iterate and improve at will.
Find out how Digivizer can help you get more from your digital spend.