Digivizer introduces a complete LinkedIn analytics solution. B2B marketers can now measure performance for their LinkedIn pages content for any date-range, track LinkedIn advertising performance at granular details and easily compare these with the performance of other social media platforms, all in a single view.
Linkedin is an important platform for B2B marketing. It provides a great ability to reach your precise audience. Although engagement can be expensive compared to other digital marketing platforms, conversions from LinkedIn generated leads can prove to be very cost effective.
In the past, tracking performance within Linkedin and comparing it to the performance of other social media platforms involved painful manual processing of data. You don't need to do that anymore as Digivizer, a leader in digital marketing analytics technology, has partnered with LinkedIn to automate the process for you.
LinkedIn and Digivizer partner on automating analytics
In recent years, LinkedIn has become the platform of choice for B2B businesses and marketers to build and nurture business relationships and for targeting specific accounts and decision makers. With key decision makers using Linkedin as one of their sources of learning and choosing vendors, understanding the performance of content and marketing investment is of critical importance.
Digivizer has added LinkedIn Pages and LinkedIn Paid Media Analytics to its digital analytics platform providing one place for businesses to view their owned, earned and paid media. This new feature automates what was earlier an entirely manual exercise thus saving many hours of labor and giving marketers a one-stop solution for multi-platform analytics.
No more post-by-post tracking: With Digivizer, you can now track LinkedIn metrics like most engaging content, impressions, organic reach, engagement types, engagement rates and you can analyze this through the lens of time. Rather than looking post by post, you can now choose a date range and determine over time the best performing content.
Granular paid media analytics: If you are running paid advertising campaigns on LinkedIn, you can now track your advertising effectiveness by campaign, adsets and even up to your ads level. You can track these to your various objectives with ease, filtering all the way to the nature of the content and the best performing campaigns.
Compare LinkedIn alongside other platforms: Digivizer helps you build a clear understanding of the cost of each key metric you care about and to see what is performing best for you not only in Linkedin but also across platforms, comparing apples to apples.
Digivizer is one of the first companies worldwide to provide comparative LinkedIn analytics
Digivizer is one of the first companies worldwide to make these type of content and paid measures available alongside the same measurements for other social media and digital platforms. The addition means Digivizer gives digital marketers a complete picture of the performance of their digital marketing programs across LinkedIn, Google search, YouTube, Facebook, Instagram, and Twitter, in real time.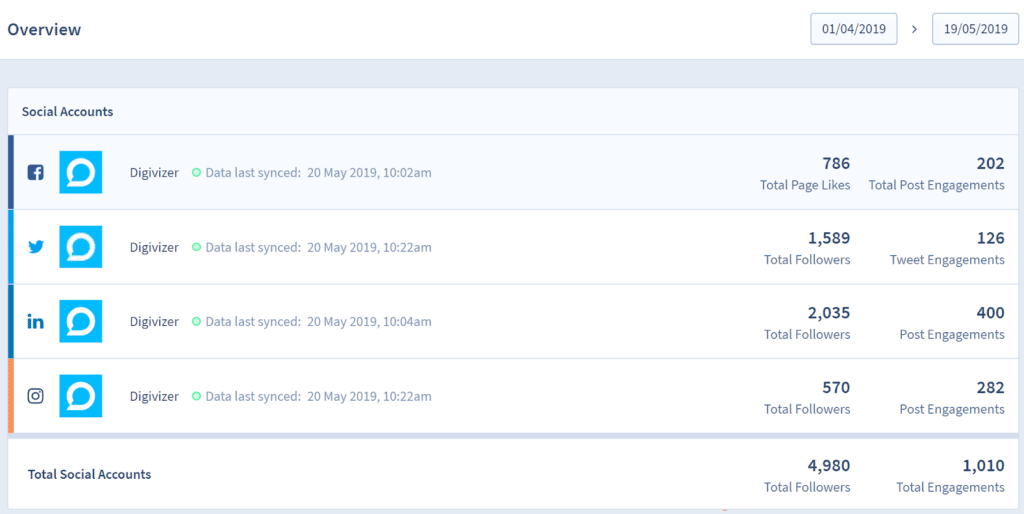 Paid media analytics allows marketers to see total spends for each platform, and then narrow down to view data for Campaigns, Adsets, and Ads. They can make decisions about program performance against objectives, at clicks and conversion levels, in real-time.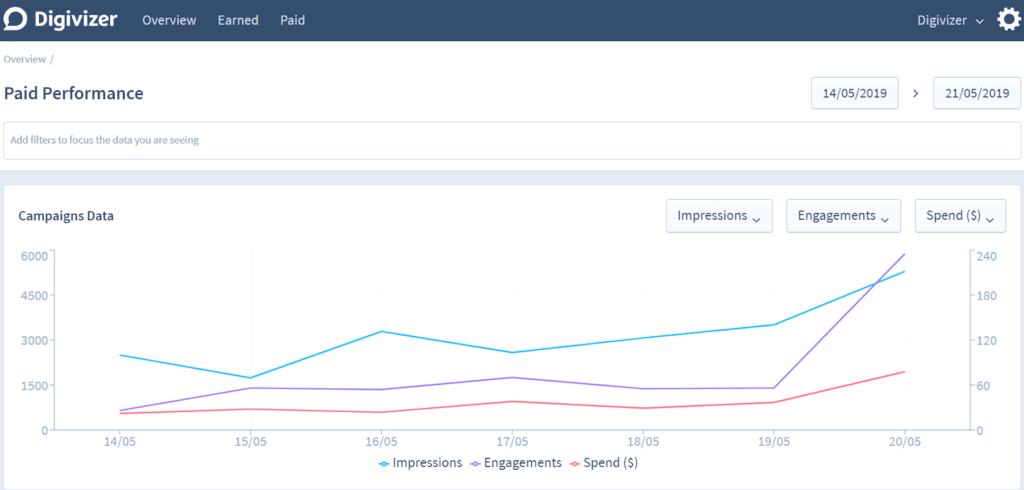 Adding LinkedIn is particularly important for those businesses who sell to businesses
Digivizer also includes performance measurements for LinkedIn Company Pages and Brand Pages that cover impressions, Likes, Comments, Shares, Clicks and Engagement Rate, and presents best-performing content over any date period chosen.
For businesses or agencies managing multiple pages, these can be either viewed in a single view or viewed within individual BrandSpaces (together with all the other associated brand channels).
Building a Digital Marketing Analytics Platform affordable for all businesses
Emma Lo Russo, CEO and Founder of Digivizer, explains what this means for growing businesses and digital marketers: "This is exciting for digital marketers. Until now it's been difficult for digital marketers to compare LinkedIn paid performance alongside other social media and search platforms. For businesses selling to businesses, LinkedIn is an important platform and until now, analyzing LinkedIn data had been manual, taking a long time to gain insights and difficult to scale."
"That gap has now been closed in Digivizer. It's exciting for us to be one of the first to offer a complete picture on how LinkedIn's digital content and digital marketing programs perform, so businesses can make better decisions about where to deploy precious budget, against each of their objectives and intended target audience. LinkedIn Company pages and LinkedIn Paid Media Analytics are now in our affordable single platform that shows all owned, earned and paid data in an individual brand space.
We see such great B2B results, particularly when businesses have very specific industries, companies, and titles they wish to reach. Knowing what is working best in creating leads and sales ensures a greater ROI on digital marketing investment in organic content and paid media."
About Digivizer
Digivizer helps businesses understand and get more from their digital investment across all major social and search platforms. Digivizer's platform helps businesses measure and understand the performance of their digital marketing programs across owned, earned and paid media, in a single view, in real-time.
Digivizer offers plans that scale to the number of users, the number of connected paid and search accounts, and the number of influencers and hashtags being tracked. The Digivizer Starter Plan is US$89 per month, with all plans offering 30 days of data across all paid, owned and earned t first sign up and the first 30 days of usage free.
Digivizer is an ad partner and development partner to the major social and search platforms including Facebook (incorporating Instagram), Twitter, LinkedIn and Google (incorporating YouTube).