Author: Brian Gibson / Head of Digital Strategy & Partnerships
I recently presented on the key things digital marketers need to do to become Digital Marketing Ninjas.
My second piece of advice, after "#1 Have a growth mindset" was "#2 Become an analyst" which included "Google Analytics is your best friend. Learn it."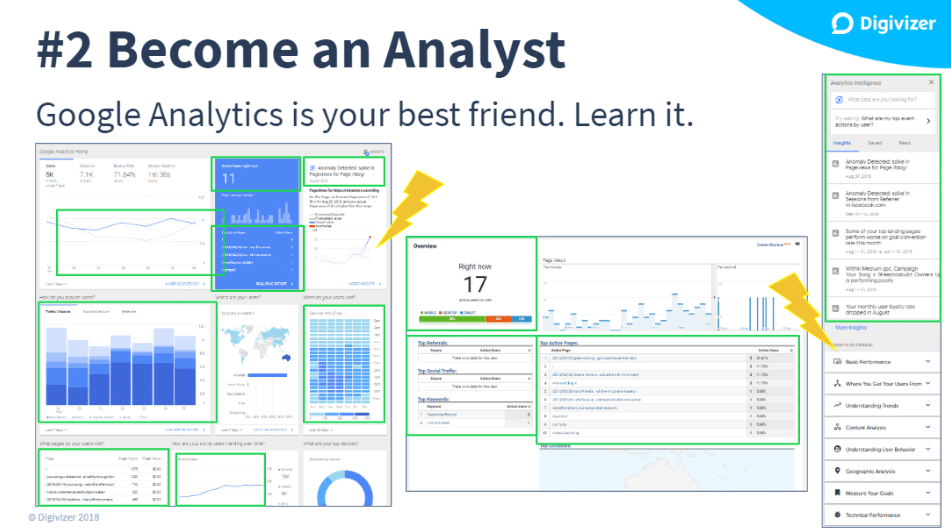 Google Analytics is a vital tool for content producers, social community managers, blog writers, copywriters and the like. All of these people need to consider themselves digital marketers.
Why you need to become an analyst
How else will you know what is working? Your website is generally a super important tool in your conversion funnel. Whether it's hosting blogs you're driving traffic to from social media, your homepage receiving traffic from Google Search, your shop traffic picking up prospects from all over your website.
You need to be analyzing the performance of your website traffic regardless of the source. If you are only analyzing your social post performance from the social media platforms view of the world then you won't really know how your post is performing.
You need to look deeper and understand how well your post performed not only based on its copy, headline and image but what the traffic you sent to your website did when they arrived there. Or did they arrive there at all? This is one of the key reasons you can't always trust data provided by social media platforms.
Jordan Schofield, the Head of Paid Media & Optimization at Digivizer, says: "We normally see a drop-off of between 30-50% from social platform click-throughs to landing page views.
"Slow load time on a landing page will see your landing rate drop significantly."
Everything You Need To Know About SEO
Once the user is on your website, what did they do? Did they read the blog and then exit your website?
Did they then visit the Frequently Asked Questions (FAQ) section of your website? Did they go straight through to your store and purchase? Did they abandon their cart and never come back?
If you don't know the answer to any of these questions then you don't really know how successful your traffic-driving social media post was.
What is Google Analytics and what it will provide you
Google Analytics (GA) is a free, website and mobile app analytics tool, that you can access either on your desktop or mobile device, that provides statistics and basic analytical tools that help you better improve your marketing efforts. It's available to anyone with a Google account and like any good tool they have a great mobile app.
In GA you can see in real-time how many users are on your website. I recommend every digital marketer set up a second, or third, screen on their desk to monitor their real-time performance. You will be able to see the instant performance of your digital activity as it happens. Even better, put a big screen up in the office just for displaying analytics.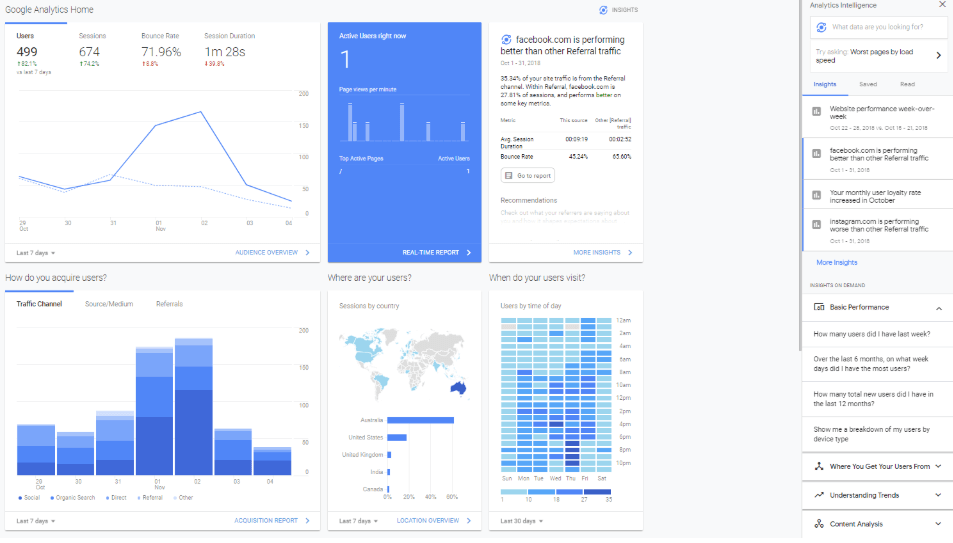 As you send an Email Campaign (EDM), publish a new blog on social media or switch on paid advertising, see how far you can move the dial on every activity you launch.
It will also give you visibility, over any date range and comparison, of how many users have been on your website, how long they stay, how many pages they visit, which platforms they are being referred from, which geographic region they are from, which time of day and day of week are most popular, how often they are returning and which devices they are using. This is only really the tip of the iceberg in terms of the data and insights available.
Read More About Creating Your Own Marketing Lab
Google Analytics is becoming much easier to use
Google recently made Google Analytics much easier to use. You no longer need to spend a lot of time undertaking training or even longer looking for the insight you need. Maybe you don't even know what are you looking for.
The ubiquitous technology company has introduced what it has labeled Analytics Intelligence and Insights on Demand.
Analytics Intelligence advises you on your website performance week-on-week. It lets you know if there is an anomaly in your data, for instance, "Facebook is now performing better than other referral traffic" or "Instagram is now performing worse than other referral traffic". It also lets you know if your user loyal rate has increased or decreased and over what time frame. It previously would have taken a while to dig through the tool to find that insight and you would need to have a Google Analytics expert on-hand.
Insights on Demand is where Google has made it super simple to find what you're after by asking you questions on what you would like to know. Here is a list of example prompts the platform provides you:
How many users did I have last week?
Over the last 6 months, on what weekdays did I have the most users?
How many total new users did I have in the last 12 months?
Show me a breakdown of my users by device type
What campaigns have created the most sessions? Note: A website session is created by the presence of a user with a specific IP address who has not visited the site in the previous 30 minutes.
What percentage of my users came from organic search in the last 30 days?
Show me a trend of my bounce rate over the last 3 days. Note: Bounce rate is the percentage of visitors to a website who navigate away from the site after viewing only one page.
Were there any anomalies in my number of users last week?
What pages do people spend the most time on?
How long do users spend on my website?
What state in the United States has the most users?
What's my average page load time?
What's my goal conversion rate? Note: Goals are metrics that you set up that are triggered by what you consider to be valuable trackable events.
Get Useful Marketing News And Tips Delivered Straight Into Your Inbox
Other website analytics tools
Google Analytics is such a popular web analytics tool that seems like everyone is using it; probably because it's Google and it's free. It's definitely the one Digivizer works with the most.
We do work with other platforms like Omniture, Adobe's web analytics tool, and HubSpot who has built-in web analytics tools for the website managed by their platform.
Facebook also has its own analytics platform which allows you to understand and optimize your complete customer journey across mobile, web, bots, offline, and more.
There are many other solutions but these are the main ones you need to know about.
Do we still need social analytics?
Of course, you still need social media analytics! The data coming from the social platforms is still the best for reporting what's happening in those platforms and they have much more data on users that web analytics platforms don't have. This is one of the reasons Digivizer has been working with all the major social media platforms to bring their data into our unique platform.  
Sign up for free and enhances your marketing from day one.
Make better decisions and get more for every dollar of your digital marketing investment by tracking over 50 key performance indicators across Google Ads, Facebook, Instagram, Twitter, Linkedin, and Youtube all in one, affordable, easy-to-use platform.

Sign-up for free and get previous 30 days' data for all accounts you connect(number of account connections are subject to plans).