The Digivizer platform has a great new feature that can help you optimize and analyze your LinkedIn outreach: the ability to now track your LinkedIn InMail campaigns.
For marketers and sales specialists in the B2B space, LinkedIn is a vital asset for targeting decision-makers in businesses. Tracking your LinkedIn InMail campaigns is a new addition to our Paid Media tab. If you're logged in, click here to go to the Paid tab and see it for yourself.
In the Digivizer platform, the "Paid" tab brings all your paid media campaigns into one place. Whether you're spending on Facebook, Twitter, Instagram, Google, or LinkedIn, or all of the above, you can track every campaign and even compare them to each other in one easy apples-to-apples view.
There are four levels to the Paid Media performance. You can track campaigns by platform, by campaign, by adset or by individual ads. You can see what performs best at every level and easily sort either by objective or by naming convention.
There are 50+ paid metrics you can see including total and individual platform Spend, Impressions, CPM, Engagement, Engagement Rate, CPE, Video Views, CPV, Link Click, CTR, CPC, and more.
Want to see it in action?
We recently introduced powerful analytics for LinkedIn paid media campaigns.
Now you can see your InMail campaigns in the Digivizer platform, too, and track how they compare in performance – with each other, and with the rest of your marketing mix.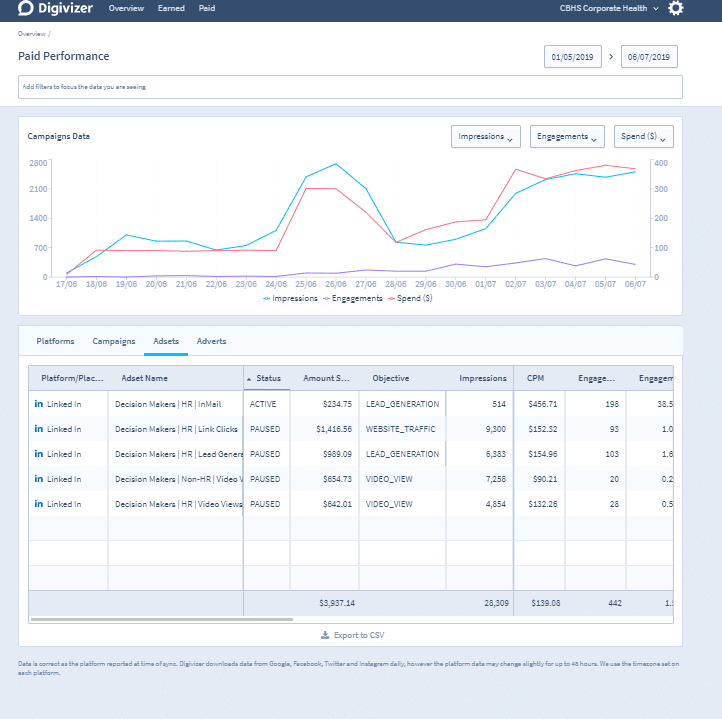 Here's just one example of an active InMail campaign and the types of analytics you can track and analyze.
With the Digivizer platform, you can see the different types of campaigns and ad sets, run with differing objectives and budget spends to date, for whatever date period you choose.
In this particular InMail campaign, you can see 514 people were served the sponsored InMail. That shows in the 'Impressions' column. Of that, 198 (38.52%) opened the InMail, for a cost of $1.19 each. As soon as you have a complete lead form, that will show in the platform as a successful conversion.
The Digivizer difference
We're constantly developing the Digivizer platform to add greater platform coverage, insights and to support your marketing through our complimentary monthly strategy reviews with every plan.
Digivizer is one platform for all your social and search marketing analytics. Our platform can help you to continuously measure, iterate and improve at will across all your marketing campaigns. Digivizer helps you figure out what works so you can do more of it.
Find out how Digivizer can help you get more from your digital spend. Book a demo at your convenience.