LinkedIn has always been the "professional network". LinkedIn has some unique features other social media platforms don't have – such as LinkedIn's Social Selling Index (SSI). There's also the fact that you can pay for extra features, like LinkedIn Premium and Sales Navigator.
The SSI scoring tool is unique to LinkedIn. It basically encourages competition between users! It's often used with great effect by sales teams, but also people who are looking to improve their LinkedIn game and get noticed more often on the professional social network.
Recently we noticed that the SSI tool was briefly removed from being freely accessible. It soon reappeared! But if LinkedIn makes the SSI paid-only in the future, is it worth paying for, for your personal use or for your business?
What is the Social Selling Index (SSI) on LinkedIn?
On LinkedIn, there is a feature called the SSI, or Social Selling Index score. This number scores how efficiently you use LinkedIn as a social media platform in four different categories:
establishing your professional brand
making the right connections and growing your network
engaging with others' content
building relationships
How do you find your SSI score on LinkedIn?
When it comes to where to find LinkedIn's SSI, first log into your account. Then you can either go to the SSI page directly, or you can navigate to it, but it is kind of hard to find:
Click on the "Work" menu in the right hand corner of the navigation bar.
Click on "Sales Solutions".
On the "Sales Solutions" page, hover over 'Resources'.
Click on "Social Selling Index".
On the banner, click "Get your score free".




What is a good SSI score?
In general, we've found that industry leaders should aim to have an SSI score above 75, with 80+ indicating they are using LinkedIn quite effectively.
If you have your job title and industry set on your profile, though, the SSI page will actually tell you what an average SSI score for your industry is. That's the best way to find out if your score is good.
LinkedIn will also tell you the average SSI score of your network and your ranking there, too. It can even tell you whether you're doing better this week than last week in your overall rankings in your industry and network.
If you want to see which categories you're improving in from date-to-date, you'll have to track that manually. Take screenshots of the page and flick between them to see changes, or use a spreadsheet.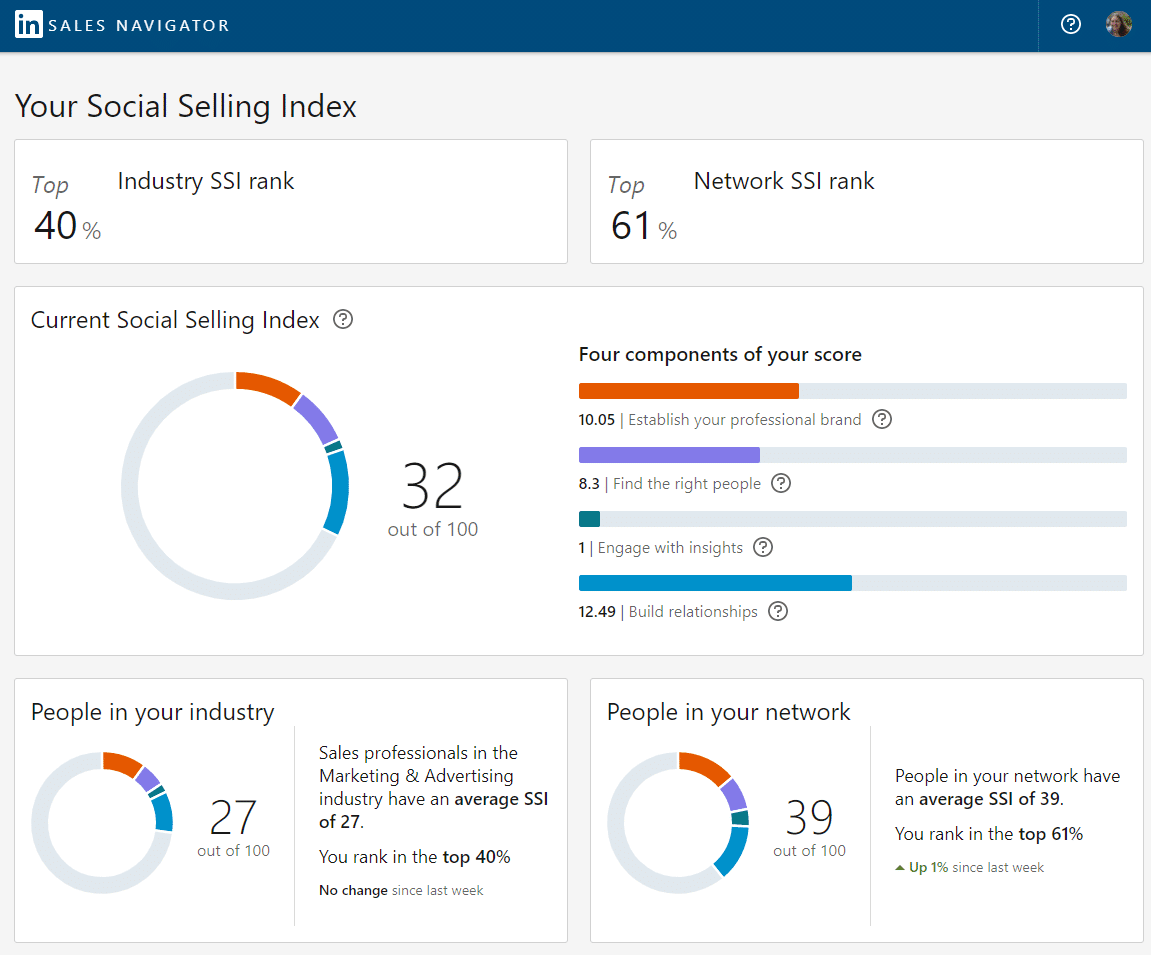 This is one example of an SSI page. This person is using LinkedIn a little bit more effectively than the average Sales Professional in the Marketing & Advertising industry, but less than most people in their network. They have a lot of areas where they could improve their score.
When you pay for Sales Navigator, you can even see your SSI rank within your organization. That's one way to generate competition among your employees or colleagues!
How can you increase your SSI score?
LinkedIn measures your SSI in four categories. These categories are directly tied to using features and tools. To increase your SSI score, post regularly on the feed and in LinkedIn groups, write articles and comment on others' posts, and make quality connections.
You can also pay for LinkedIn Sales Navigator. If you use Sales Navigator's tools regularly to build lead lists and send messages to sales prospects, according to LinkedIn itself, these activities will boost your SSI up to 20% in six months.
This is what the page says about each of its four SSI score categories:

It's not always clear what they mean by these things, but here's what we've found across our own experiences with LinkedIn, developing thought leadership content and profiles for executives across a variety of industries.
Establish your professional brand
Complete your LinkedIn profile to the All-Star ranking (which you can do by following LinkedIn's tips on your profile page as seen below), post regular original content in the form of posts, LinkedIn Stories and articles, and share news about your industry. This will get more people viewing your profile anyway, so it's good to do whether you're working on your SSI score or not!

Find the right people
This is all about using LinkedIn's native search function, Sales Navigator and InMail effectively to reach sales prospects, decision makers, and new employees.
Engage with insights
To improve in this category, comment on and share others' posts. Just saying "thanks" or "great post" won't cut it – the SSI score looks at the length and quality of comments and reshare text, too. That's why you see a lot of people giving in-depth comments on LinkedIn these days!
Build relationships
Make connections! Try to make quality connections with people whose content you actually care about, and network at your peer level. This will improve your LinkedIn feed and your SSI score at the same time.
Is SSI worth looking at for your business or brand?
Does LinkedIn's SSI tool matter? If your main social media platform is LinkedIn, then yes, it can matter. Since the SSI is a measure of how effectively you are using LinkedIn, you can track whether you're lifting your LinkedIn game by watching your SSI score. Through the SSI, LinkedIn will tell you if you're using the platform the right way.
Businesses don't get an SSI score for their LinkedIn page. But the skills you use to lift your personal SSI score are the same skills you can translate to posting from your business' page.
It can also be important in terms of stimulating competition. If your business loves its employee advocacy, tracking employees' SSI scores can encourage competition among employees to use LinkedIn more often and better. Moreover, sales professionals are often quite competitive, so having rankings everyone can see and compare can be pretty good gamification of otherwise serious business matters.
Is SSI worth paying for?
Recently we noticed that LinkedIn's SSI scores vanished behind the paywall of Sales Navigator, but it reappeared soon after.
If the SSI gets moved behind the paywall again and you're wondering whether it's worth paying for, then consider how often you use LinkedIn and how often you want to use it.
If you and your business are on LinkedIn all the time, especially for the purpose of finding and contacting sales prospects, then it might be worth paying for!
We hope you found this article on LinkedIn's SSI feature useful. If this is a tool you're considering using in your business, keep this page bookmarked so you always have a guide handy for improving your score.