Have you opened up the LinkedIn app lately? If you're in a small selection of countries, you may have noticed a new feature at the top of your LinkedIn news feed! LinkedIn Stories is slowly rolling out among LinkedIn members; this guide will help prepare you and your business for its debut in your country.
The first time you unlock LinkedIn Stories, you'll see something that looks like this at the top of your feed:
When you click on the Story, you'll be asked to update your privacy settings. You can choose whether Story creators can see if you viewed their Stories or not. Pick the setting you're most comfortable with now; you can always change it later in your LinkedIn settings. This message will only pop up the first time you watch your first Story.

What are LinkedIn Stories?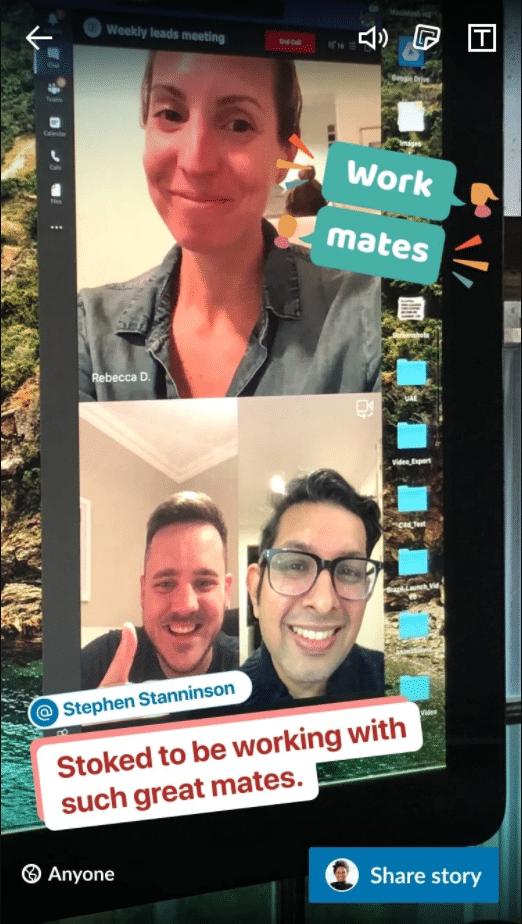 LinkedIn Stories is a new mobile feature that allows LinkedIn members to share images and videos that disappear after 24 hours. Both people and company Pages can share Stories. Individual Stories run for up to 20 seconds, and users can add stickers, music and text to compliment each photo or video before publishing.
LinkedIn has launched this feature in an effort to engage members who might be hesitant about the permanent nature of ordinary Feed posts. It's a more relaxed, informal way to engage with your LinkedIn friends and followers.
The "Stories" format exists on Snapchat, Instagram, Facebook and YouTube. Treat LinkedIn Stories like your work-oriented version of Instagram Stories and you'll be on your way to success! 
Who can see and use LinkedIn Stories?
LinkedIn Stories launched this year to some users and Pages in Australia, Brazil, France, the Netherlands, and the UAE. It's still in testing and LinkedIn is gradually rolling it out, expanding the access pool slowly as they gain insights into usage and development. They're also adding new regions relatively often!


LinkedIn first rolled out a Stories feature to college students in the United States in 2018, then called "Student Voices", encouraging students to share videos to a "Campus Playlist". It was relatively limited in scope, as students could only upload ordinary videos to a campus-wide playlist, with no sign of other features from Stories on platforms like Snapchat, Instagram, Facebook and YouTube.
Visit the Digivizer Academy for more videos to help you harness the power of digital marketing performance insights.
How do you make a Story on LinkedIn?
Open the LinkedIn app.

 

Tap your profile picture in the top left of your app homepage, the picture with the plus sign (+) next to it, labelled "Your Story". If you want to make a LinkedIn Story for a Company Page, tap that company's picture instead.

Take a photo or video, or choose one from your camera roll.

 

Add hashtags, stickers and/or extra text to your photo or video.

Hit the blue 'Share Story' button and you're done!

 

If you'd like to add a second image or video to your Story, open the existing Story by tapping your Story profile picture again, then tap the white button near the bottom labelled 'New Story'. Then go back to step 3 and repeat.
You can't change who can see your Stories – it will be automatically shared with all your friends and followers who have access to the LinkedIn Stories feature. If you don't want someone to see a Story, LinkedIn recommends blocking that user from seeing all your content – which means you won't see theirs, either.
How do you view Stories on LinkedIn?
LinkedIn Stories are currently only available on mobile devices, and only to users in activated countries. To view others' professional Stories for LinkedIn, open the app and navigate to your homepage, then tap a connection or Page's profile picture on the header bar to start watching.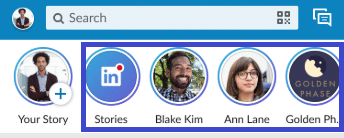 To see the next slide in someone's Story, tap (or swipe) near the right hand of the screen; to go back, tap or swipe left. If you finish all of one connection or Page's Story content, tapping forward will take you to the next connection or Page's Story.
If you're a first-degree connection of a person who shared a Story, you can message that person via their Story. (Pages cannot receive messages at this time.) You can also share someone's Story with one or more of your connections via a private message, which includes the ability to add a few words of your own! Learn more about viewing others' LinkedIn Stories.
There are currently no ways to view LinkedIn Stories on desktop, and LinkedIn does not have a similar "Story Highlights" feature like on Instagram where you can archive your own Stories for later. But maybe in the future this will appear if users want it (we'd recommend under LinkedIn's profile summary if you're reading this, LinkedIn devs!).
How businesses can get the most out of LinkedIn Stories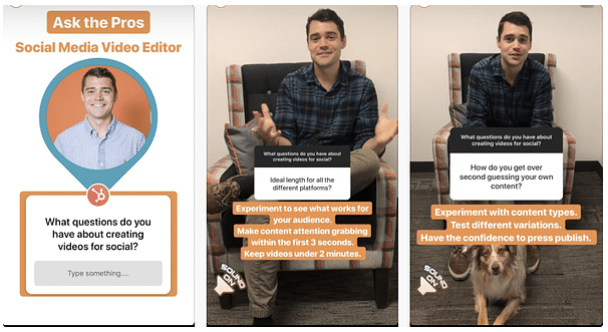 Since LinkedIn is the platform for professionals, businesses will find a natural home on LinkedIn Stories! Use LinkedIn Stories to give your social network followers a glimpse of your work day (great for potential hires), your wins and celebrations (great for customer confidence), and your expertise (great for – well, everything!). 
LinkedIn is confident that releasing Stories makes sense, with more people than ever engaging with virtual professional events and online networking – especially young professionals who are used to Stories on other platforms. Stories can be like a real-life visual glimpse into the experience section of your LinkedIn profile if you do it right.

LinkedIn has warned users not to share overly personal information, such as anything that might jeopardise your career, or spamming new products or services. Promotion is fine – spam is not!
Here are three kinds of content businesses can make to win on LinkedIn Stories.
1. Peek behind the scenes
Use LinkedIn Stories to show off what makes your business shine – your employees. Whether you ask your employees for photos or videos to share from the company LinkedIn Page, or you encourage employee advocacy, LinkedIn Stories is the perfect place to share your company culture, and little tricks and tips and funny moments from your workplace. One popular theme in 2020 is, of course, your view working from home, so open up your Story camera and get snapping.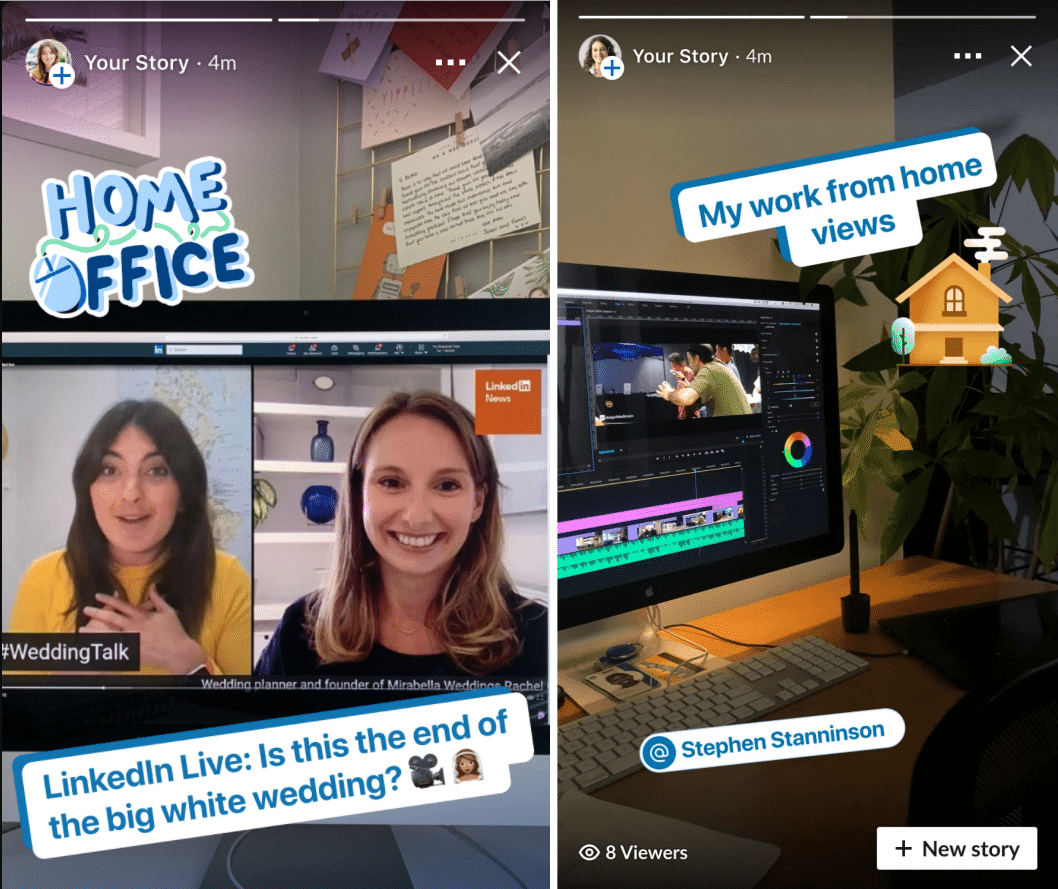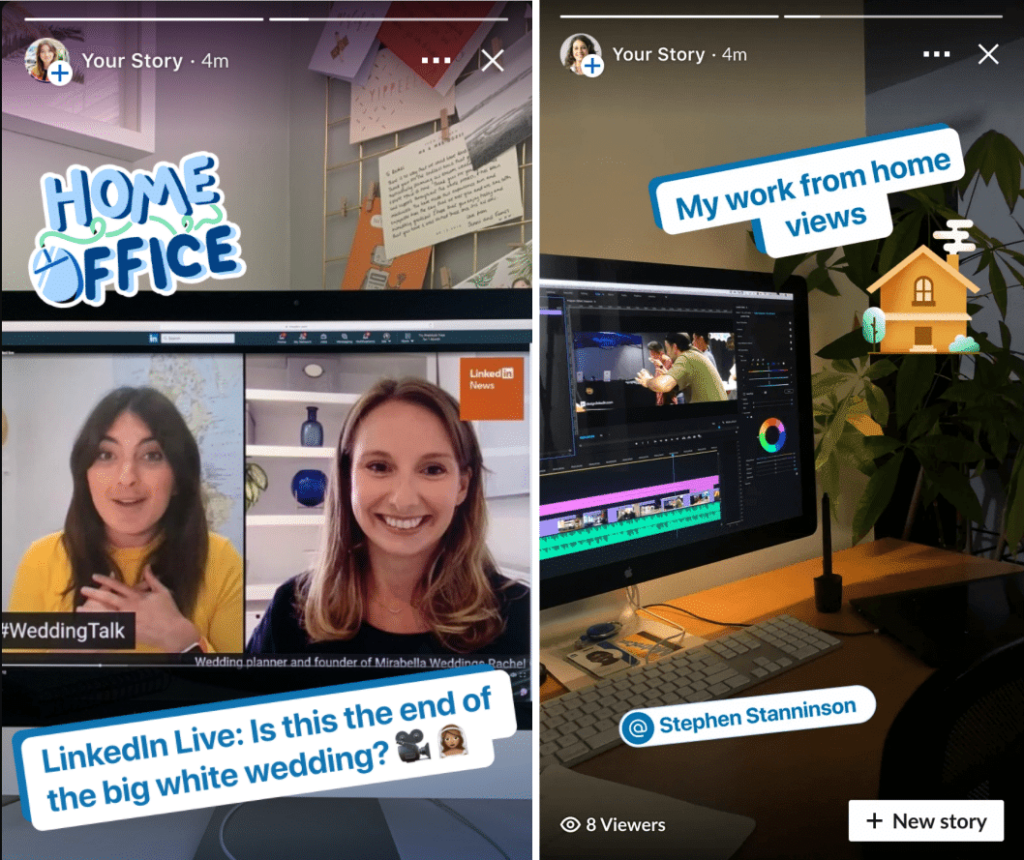 2. Celebrate your wins (and testimonials)
Every business should be celebrating their wins and awards on social media, and if there's one platform that's practically designed for that, it's LinkedIn. When it comes to Stories, remember that they'll disappear after 24 hours (though you can save them yourself to your phone for re-use elsewhere), so use LinkedIn Stories to add extra flourishes like stickers to things like real-time announcements and news, photos and videos from award nights, conferences, and even glimpses at great reviews from your customers.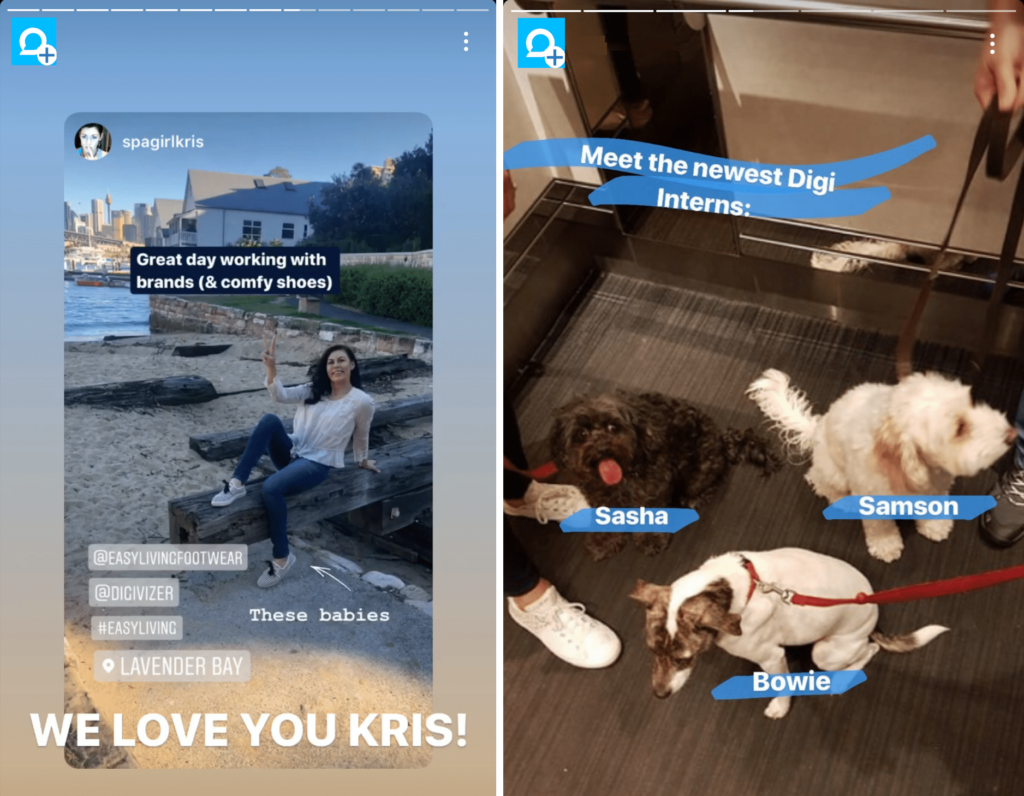 3. Share your expertise
Informative or educational content is super popular on LinkedIn, far more than on platforms like Instagram or Facebook Stories. You might find it called 'thought leadership', especially when it comes from individuals who have years of experience and industry insights to share. Encourage thought leaders in your business to share their practical tips on things like productivity, career advancement, and more, and use LinkedIn Stories to share this knowledge in a visual format, like Harvard Business Review and MIT Technology Review below (and the Hubspot Story that headlined this section).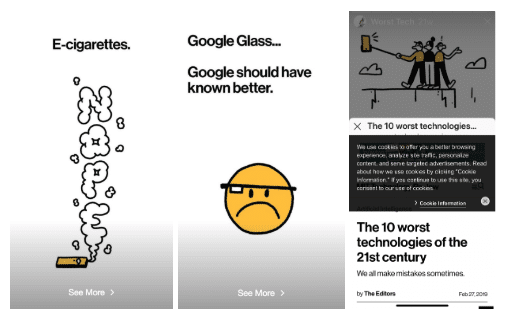 BONUS: LinkedIn's Question of the Day Feature
Here's something unique about LinkedIn's version of Stories – they've released a feature called "Question of the Day", where you can answer a question asked by the LinkedIn team. If you're looking for fast ideas for what kind of content to make, LinkedIn has got you covered!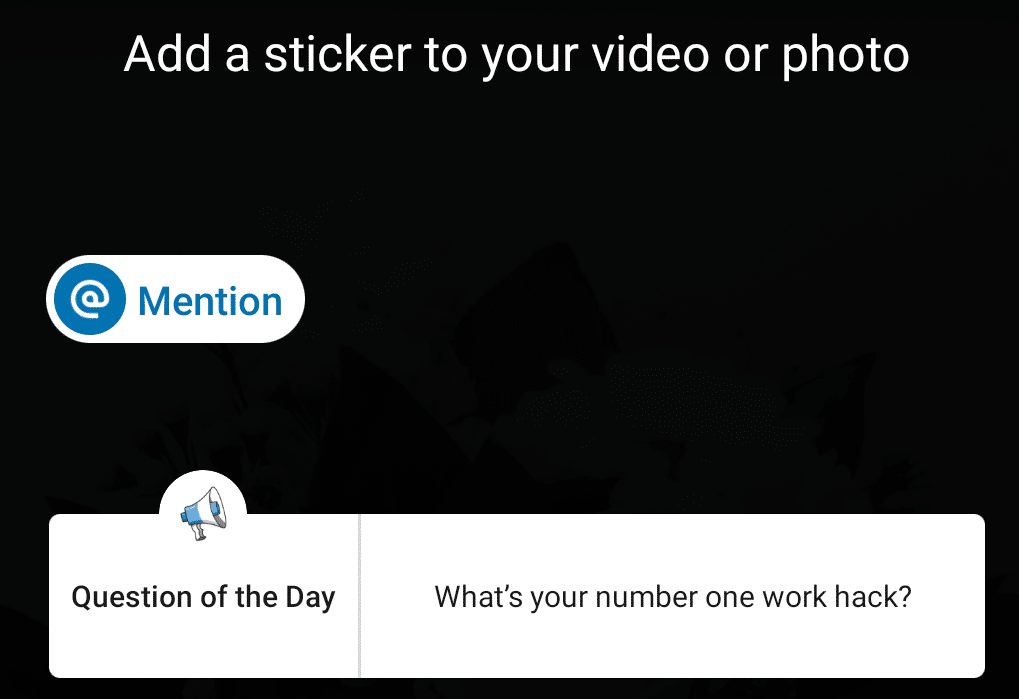 Important metrics for LinkedIn Stories
If you're using LinkedIn Stories for your business, you should be tracking your performance metrics to make sure it's worth the investment for your organization. You can use LinkedIn's in-platform Insights to check each Story manually, but you can also use the Digivizer platform to keep track of all your Stories from a certain date range.
At the moment, LinkedIn seems to offer only one tracked metric: Reach. That's the total number of unique viewers of your Story. You can also see the viewers' name, job title, and current company, if they've allowed this in their privacy settings. 
While you can currently share and message via Stories, LinkedIn connects this directly to your private messages, and therefore these aren't trackable metrics. We're hoping that as LinkedIn Stories become more widely available, users will have more transparent metrics, as this will surely be valuable for businesses seeking knowledge about the platform's ROI.
We hope you found this guide to LinkedIn Stories for Business valuable! We'll update it as more information and features become available around the world, so bookmark this page, share it with your colleagues and keep checking back for more news. Happy Storying!
If you would like to learn more about how Digivizer can help you better optimize your time, resources and digital marketing campaigns, book a demo session today. We want to make it easy for you to grow and scale.