LinkedIn is a powerhouse platform for B2B marketers, offering unparalleled opportunities for engagement, branding, and lead generation. In our recent webinar "Learn the Most Up-to-Date B2B Strategies to Win More from Your LinkedIn Investment," industry experts shared invaluable insights into harnessing LinkedIn's potential for business success.
The webinar featured Lucy Sonter – Product Marketing Manager, APAC for LinkedIn, Lucy Bingle – CEO & Founder of lucybingle.com as well as our very own Jacquelyn Cowardin – Head of Agency at Digivizer. Each offered their unique perspectives on maximizing the platform's benefits. 
Here's a breakdown of the key takeaways from the event in case you missed it.
Understanding the B2B Landscape and LinkedIn's Role
Jacquelyn kicked off the webinar by reinforcing the complexities of B2B marketing. Unlike B2C scenarios, where consumer behavior can be more predictable, B2B marketers face intricate challenges in reaching and influencing diverse decision-makers within and across buying groups. 
LinkedIn, as a platform built with B2B foundations, offers a motivated audience with a growth mindset. Jacquelyn pinpointed how people turn to LinkedIn to enhance productivity and success, making it an ideal environment for long-term relationship building.
Didn't get a chance to attend the live webinar? No dramas, you can watch it on demand
Optimizing Your LinkedIn Presence for Success
Lucy Sonter delved into the core strategies for achieving success on the platform. She emphasized the importance of setting clear objectives for your owned and paid campaigns aligned with your business goals. Whether it's boosting brand awareness, fostering relationships, or measuring ROI, a well-defined objective serves as a North Star for your LinkedIn campaigns. 
Lucy stressed the significance of smart targeting, making use of LinkedIn's robust audience segmentation options to reach the right people effectively.
She also highlighted the crucial role of content in B2B LinkedIn success and detailed how different ad formats align with specific objectives. This approach empowers marketers to choose the right content formats that resonate with their goals and audience.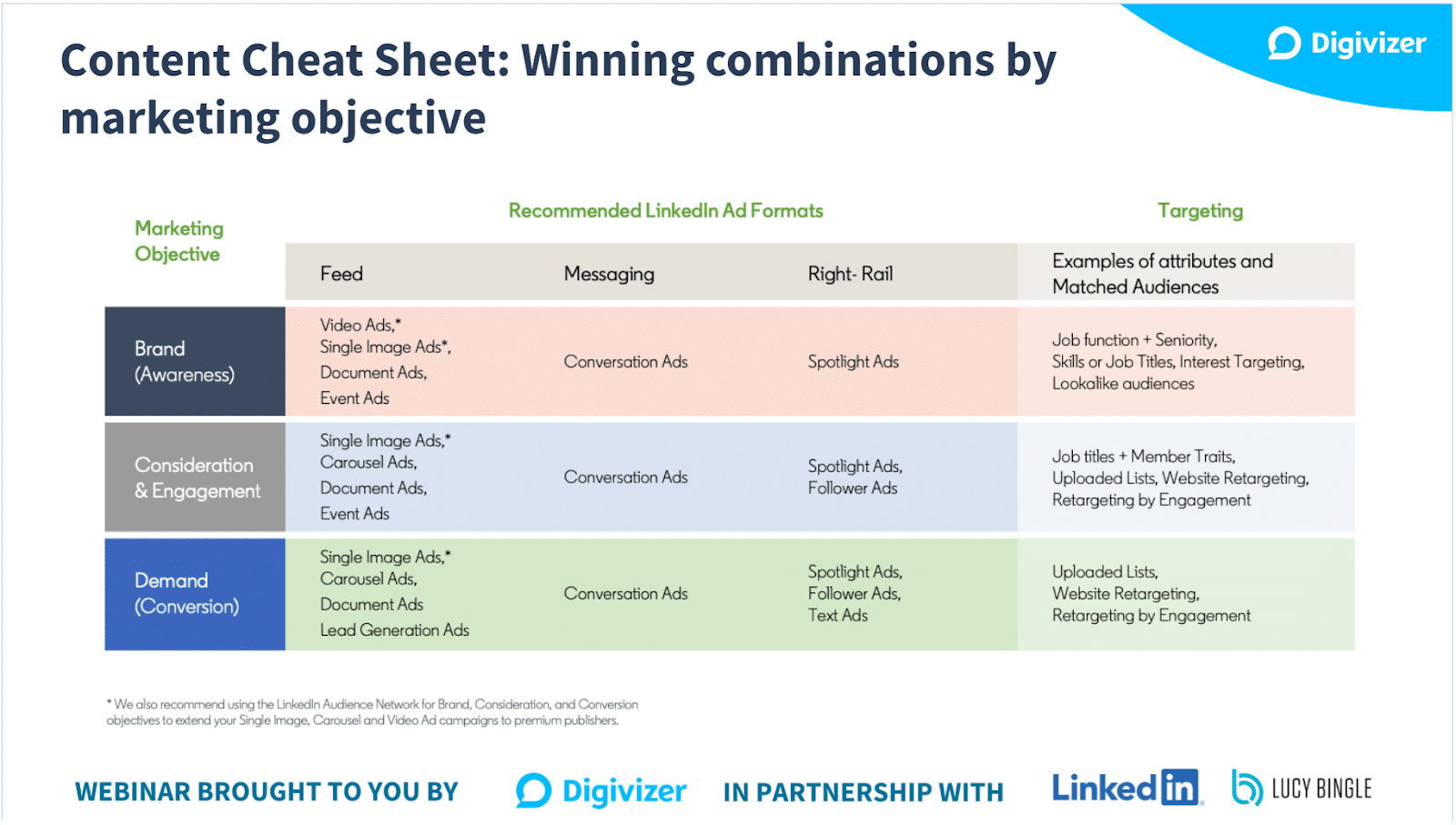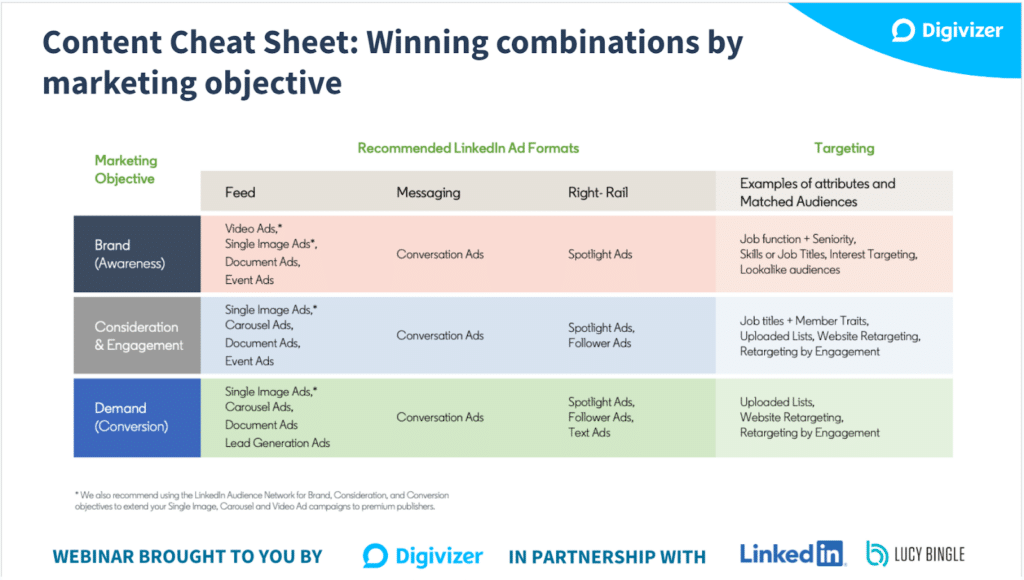 To wrap up, Lucy emphasized the value of consistent engagement, advising professionals to engage with quality content, make connections, and demonstrate thought leadership.

Personal Branding and Thought Leadership
Lucy Bingle shifted the focus to personal branding and thought leadership on LinkedIn. She emphasized the power of optimizing individual profiles as dynamic capability statements. 
Personal LinkedIn pages should go beyond traditional resumes, reflecting evolving narratives of skills, expertise, and contributions. Lucy encouraged professionals to view their LinkedIn profiles as active components that reinforce their roles as trusted advisors and industry experts.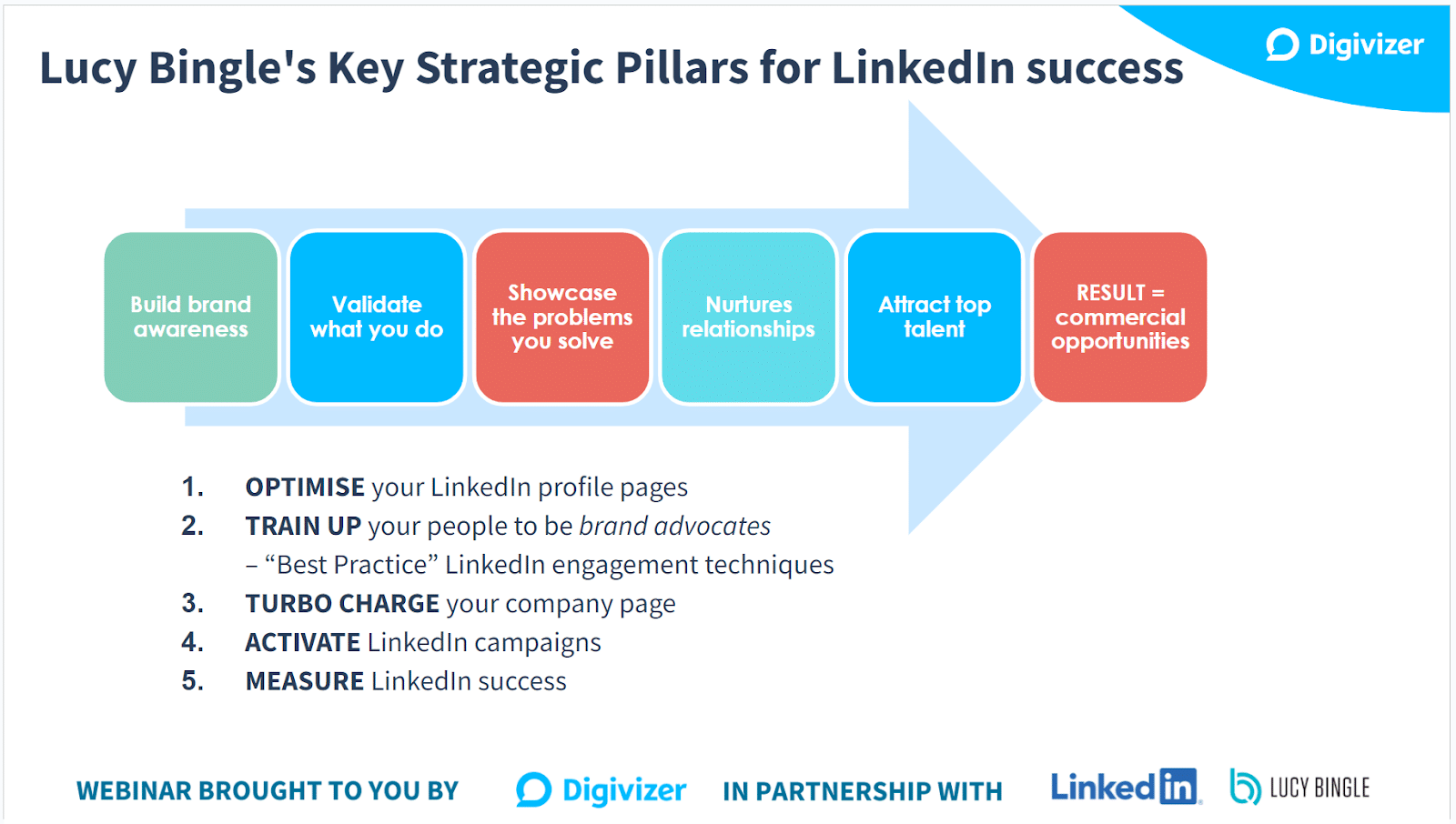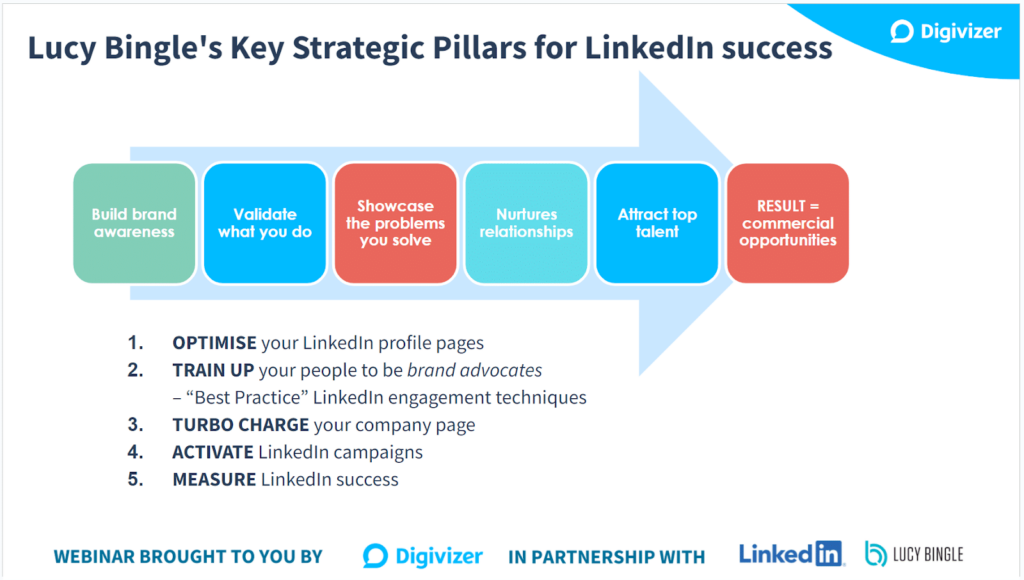 Measuring Success and Adapting Strategies
A consistent theme ran throughout the webinar: measuring success and adapting strategies based on data-driven insights. LinkedIn's analytics provide valuable metrics to track engagement, audience growth, and campaign performance. You can leverage Digivizer insights to dig even deeper for your LinkedIn organic and paid strategy optimization.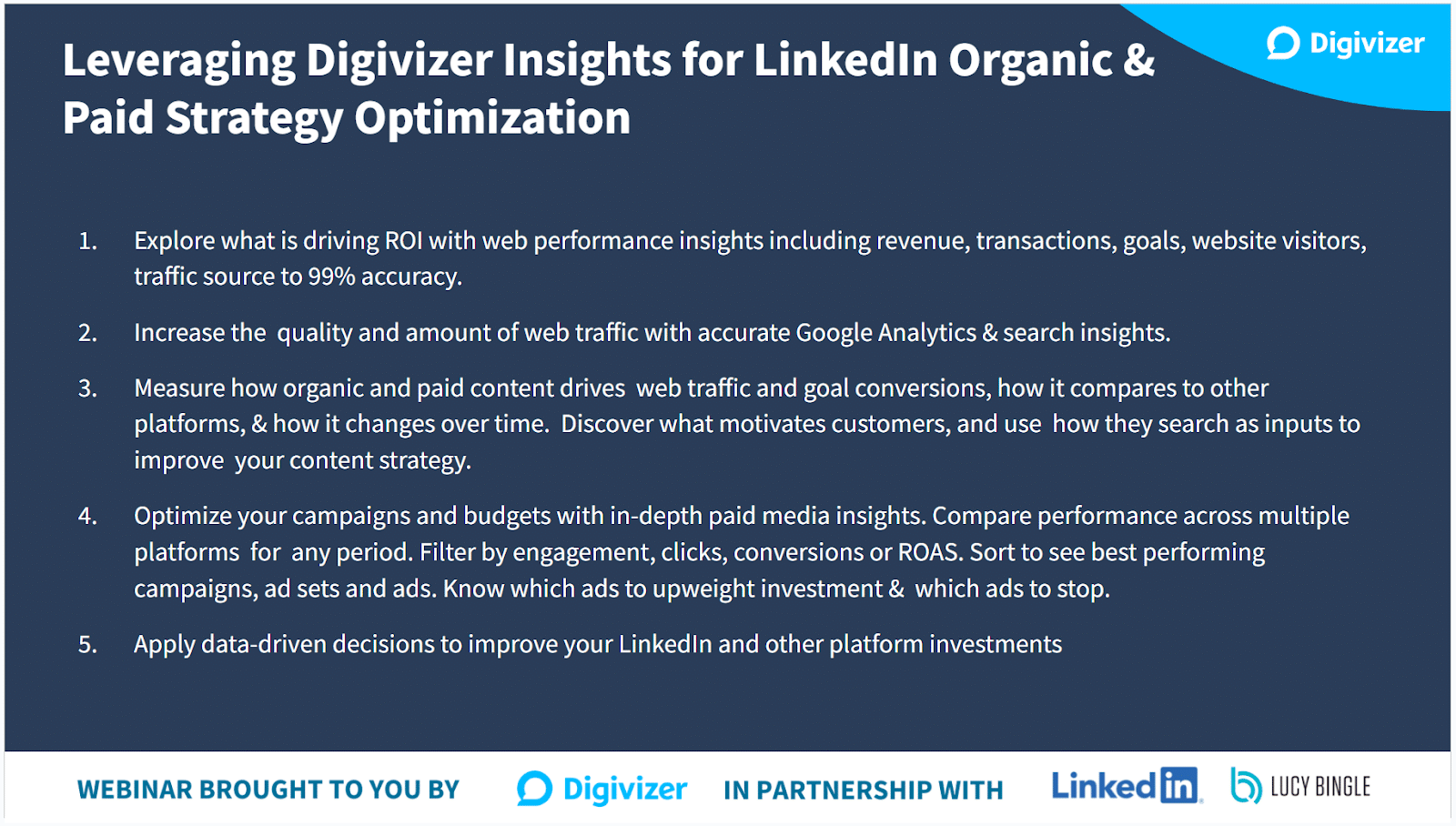 Final Thoughts: Crafting a Winning B2B Strategy on LinkedIn
From setting clear objectives to creating compelling content, nurturing relationships, and embracing data-driven optimization, LinkedIn empowers marketers to tap into a motivated audience eager to engage with impactful content.
As the digital landscape continues to evolve, mastering LinkedIn's intricacies is an essential skill for B2B marketers. The insights shared in the webinar shed light on the platform's potential to drive brand growth, nurture relationships, and create lasting impact in the B2B space. 
With the right strategies in place, businesses can leverage LinkedIn as a dynamic channel for achieving their B2B marketing goals.
This is where the power of Digivizer shines. When you connect all your accounts into our platform, you can see digital performance insights across all your paid, owned and earned media in one view instantly. This will allow you to make strategic digital marketing decisions and deliver excellence at speed. 
Start a free trial today or find out more about our partnership with LinkedIn.