Author: Ryan Stott / B2B Social to Sales Specialist at Digivizer
Social Selling has been a trending buzzword for some time now. Everyone's bought into the hype. Do you want to know how to sell on LinkedIn? Keep reading.
The Google trend for the term "Social Selling" has been increasing steadily for the past 5 years. Today a quick search on Google will return over one billion results.
Unfortunately, this kind of popularity opens the door to a plethora of "consultants" & "experts" selling their "snake oil". This makes it hard to decipher what is a good strategy for how to sell on LinkedIn.
In this article, I am going to give you a simple outline of what it takes to be a successful Social Seller on LinkedIn so you can do more of what works.
How do you structure your efforts?
Firstly, there are two fundamental streams of work involved in any Social Selling approach: Advocacy & Engagement.
Underneath each stream of work sits specific actions/activities to boost your chances of success. I have outlined the function of each below:

Advocacy involves all activities that are to assist in "advocating" your brand/offer. It also involves how you position yourself online whilst Engagement is all about how you are engaging with your target audience.
How Digivizer Helped SuperFastDiet Achieve 2X Leads At Half The Cost
Now that we have a structure, its a simple matter of putting it all together.
When starting out on any Social Selling journey, you want to make sure you have the groundwork set before reaching out to opportunities:

Establishing your branding and developing your persona before finding & engaging with target prospects will help improve your conversion metrics significantly.
So, let's take a deeper look at what is involved at each stage.
Branding & Social Proof
Establishing your professional brand is essential to adding credibility when you are performing outreach via social media. People love to do their research before engaging with new contacts, so make sure you are giving as much information as possible for them to decide you are worth talking too.
Here is a quick checklist to make sure you are on the right track for how to sell on LinkedIn:
Complete your LinkedIn Bio
Add your full work history (highlighting your credibility within your field)
Add static content to your profile (company/personal blogs etc)
Make sure your profile image looks like you
Ask for some recommendations from peers or past clients
Use your banner image to show you "walking the talk"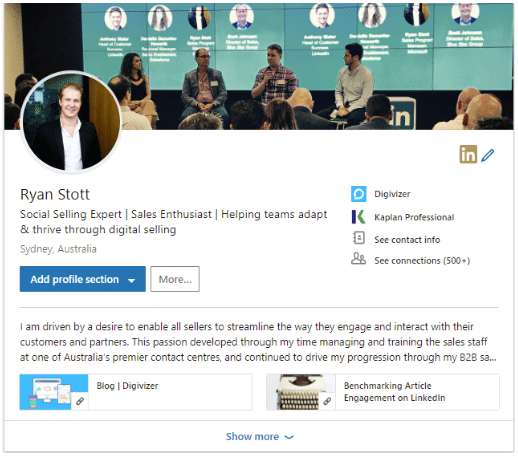 Persona Development
Persona development is all about how you present yourself online via the content you share & the tone of voice you use to curate your content. Like anything, having a solid strategy helps to set you up for success, after all: failing to prepare is preparing to fail. Planning your persona development is no different, you need to know where you are going.
There are two things that are a must before you start sharing content on social:
Refine your content pillars
Understand your tone of voice
Are you advertising on Google Ads? Here's why you should
Refining your content pillars & understanding your tone of voice will help you curate content that speaks to the audience you are trying to engage.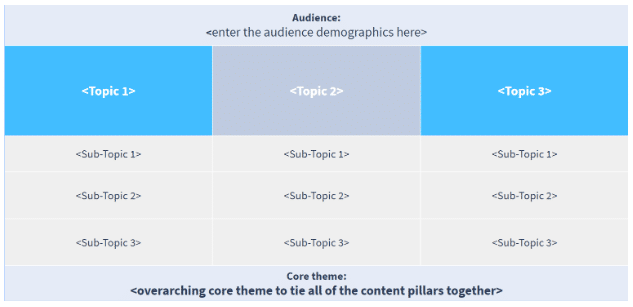 Now you have a solid strategy you can start to schedule your content.
Lead Search
Lead search is an integral part of your Social Selling strategy because it helps you learn who it is that wants to buy off you & what they are interested in.
In B2B sales the best place to find new leads is using LinkedIn Sales Navigator. The Lead Builder function allows you to curate lists of target prospects well beyond your first & second-degree connections. Not only that, it does some fantastic quantitative analysis of the lead lists to help you prioritize your outreach.
If you can't find your prospects with all these filters, you might just be in the wrong job 😉

Hot Tip: filtering your prospects to all that are Director level and above is a great way to hone in on business decision makers.
Once you have run a lead search you will see some numbers at the top of the list:

These numbers are great to help you prioritize. When I am actively prospecting, there are at least two of these groups that I will target first:
Posted to LinkedIn in the past 30 days: This has two main benefits; I know they are active on LinkedIn therefor this is a good channel for outreach & they have shared content that they are interested which is perfect for leveraging in my introduction.
Changed jobs in the last 90 days: From my experience, when decision makers are new to a role, they are open to making new relationships with vendors. Strike while the iron is hot.
If you take the above examples & overlay the priorities with your internal priority companies you will get a good idea of where you should spend your time.
Did you know? You get free monthly advertising support from Digivizer's experts certified by Google and Facebook
Approaching Prospects
Once you have all of the groundwork done you are ready to approach your prospects.
Now, just because you are ready, doesn't mean they are. You need to approach people with a sense of purpose. Googling the best automation tools & letting it run rampant on your lead list is definitely NOT the way to do it. Nobody likes impersonal spam tactics. To avoid this we should always do our research.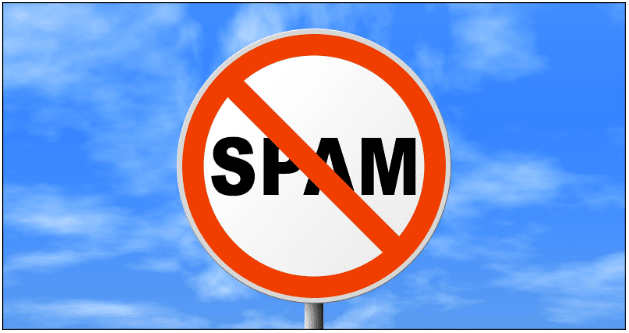 Before approaching any lead, the first thing I will do is look at the content they are sharing. This helps me understand what they are interested in. After that, I will take a look at the company they work for and familiarize myself with the content they are sharing from the company page. Doing this helps me to formulate a message that hopefully piques their interest and helps to build credibility.
When you are ready to reach out to a lead, try to structure your message in a way that they will want to read it, and as a simple rule of thumb: Never sell in the first message. The goal of the first contact should be to gain permission to continue the conversations, that is all. I have seen the best results with the following structure:
Start the conversation with insights you have uncovered
Be direct & straight to the point
Add a call to action (i.e. follow up call/meeting)
Don't talk about yourself, wait for permission
Next time you are trying to break into a new account or establish a new connection, try these tips and I am sure you will see a rise in response rates.
Now that you are learning how to sell on LinkedIn, if you are trying to implement a social selling strategy within your company, feel free to reach out. At Digivizer we have a small team of exceptionally talented people who are more than happy to help out.
Sign up for free and enhances your marketing from day one.
Make better decisions and get more for every dollar of your digital marketing investment by tracking over 50 key performance indicators across Google Ads, Facebook, Instagram, Twitter, Linkedin, and Youtube all in one, affordable, easy-to-use platform. Sign-up for free and get previous 30 days' data for all accounts you connect (number of account connections are subject to plans).