by Emma Lo Russo, CEO
For any Australian start-up or early growth company, one question stands out: how do I export?
We've been primed for export since Digivizer started. Our objective from day one was always that, with such a small proportion of the global population and market, Australia might be a wonderful location for a headquarters, but success was going to come from market development around the world. Currently, about 45% of our annual revenue comes from overseas.
Planning and growing exports is a continuous process. How any company does both will change as the company grows and evolves, as we ourselves have discovered. The need to embrace e-commerce will differ between companies. For example, for some it will be part of their leverage of digital channels from day 1, for others online brand promotion will be the priority.
Last October and November, I was part of Austrade's Landing Pad program, based in San Francisco. Our focus was to further test the market for what we already knew was an important element to our next phase of growth. We also wanted to test a number of assumptions about what the opportunities actually are for us, around highly-targeted customer personas in different geo-locations.
As a result, three things have happened. 
First, we've appointed a global VP of Sales based in the US. 
Second, Austrade has selected Digivizer as its digital marketing partner to share how we've grown our own overseas business, to support new companies on Austrade Landing programs plan and execute their digital marketing programs that will support growth. 
Third, we have learned where to focus our digital marketing investment.
Remove marketing complexity
We recently ran a webinar with Austrade on answering this question for startups seeking to break into overseas markets.
The question "how" can be answered with a strategy that addresses a number of elements anchored around customer segmentation, content, and continuous testing, measuring and refining, how each of these might be deployed in cross-border marketing, online business development, and setting up digital channels to leverage for internal trade.
That does not mean expense, or even complexity. In fact, removing complexity without compromising on strategy is a key objective. 
Planning and then implementing a test-and-learn approach using data that can inform marketing strategies and maximize success.
The first step to creating a digital marketing strategy for export is to qualify your audience based on pain points and personas. This helps you define where to focus, where your marketing spend should be, or where to use your marketing budget as a constraint to identify where you prioritize first. 
You also need to consider the presence you currently have (if any), which will define the frequency of targeting and nurture to scale to the growth you seek.
Businesses usually create a digital sales and marketing funnel, to move prospects from awareness to conversion. In today's digital reality, a linear journey through a traditional sales funnel no longer necessarily applies (customers and prospects can enter and exit the funnel at any point). Developing your strategy along these lines will, however, define your spend and segmentation. (I discuss this concept more in my recent paper Knowing the levers to pull to measure and optimize digital marketing performance.)
Break the funnel down into the number of people you first need to address, the number you need to engage with content, the number you want to investigate what you have to offer, and the number you want to move to conversion.  
These percentages can be based on your known conversion funnel elsewhere, your traditional sales model touch points, or on industry averages. 
If you start from your targets for the number of customers or revenue, you can also work your numbers back up the funnel. That in turn defines the investment you need at each stage. Even if the funnel journey no longer follows a linear path, you are still taking prospects and leads through the stages of brand awareness, consideration and conversion. The cost per interaction (to view, to click, to purchase, or the click-through to a website to convert on page) still needs to be captured. 
Plan to spend, spend to plan
Understanding how your brand is building in markets is never going to be one campaign. It's going to be a program with multiple touchpoints.  
So the way you tell your story, and to break through, is to have very good targeting, involving a mix of media channels, and a mix of content types. LinkedIn feels obvious for B2B. Twitter is very good for certain persona types. Individuals in both B2B and B2C segments relax on Facebook, Instagram and TikTok. They may not necessarily be there for business or to buy now, but they may well still be a target audience that you can influence. Your content needs to be on their terms, to break through their scrolling habits.
In all of these examples, your hypotheses require testing, and you can use data to help define the original hypothesis.
In new markets, building a sense of trust will take time. Defining a tight target audience and adding multiple touch points can help you position your business in that market in a way that makes you look bigger than you might be in reality. And it's better to double down on a defined audience than try to be everywhere, be too light, and touch too few people too infrequently.
When testing paid media, whilst early indications will be indicative, it does take the ad platforms time to optimize (on average minimum three weeks for campaigns to serve with learning data and three months for campaigns to optimize), so you need to make sure that you're spending enough time to allow for this. 
In all of this, real-time measurement across all social platforms, and across search and web activity, is important – which is where a tool like Digivizer comes in.
As an example, we've seen very successful campaigns based on content being served to synchronize with when target audiences are actually searching for information, products or services. That in turn allows budgets to be controlled around demand peaks.  
Ultimately you want to understand your share of search around the terms you are chasing, what is actually driving click-throughs, your share of  the volume available to you, and your Google page ranking. This helps inform you about where you are winning, but as importantly, about where the opportunities are.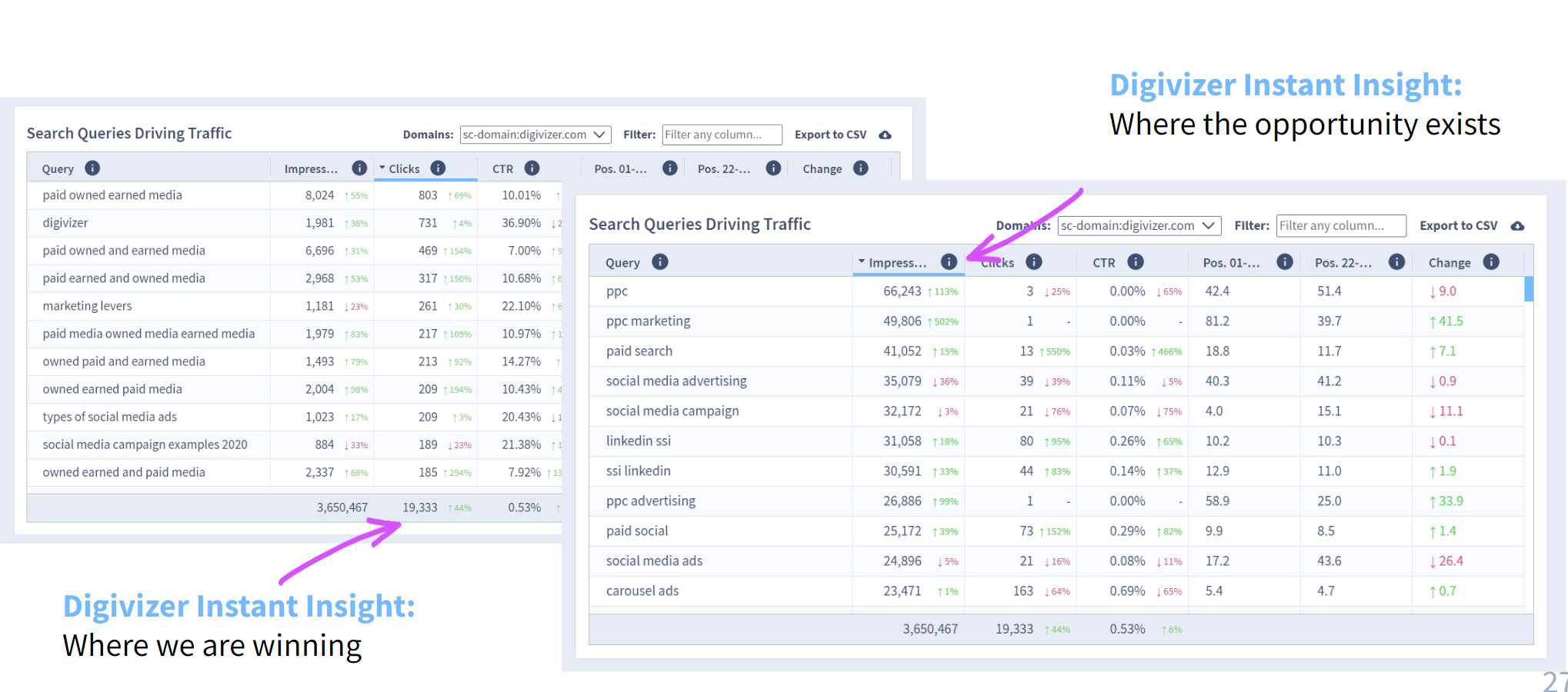 Naming conventions in digital marketing programs are also important. If you add names that include "Tofu", "Mofu" and "Bofu" to program segments (for Top, Middle, and Bottom-of-Funnel), the audience you are targeting, the name of the creative, and the call to action, you can save time in understanding the performance of every component of your program. In Digivizer you can click through to every stage in the program: the best performing campaigns down to the best performing ad, the best-performing creative and call to action, how these delivered traffic to your website, and sales (actually see the creative that performed best).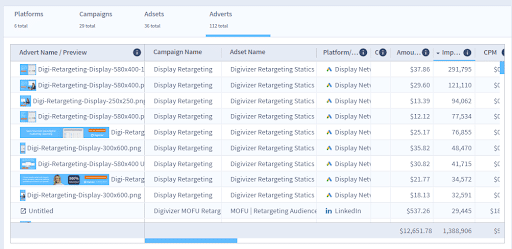 To summarize, the digital marketing playbook to successfully test new export markets is this:
pick regions and markets, and test different customer segments
create market hypotheses, create content, and test the reaction of the audiences you've targeted
discover the messages that actually resonate, including identifying what calls to action work best
remember that every country or market is big and unique, so you have to do this in targeted ways, testing all the time
continually run test-learn-improve models, using real-time data that inform the next decisions you need to make
Everything in digital marketing starts with a hypothesis that can be proved or disproved with data. Digital marketing strategies for export growth are no exception. When planning to expand overseas, using data to help define your digital marketing strategy, and to measure performance and progress, maximizes the leverage that digital marketing delivers to export revenues.