Author: Brian Gibson / Head of Digital Strategy & Partnerships at Digivizer
What do small businesses need to know about SEO – Search Engine Optimization? This is the most common question I see posed in Facebook Groups dedicated to small businesses.
"What is it? Does it really work? How important is it? Do I need to do it? How much should I pay? Can I do it myself? How do I do it myself? What are the key things I need to know about it? Is it only Google Search I need to worry about? How do I check how my current SEO is performing? Is it only the copy/text on my website that matters? Is SEM just another word for SEO? Will SEO improve my SEM? How do I know what my website visitors are searching for?"
As someone that preaches within our business about the importance of SEO, I genuinely empathize with small business owners and digital marketers who don't know the ins and outs of this process. I always see the questions but don't always have time to respond – the reason I'm writing this article.
Most of the blogs out there that explain SEO are written by businesses trying to sell their SEO services to you. This is not one of those.
What is SEO – Search Engine Optimization?
In the most basic of definitions, SEO is the process of improving the ranking of your website, or even a single web page, in search engine results like Google, Bing and Yahoo.
The better your search engine ranking is for each page on your website, the more valuable traffic will land on your website.
Basic SEO includes optimizing for specific keywords, improving your website speed and making your website mobile-friendly.
Does SEO really work?
Yes, SEO really works. By using best practices in SEO, your website can rise in search page rankings, increasing the likelihood that prospects will click on your page when they are searching  for content that your website has the answer for.
RELATED ARTICLE: Does Paid Ad Placement Optimization actually work?
How important is SEO?
If you think about when you're searching for something yourself, how many pages of results do you click through when you do a search? For most people it's only one. In rare cases it's two or three.
According to Leverage Marketing, "The average web user won't go past the first five listings on a search engine results page."
"According to a 2014 study from Advanced Web Rankings, more than 67% of all clicks on SERPs go to the top five listings. Things start to get grim when you look past those first few results.
"Research shows that websites on the first search engine results page receive almost 95% of web traffic, leaving only 5% for remaining search results pages."
If your website is not appearing on page one of search rankings then you're losing traffic to those websites, often competitors, who are ranking on page one and the traffic you are losing are the people who are most likely in need of what you are offering.
SEO is the most efficient way of pushing  your website toward the top of search rankings. It's reliable, effective, and inexpensive.
How much should I pay for SEO?
If you are doing your own SEO then the cost is only for the time you spend, which shouldn't be too long. I'll explain why later in this article.
If you are already paying someone else to write the content for your website, they shouldn't charge you any extra to SEO it. If they are not performing SEO on your content as they produce it then they are doing you a massive disservice.
If you are paying someone to build or maintain your website, make sure it is included in the service.
At the end of the day, there is no magic number on how much SEO should cost simply because every SEO project is different.
If you simply want someone else to take on the project of SEO on your website, set aside the amount of budget that you think SEO is worth to your business and ensure your supplier is well briefed and only paid for this line item based on your performance in search rankings. There are lots of dodgy operators out there who will charge you for SEO but not fulfil the promise.
RELATED ARTICLE: How to achieve continuous learning in a fast-paced workplace
Should I do it myself? How do I do it myself?
Like anything in life, in my opinion, you can learn it. If you have someone producing content on your website or you are doing it yourself, I would definitely recommend them learning how to perform SEO. The value of you doing it in-house is worth it if you're already the one producing the content.
It's not difficult to learn as there is so much documentation online on how to do it.
My big caveat here is that you know how to produce quality content with high relevance to your target audience. You need to get that right before SEO becomes a viable option.
EXPERT TIP: If you are drafting content in Google Docs, when you click on a word, or words, to link users to a page on your own or external web page, it automatically brings up high ranking web pages that you could link to. This helps with SEO. Ensure you don't link to a web page that is already ranking higher than you on a search term!
If you are using a content management system (CMS) for your website like WordPress or Squarespace they have built-in plug ins that give you step-by-step guidance on how to fix your SEO. The example below is Yoast SEO's step-by-step guide. I use it a lot with WordPress and it works.
RELATED ARTICLE: Why using Google Analytics is crucial to Digital Marketers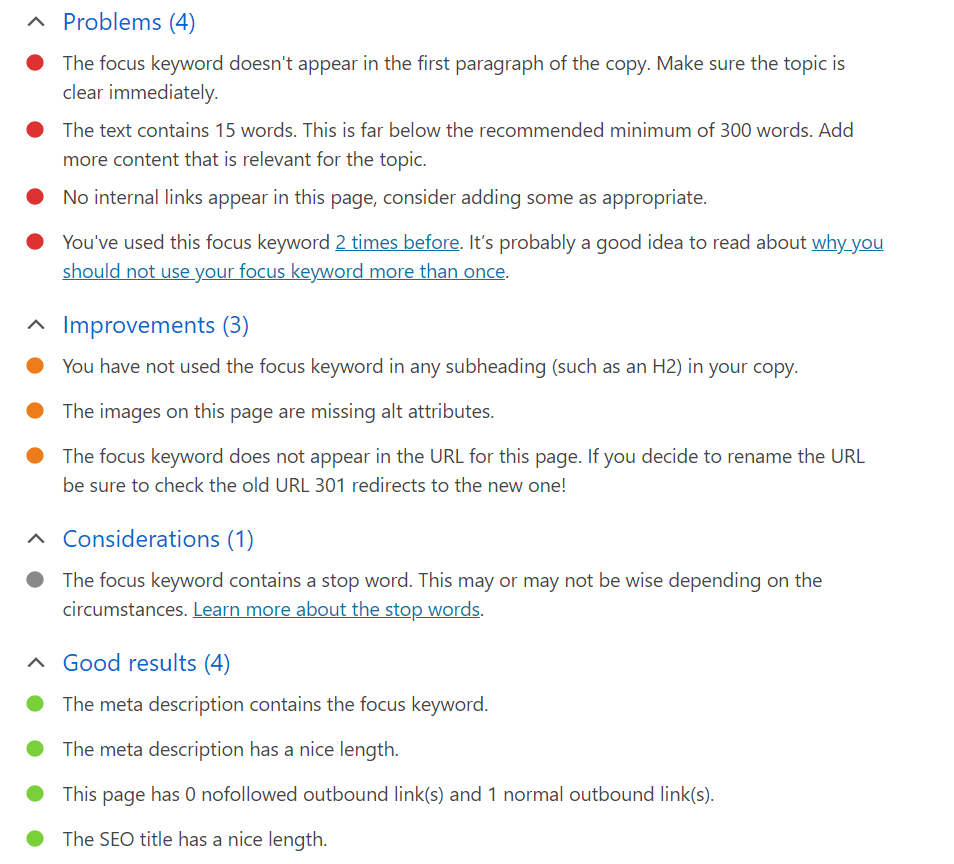 Here are some other excellent resources from Google if you are looking to do learn it yourself or want to keep your SEO supplier honest:
What are the key things I need to know about SEO?
This really could be a whole other article but in the interest of delivering you everything you need to know in one article here is a basic list.
SEO has never been and never will be an exact science.
Always test your SEO in multiple search engines like Google, Bing and Yahoo.
Search engines are always changing their algorithm so check in on their latest updates at least every six months.
Use Google Search Console to expedite Google's crawling process so Google knows your new web page exists and you'll appear in search rankings a lot quicker.
Ensure you perform SEO on all the copy, images and video on your website.
Website speed / page load times will impact your performance as well as your website's mobile-friendliness.
To keep relevance super-high, focus on content that your target audience needs.  When people search, they're looking for a solution to a problem. Focus on how your business solves your potential customers' problem. For example, if a business is a plumbing service. A plumber should write content about how to resolve plumbing issues versus writing about their business and the services they offer. There's a nuance. One is laser targeted on the pain, the other general.
Google loves consistency. The more relevant content that is shared consistently, the more likely Google will serve it up to a hungry and targeted audience simply because searchers want the most recent information.
If you are ever unsure whether what you are doing for SEO is right or wrong, ask yourself the question, "What can I do to earn Google's trust?"
Use the knowledge of peers online but not the brands that are trying to sell you SEO as a service.
RELATED ARTICLE: Facebook finally launches new post format for ads
Will SEO improve my SEM? What is SEM?
SEM is an acronym for Search Engine Marketing. In the most basic of terms, SEM is the paid version of SEO. SEM is the process of serving ads within Search Engine Results Pages (SERP). SEM ads appear like this at the top, bottom and side of search results.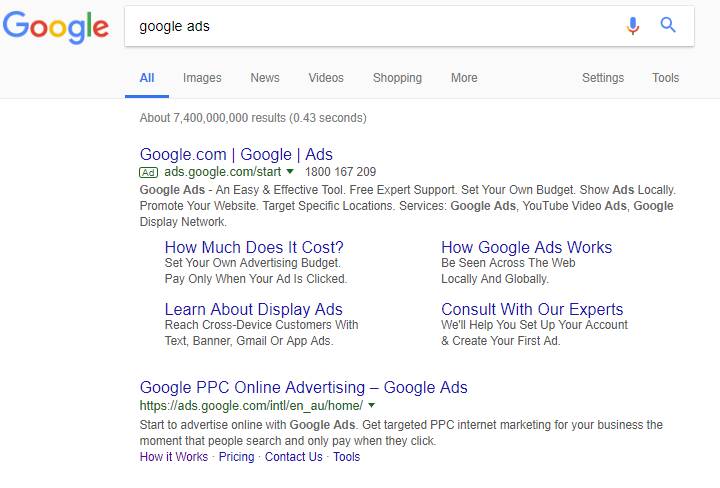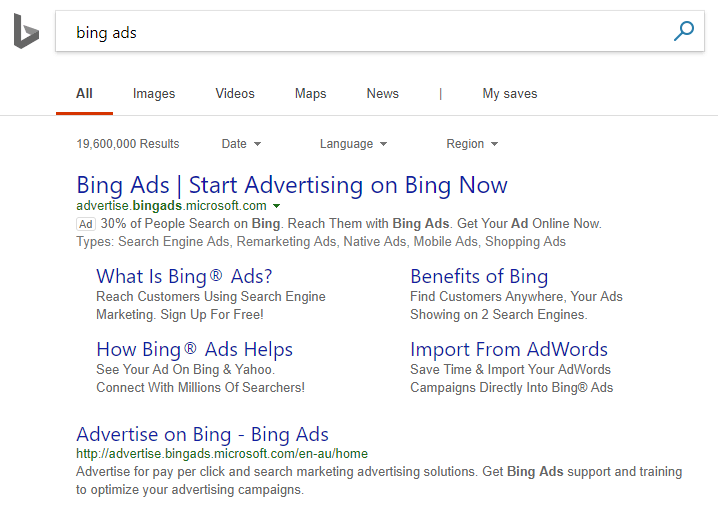 SEO will help your SEM. As relevance is key with both SEO and SEM, if you are linking to a web page with great SEO then, all things being equal, you are more likely to appear higher in SEM results due to high relevance with you target audience.
Measuring the performance of Search Engine Marketing
Digivizer's platform now allows you to see Google Ads performance so you can see your ranking position on specific campaigns and ads. It will also uniquely allow you to compare the performance of your SEM against other platforms like Facebook, Instagram and Twitter.
RELATED ARTICLE: Digivizer's Award-Winning Platform Now Available To All Businesses
Our Platform
We're working to ensure the best of our technology is made available for the lowest per month price so it can be available to all businesses.  For US$89 per month, you'll have all your owned, earned and paid social and search media data and insights at your fingertips.
You deserve to get the best out of your digital spend and we have the tools that remove the stress and pain from the process!
We remain committed to serving all businesses. Allow us to serve you!