You are a CEO or founder of a business, you have funding, momentum and customers, and your focus is on growing your business to the next level. It remains essential for you to know how to get the best out of your digital marketing investment.
But you may not be an expert at digital marketing.
Digivizer has launched Digivizer Academy, built on our digital marketing analytics platform, to help business owners understand the performance of their content and marketing across all their digital and social paid, owned and earned media channels.
Digivizer Academy offers two benefits:
It's easy for new users to quickly open an account, link your search and social channels to Digivizer's platform, and immediately see your data going back 30 days.
These sessions are with Digivizer's digital marketing specialists who help you analyse your data, make recommendations about channel performance, and provide insights about where to focus next.
Emma Lo Russo, CEO and co-founder of Digivizer, knows about the power of digital and social media: we've used both ourselves to grow our own company.
"Social and search media are powerful and very cost-effective marketing channels for SMBs. You want to grow revenues and market share by getting the best from your digital marketing investment. We help you do this by providing certainty about what's working and what isn't across all your owned, earned and paid digital channels. We make it easy, quick and convenient to understand and report on these insights.
"This has previously been hard and expensive to do. SMBs and early-growth businesses have been priced out of being able to consider enterprise tools . We've fixed that with our technology, with common measurements across all data. We're making it affordable to anyone in any organization seeking to benefit from these digital insights to understand the content and channels that perform best."
Topics already live in the Digivizer Academy include:
Book a digital marketing channel and content strategy review session with us.
How to use the Digivizer Academy
Start using the Digivizer Academy right now.
The Academy follows a similar layout to Digivizer's platform. Video series are arranged into Owned, Earned, and Paid Media.
Within each category, you'll find educational resources that will help you get the most value out of Digivizer.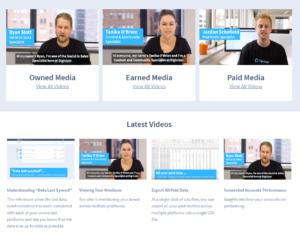 Digivizer Academy will help you do more of what works and less of what doesn't
The Academy is a comprehensive online knowledge-base designed to boost your digital marketing skills and help you simplify your reporting and analytics.
As businesses of all sizes come to understand and take advantage of the impact of social media on their customer's typical journey, it's more important than ever for everyone to marry strategy with real data.
There's never been a better time to be a digital marketer. Businesses are investing more in social media advertising and organic content generation than ever before.
Due to the ever-changing developments in the digital industry, marketers must have the best insights and the best testing strategies.
RELATED ARTICLE: Everything small businesses need to know about SEO
That's where Digivizer can help. Our platform lets digital marketers see:
the performance of their organic social media channels at a single glance
all the people talking TO and ABOUT their brands and businesses
and the performance of their paid advertising campaigns on multiple platforms, simplified in one graph and table
The Digivizer Academy will teach you how to do all this and more, so you can cut down your reporting time from 3 days and 20 spreadsheets to 15 minutes and 1 single tab.
This is great for people who want to do more of what works and less of what doesn't.
If you're looking for ways to save time, money and resources in marketing your business or personal brand, the Digivizer platform is here to help.
We have taken what was previously hard, time-consuming, delayed or inaccurate, and made it easy to see.
This is all part of the Digivizer promise – to help you grow your business by understanding your digital marketing spend.
Connect your accounts and start using the Digivizer Academy to improve your digital marketing ROI today.
RELATED ARTICLE: Digivizer's Award-Winning Platform Now Available To All Businesses
Our Platform
We're working to ensure the best of our technology is made available for the lowest per month price so it can be available to all businesses. For US$89 per month, you'll have all your owned, earned and paid social and search media data and insights at your fingertips.
You deserve to get the best out of your digital spend and we have the tools that remove the stress and pain from the process!
We remain committed to serving and growing all businesses. Allow us to serve you!