We spend hours scrolling through masses of content and ads on social media feeds every day. Every now and then, there's a creative social media ad campaign that really steals our attention. They can be quirky, interactive, fun, clever, touching. They get us talking, open our minds to possibilities and ideas. They bring us together and ignite the internet. 
So, how do you create a successful social media campaign? One of the first recommendations you'll see on every guide to advertising strategies is to look at what's working for everyone else. That's how you start figuring out what's going to work for you and your customers!
To inspire your next ad campaign, here are some of the best we've come across. We decided not to simply look at the best social media ad campaigns of the year; we went back much further to see which campaigns have really made an impact and not just a splash. Some of these campaigns are still kicking years later!

Spotify #Wrapped Campaign
Best in class for: Using data to tell a story
Year: 2017, 2018, 2019, 2020, 2021 – we all live for this campaign every year now!
Spotify's Wrapped campaign brought customer data to life. Spotify used many channels, including different types of social media ads, to celebrate their users and music in general. Music carries a certain nostalgia; Spotify used this to humanise its brand, bringing personal taste and self-expression to the fore. 
This campaign involved: 
Subscribers receiving their personalised listening data from the past year (most streamed artists, genres, songs, the amount of time spent listening to music, etc.) 
Tongue-in-cheek, humorous billboards and social media posts that leveraged the yearly music trends and mock comical user playlists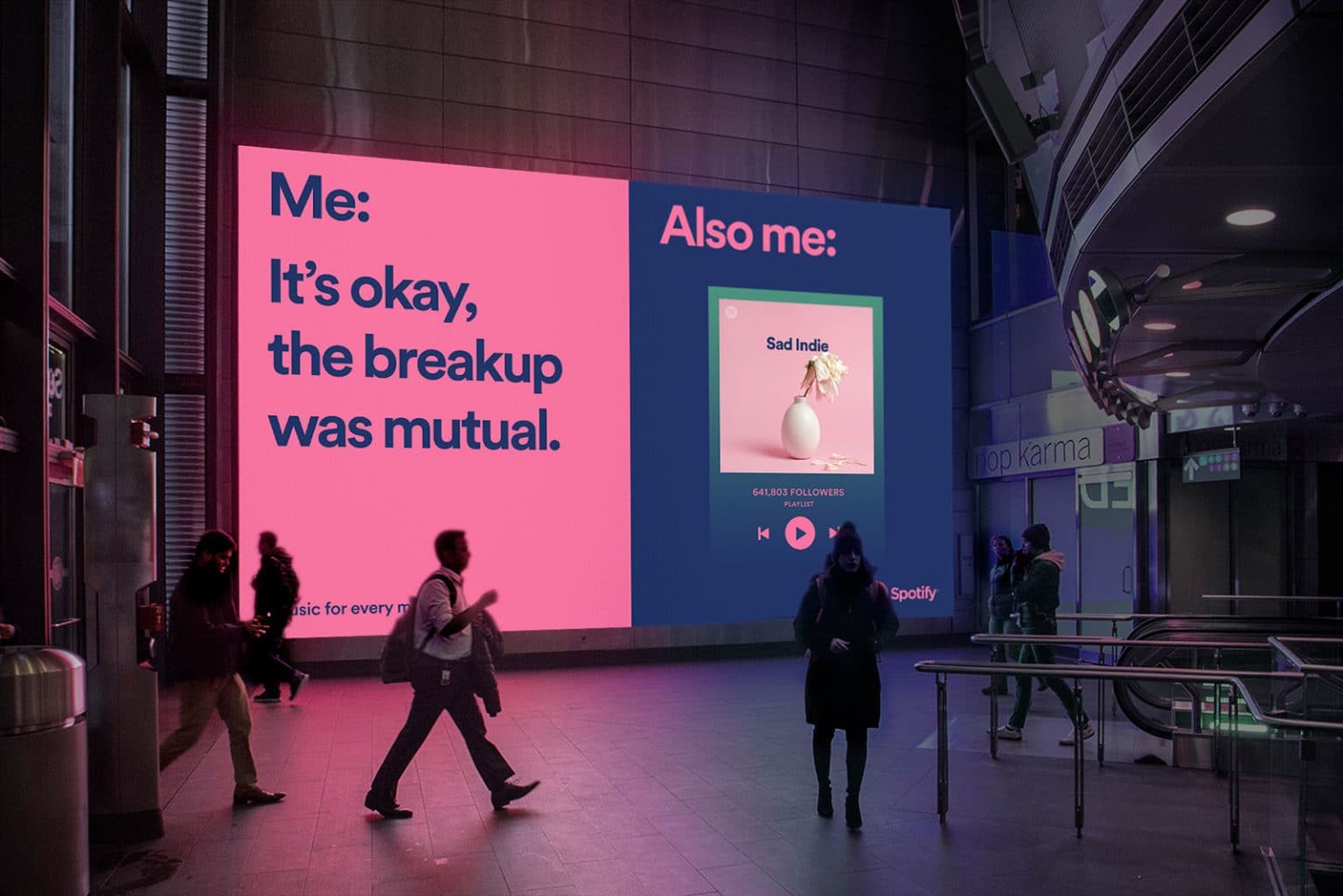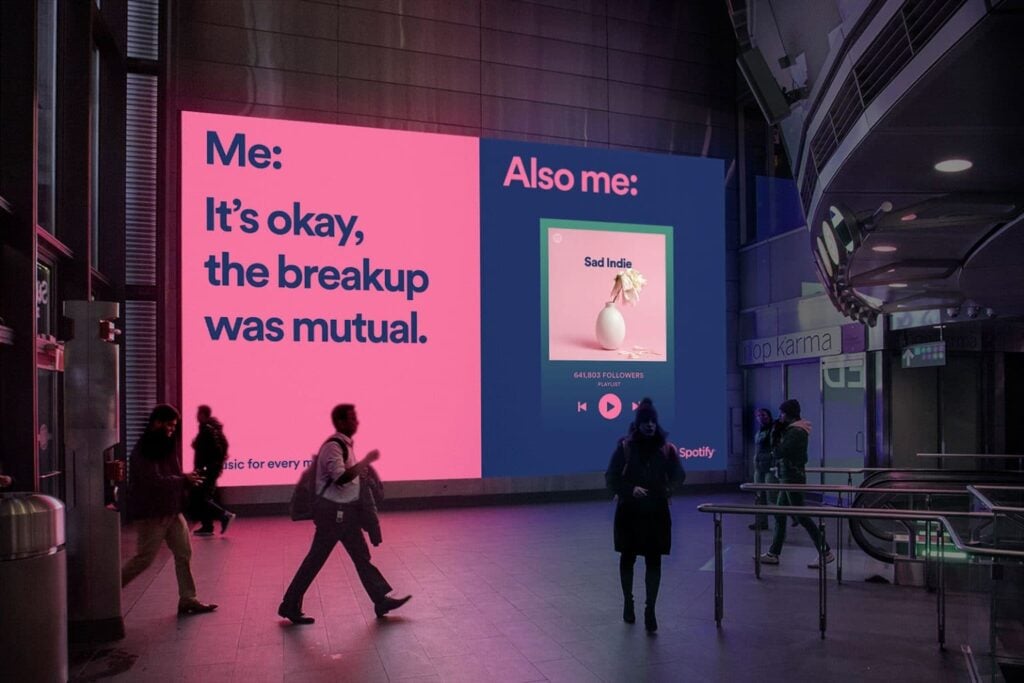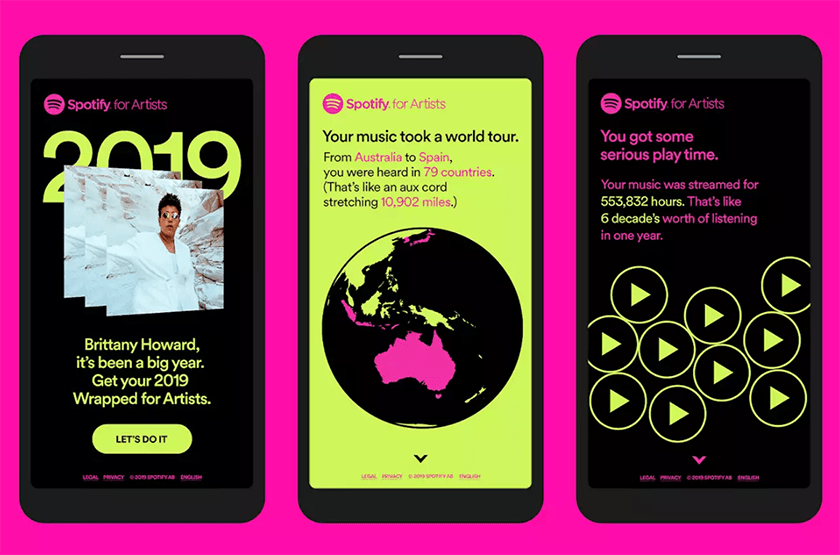 This data-driven approach created a cohesive all-channel campaign that maximised visibility and leveraged user-generated content (UGC). They used data for advertising, which drove existing and new users back to their website and app to give them more data. Genius!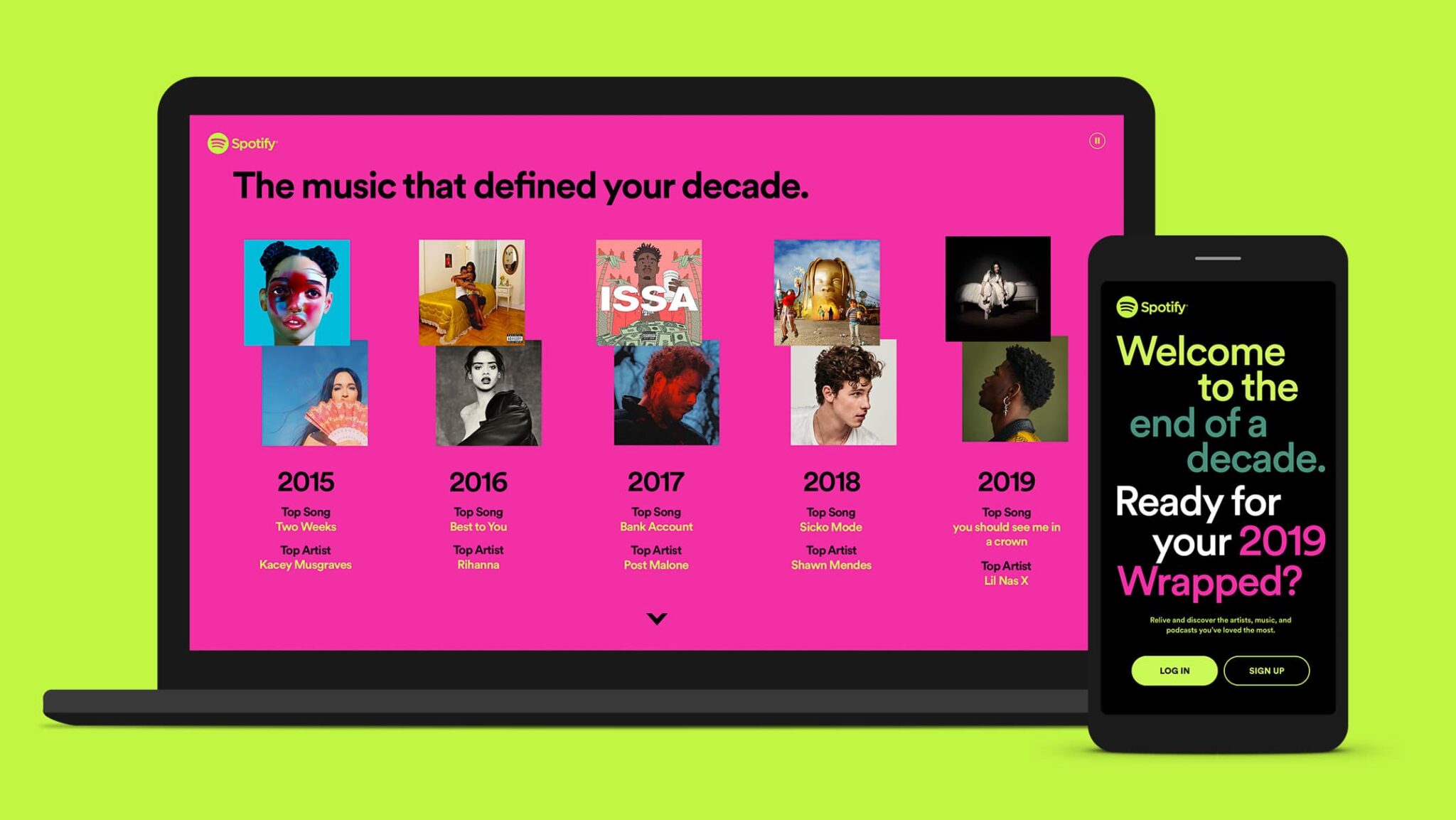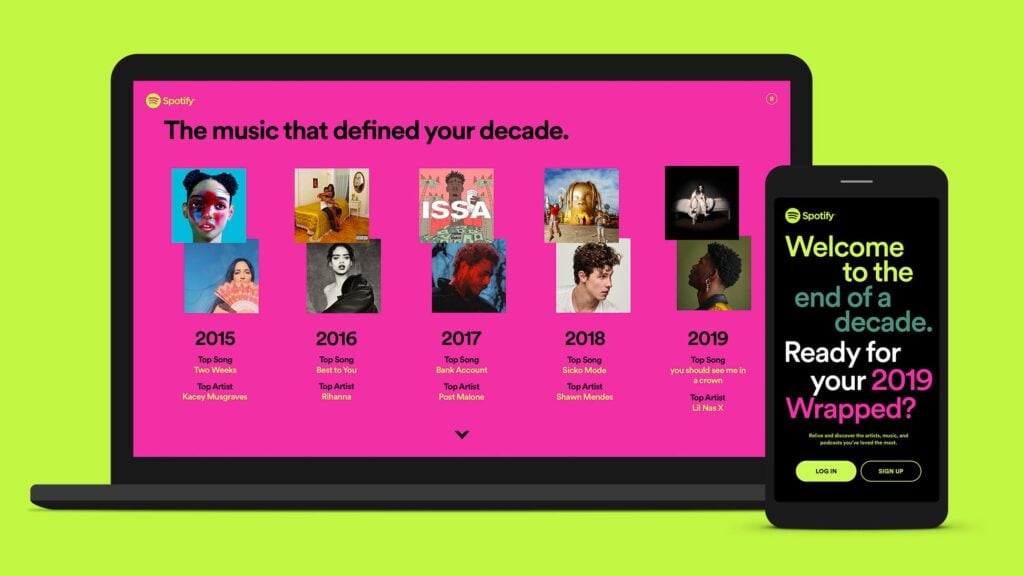 Users could also share their own data on social media directly from the Spotify app. This style of user-generated content also extended to artists sharing their success data over the year, talking to their huge social media following. Like Maroon 5 and Marianas Trench:
Following this spike in user-generated content, Wrapped's marketing appeal snowballed into the FOMO effect – better known as 'fear of missing out' – across non-users. Their social media feeds were filled with Spotify Wrapped statistics from their friends. Not only did this drive greater brand awareness, but it encouraged interest amongst non-users to download Spotify in hopes of being able to post similar experiences. Think of the conversion rates!
Spotify has carved out its space in the music streaming industry and continues to pioneer, grow and redefine our music experience.
Dove #RealBeauty Campaign
Best in class for: Authenticity in advertising and elevating the brand beyond the product line
Year: 2004 – present (seriously!)
Dove's #RealBeauty campaign pioneered self-esteem and self-love; it even became their brand mission. So how did a brand associated with a plain white bar of soap position themselves as advocates of female empowerment and initiate conversations on narrowed definitions of female beauty?
In 2004, Dove found only 2% of women in their research groups considered themselves beautiful. They created a brand revival campaign with messaging around inner beauty, authenticity and female empowerment. This was before social media was really a thing, but the campaign used digital activation from the very beginning: its 2006 "Evolution" video ad was one of the earliest viral brand videos on YouTube. Watch it here or on YouTube.
Campaigns that tap into the interests and feelings of their key target audience help brands remain relevant and boost profitability. By surveying their target demographics and harnessing customer insights, Dove developed ads that spoke directly to their customers. The company even pledged to stop all retouching across marketing in 2018, which earned the brand a lot of attention in the competition for best social media ad campaigns 2018.
Here's some other examples of #RealBeauty social media ads and marketing:
Dove and Twitter ads teams partnered to identify and respond to negative tweets about beauty and body image (#SpeakBeautiful campaign)
Dove flooded Shutterstock with photographs of women tagged "beautiful", all taken by award-winning photographers, and encouraged others to do the same
Dove and Getty Images made 5000 images of underrepresented women free for public use
The result? In the Prophet Brand Relevance Index® (BRI), Dove remains the most relevant brand in the Household & Personal category (and its lead increases every year). Dove's score for Customer Obsession puts it in the top 10 of all brands! The brand has created a strong emotional connection with its customer base. It's nice to think that #RealBeauty wins out in the end, isn't it?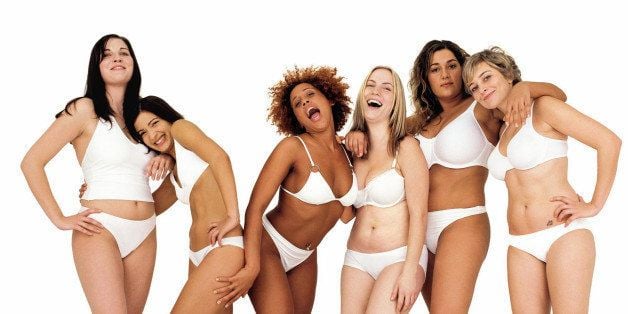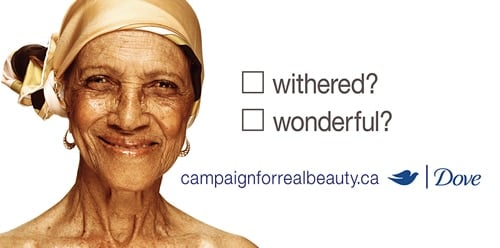 Apple #ShotOniPhone Campaign
Best in class for: Featuring the product without ever showing it!
Year: 2015 – present
Apple's brand identity consists of innovation, dreams and aspirations, hopes and imagination. They want you to live a lifestyle fueled with liberty and passion, empowered through technology. That's why the #ShotOniPhone campaign makes so much sense and works so well.
In 2015, Apple encouraged users to post photos they had shot on their iPhones as part of a contest. The prize: a chance for their work to be featured on one of 10,000 billboards across the world.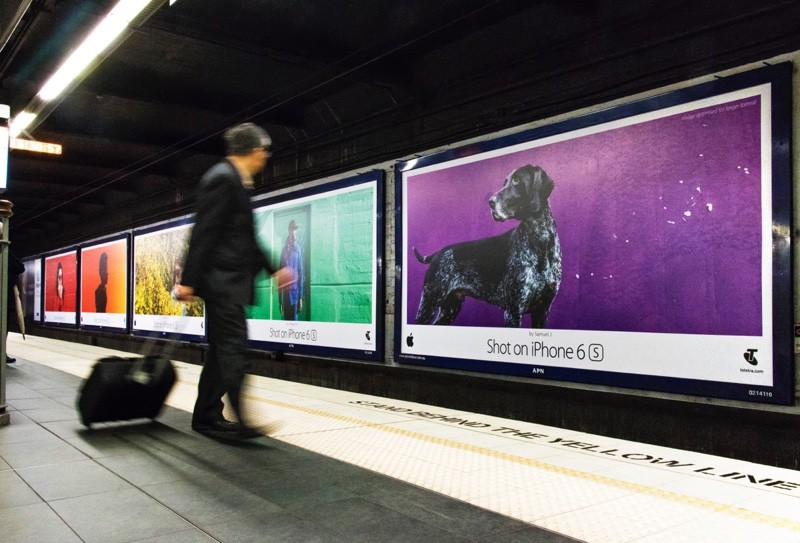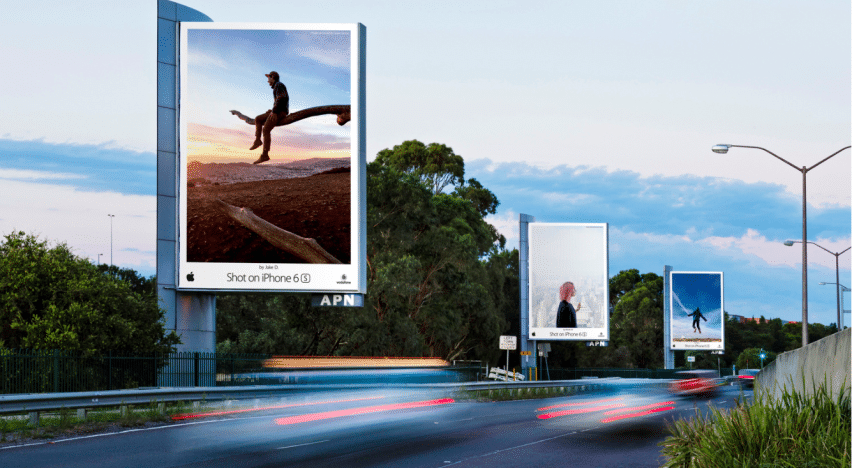 In 2017, Apple opened their Instagram account to keep the #ShotOniPhone momentum going as sort of an organic advertising campaign intended to generate massive amounts of user-generated content. It worked! The hashtag #ShotOniPhone has over 16 million entries on Instagram alone. 
Apple cleverly made the most of their huge user base and invested in user-generated content to promote the technology and the Apple lifestyle. Very few of the photos taken with iPhones have iPhones in them, and yet they're obviously marketing the iPhone! 
Since this is still a tactic in Apple's marketing mix today – have you been targeted with "Shot On iPhone" video ads? We have! – it clearly delivers results. It's worth nothing, as well, that this is a kind of social media advertising that Apple doesn't put much budget or effort into – it's an ongoing organic exposure campaign that basically runs itself at this point. Nice!
Starbucks #UnicornFrappuccino Social Media Campaign
Best in class for: Using social media to drive customers to store – fast
Year: 2017
As part of the Frappuccino Happy Hour rollout, Starbucks launched the Unicorn Frappuccino for one week only during April 2017.  It was an "Instagrammable success" that "drove significant traffic". This definitely earned them a spot on "best social media ad campaigns 2017" lists.
In this campaign, Starbucks did their user research and aimed their ads and organic posts at an audience renowned for taking photos of their food – Millennials. They designed a glittery pink and purple frozen drink that looked awesome in photos and made it available for a tiny period in select stores. Manufacturing scarcity and inciting the fear of missing out is one of the oldest tricks in the book. Combining this with social media can create the foundation for a viral sensation.
As a result of this campaign, global same-store sales in America went up 3% for the second quarter in 2017. What's more, the Unicorn Frappuccino, and its hashtag, generated nearly 155,000 Instagram posts during that time period. (#Unicorn had 4.5 million.)
There's no word on whether Starbucks partnered with influencers to drive demand and post sponsored photos. By making it scarce and photographable, Starbucks basically managed to galvanize influencers into advertising the Unicorn Frappuccino simply because it was good content. Getting your customers to pay you to promote your product is a winning strategy in any book. 
(One of the funniest things to come out of the whole campaign: a growing rumour that the drink tasted terrible. It was also unhealthy at 59g of sugar per cup. Baristas also jumped on social media to ask people not to order it because it was really difficult to make! Maybe it was a good thing it was one week only.)
Gillette #TheBestMenCanBe and #MyBestSelf Social Media Campaigns
Best in class for: Generating conversation around their ads – and also, taking on feedback for a second try
Year: 2019, with a 3-year commitment to fundraising & donations to men's organizations
Gillette took a stand against toxic masculinity with a controversial video calling on men to "be better"; to stop excusing bad behavior with the age old excuse that "boys will be boys". It became one of the most disliked videos on YouTube but it sure got people talking. Here's the organic version of the Twitter ad.
This social media campaign is a prime example of brands actioning corporate social responsibility to build trust, encourage awareness and campaign for social change. Consumers are more likely to switch to a socially conscious brand that is associated with a good cause. In fact, 64% of consumers will support (or boycott) a brand based on its political or social stances!
How did this campaign impact Gillette's social media marketing?
Gillette had 1.5 million social media mentions in 2 days. The previous week they had less than 10,000.
More than a million of those mentions were within 24 hours
The brand's hashtag, #TheBestMenCanBe was used 187,400 times in one day
The brand's tweet has been shared almost 300,000 times and liked almost 600,000 times.
With the negative reaction, it's also a prime example of "outrage marketing" – getting people to talk about your brand because they're angry with it. Five months later, Gillette had another try with the #MyBestSelf campaign. This time they took to social media to advertise razors with a video of a transgender man's first time shaving. (This ad received a lot of praise for its positive interaction with the transgender community.)
Brands are increasingly defining themselves and doing business according to their values – and consumers are increasingly putting pressure on them to do so. Therefore, developing campaigns that highlight a social issue your brand is associated with can be incredibly powerful to build brand trust and give your customers a better idea of what your mission, purpose and values are as a brand.
But keep this in mind: 53% of consumers also believe that brands are only taking a stand for marketing and publicity. If you want to go down this road, support causes that you genuinely believe in and make your support clear from the beginning. As you can see from Gillette's marketing and our next brand on the list, Heineken, it also pays to keep it positive.
Visit the Digivizer Academy for more videos to help you harness the power of digital marketing performance insights.
Heineken #WorldsApart Social Media Campaign
Best in class for: Positive sentiment
Year: 2017
For over 150 years Heineken prioritized openness and diversity across their brand values. The Worlds Apart video demonstrates how a brand can engage with political issues without angering diverse communities among their customers. By partnering with experts and maintaining a strong mission, this campaign resonated with people from all walks of life.
The two-minute video shows four strangers paired up, unaware that their partners hold opposing political views. After following instructions to build a bar and answering a few getting-to-know-you questions about each other, a video plays of each person voicing their opinion on topics such as climate change and transgender rights. The pair can then either choose to leave or stay and discuss – and both pairs choose to sit, talk and have a beer at the bar, with some pondering new perspectives and changed opinions. 
While the ad ultimately sells a product, this campaign really sells what the product can be used for (much like #ShotOniPhone) and the experience that comes with that. Their beer sparks conversation, breaks down walls and creates a space that allows for an open, compassionate discussion where similarities speak louder than differences.
Within the first few months, the organic reach of this campaign concluded – to over 40 million views. It sparked global conversation – 91% of which involved positive sentiment. Social listening here was a key technique in determining the impact of this campaign; users not only embraced the message, but were inspired enough to re-share and become brand advocates for Heinken and their mission.
Media Entertainment & Arts Alliance (MEAA) #RightToKnow Social Media Campaign
Best in class for: One clear and serious message cross-promoted everywhere
Year: 2019
On 21st October 2019, the front page of every newspaper in Australia was blacked out. This was part of a campaign against federal government policies that reduced media freedom, penalised whistleblowing and, in some cases, criminalised journalism.
The #RightToKnow campaign carried onto media outlets' social media channels where digital newspapers, leading journalists and media freedom advocates promoted organic posts and ads triggering political discussions across Australia.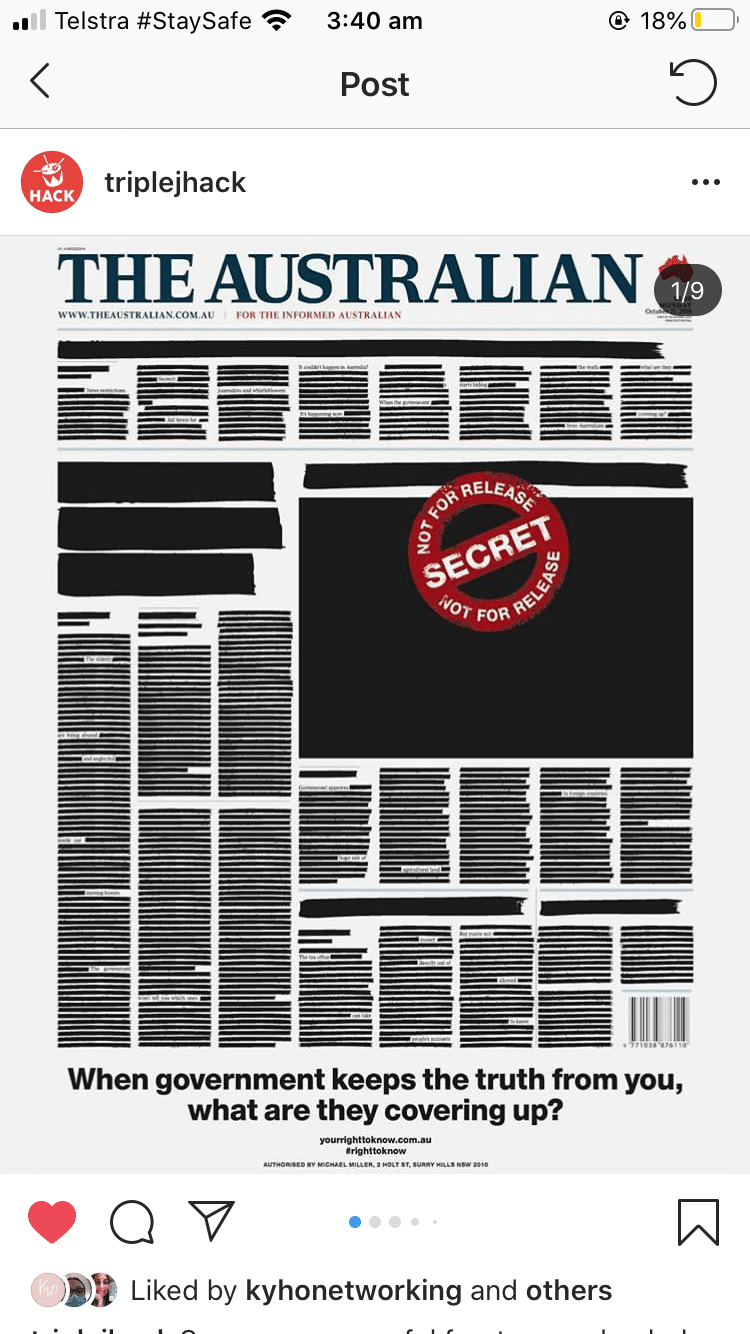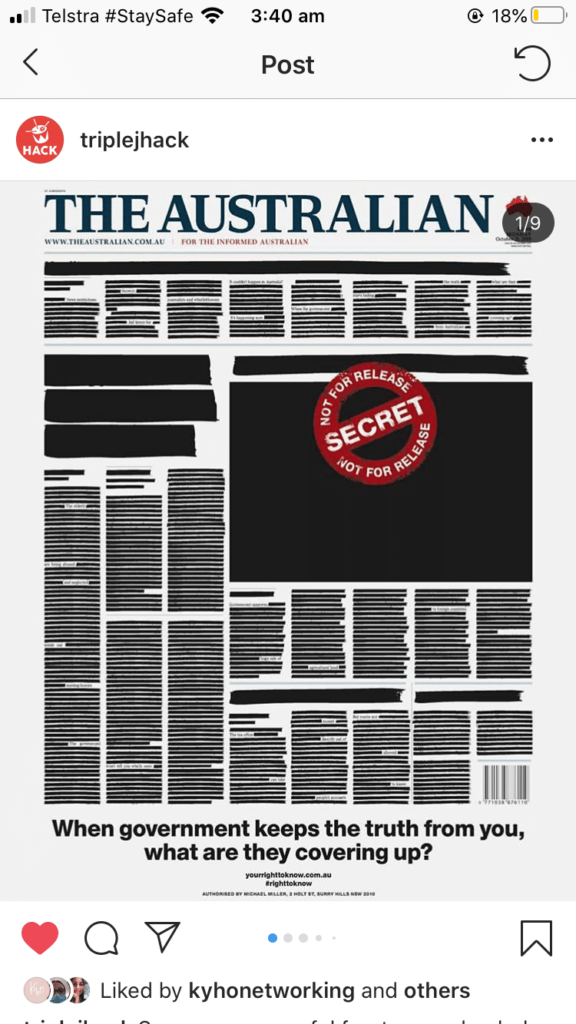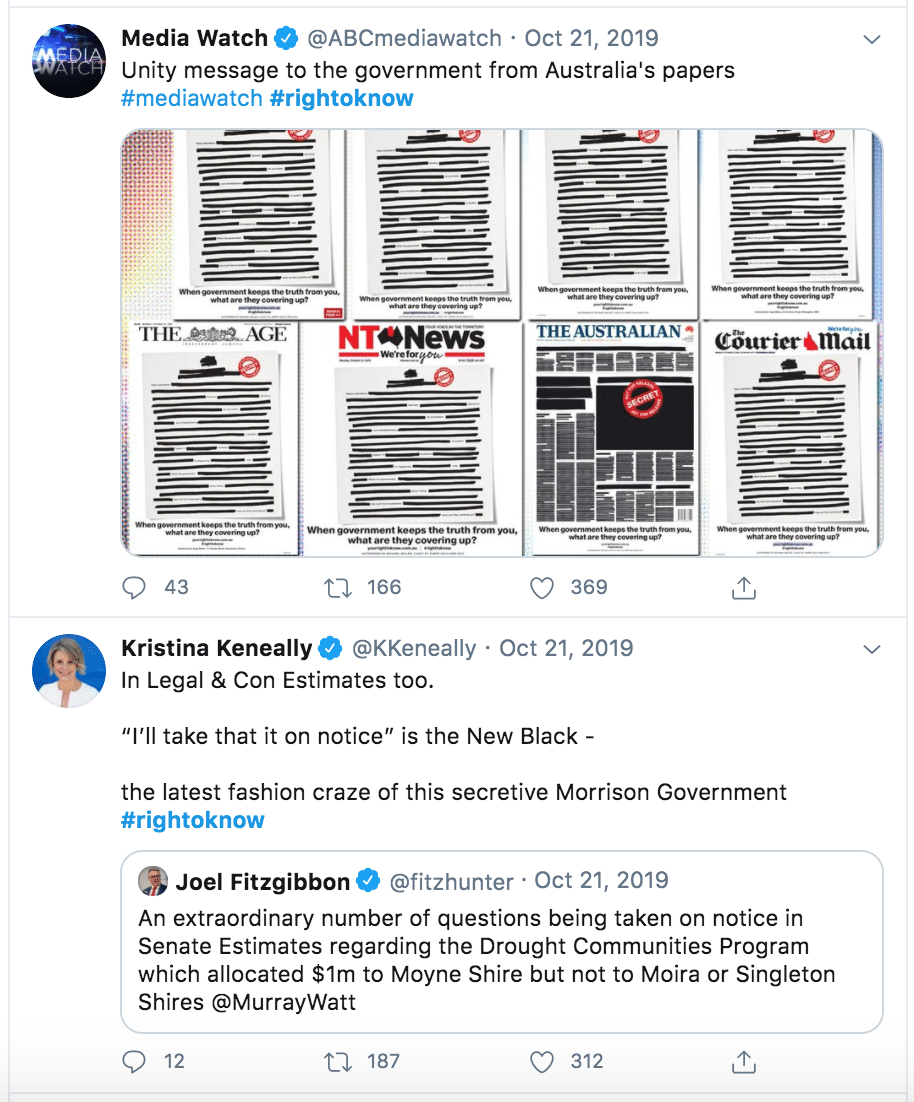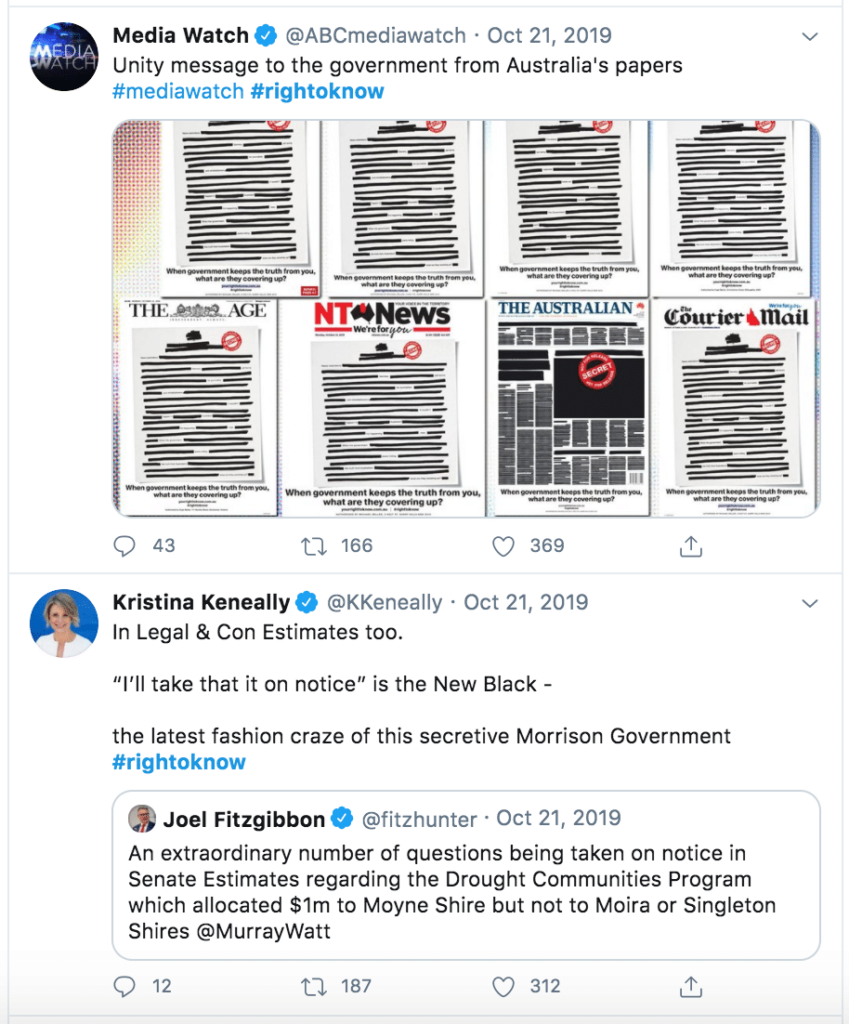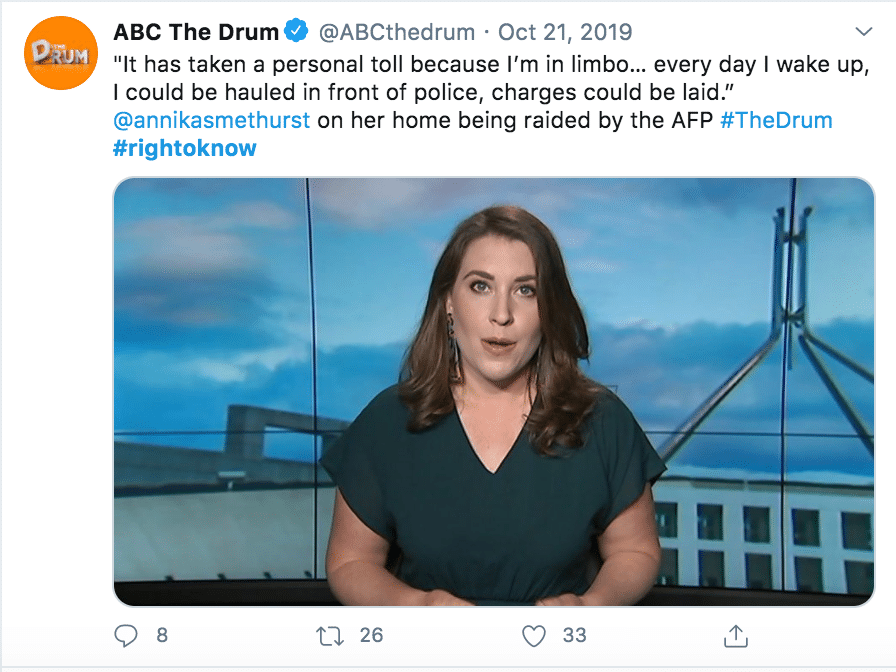 This campaign wasn't solely social; it incorporated social media as part of a broader campaign strategy. Carving out an online space for people to engage with content can be essential for nurturing interest, action and engagement with ad campaigns. 
The impact of this campaign is its unity: promoting one clear message endorsed by highly reputable media outlets and respected industry experts across many channels. They had one campaign hashtag and one landing page to centralise all cross-promotion – a great idea when an ad placement is too small to get across everything you want to say.  
Notably, most ad campaigns go viral because they're happy, colourful or fun. This one wasn't, and it still got a lot of traction. It goes to show that brands can take advertising a little more seriously if they get the message, the platforms and the supporters all in the right place at the right time.
National Geographic #YourShot Instagram Campaign
Best in class for: Pivoting to social media
Year: 2019 – present
National Geographic is known for its dramatic visuals and iconic photographs. In 2019, it pivoted its exclusive photo community "Your Shot" to Instagram, debuting the @natgeoyourshot page, where professional and amateur photographers alike can tag their photos for the chance to be featured – and therefore reach the page's 4.2 million followers. 
Such powerful user-generated content is real money in the bank when it comes to a brand's public awareness and credibility. Over 10 million photos were submitted to Your Shot in the 14 years prior to its pivot to social media. Since then, the #yourshotphotographer and #natgeoyourshot tags on Instagram have 11 million photos combined. 
Essentially: social media earned more UGC photos for National Geographic in one year than the branded website earned in 14 years. Wow.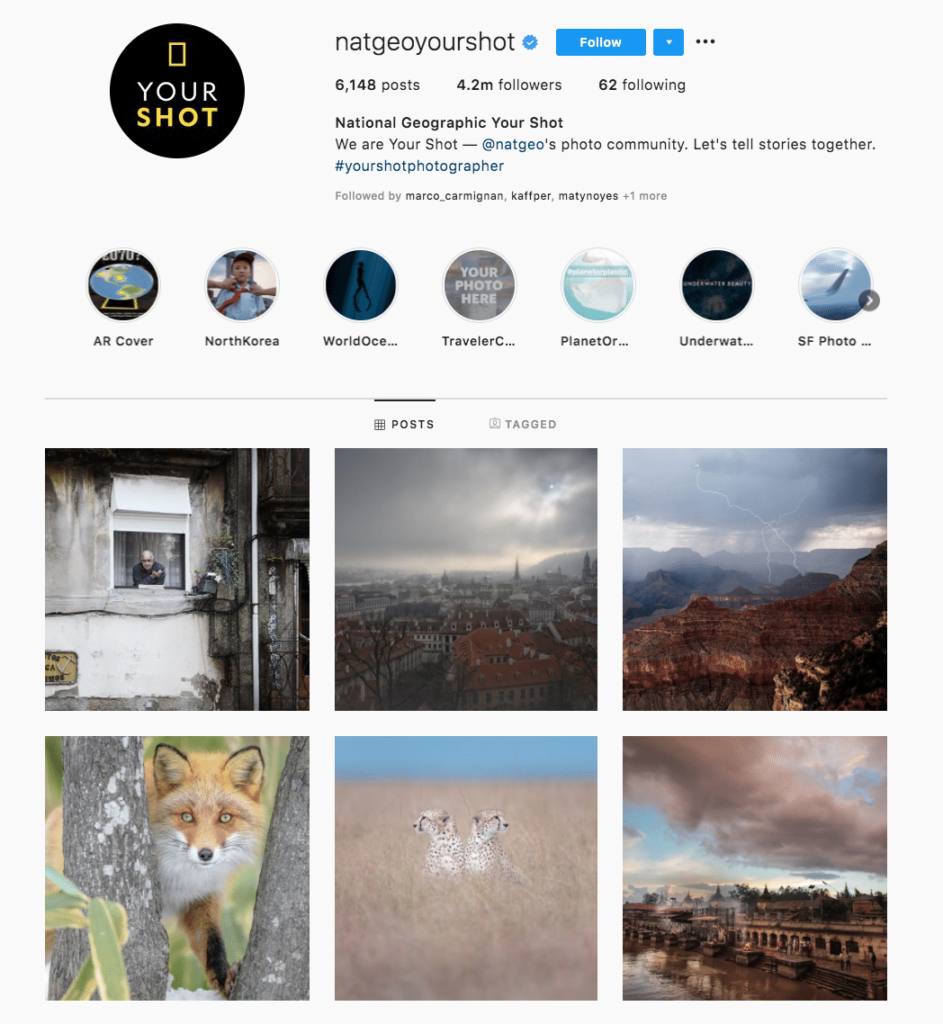 Designed to spotlight powerful moments and truths, National Geographic has built a social media campaign at the intersection of creativity, professionalism and social media. Followers are focused on threading moments together, immersing themselves in other cultures and ways of being and examining nature through the camera lens to visualise lived experiences. 
With 4.2 million followers and 6,600+ posts, Nat Geo Your Shot posts generate half a million likes and thousands of comments. They've kickstarted careers for photographers. This level of engagement shows the depth and reach of raw imagery and the impact a community of people with a common interest can have.

NSW Police #Memes Social Media Campaign
Best in class for: memes, let's be honest
Year: 2017 – present
Police officers and a meme team – two concepts that don't usually go hand in hand. But NSW Police took over Facebook in 2017 and have proved a reliable source of shareable content ever since. 
Initially, NSW Police sought to counteract Facebook's ever-changing algorithms and ensure content would be seen by their existing audience. They pivoted their previously serious social posts to a more sarcastic, satirical tone. Not only did they maintain their existing audience, but they wound up reaching a whole new audience that police often struggle to reach – young people.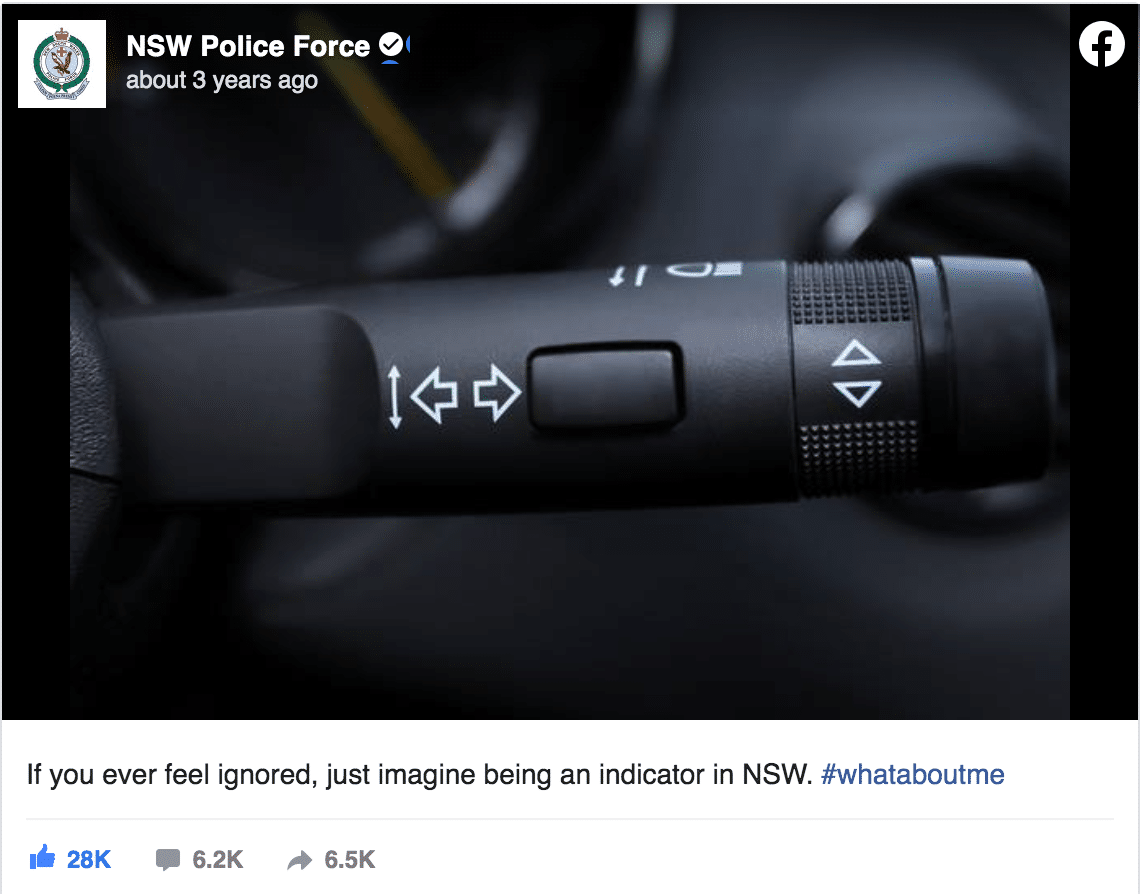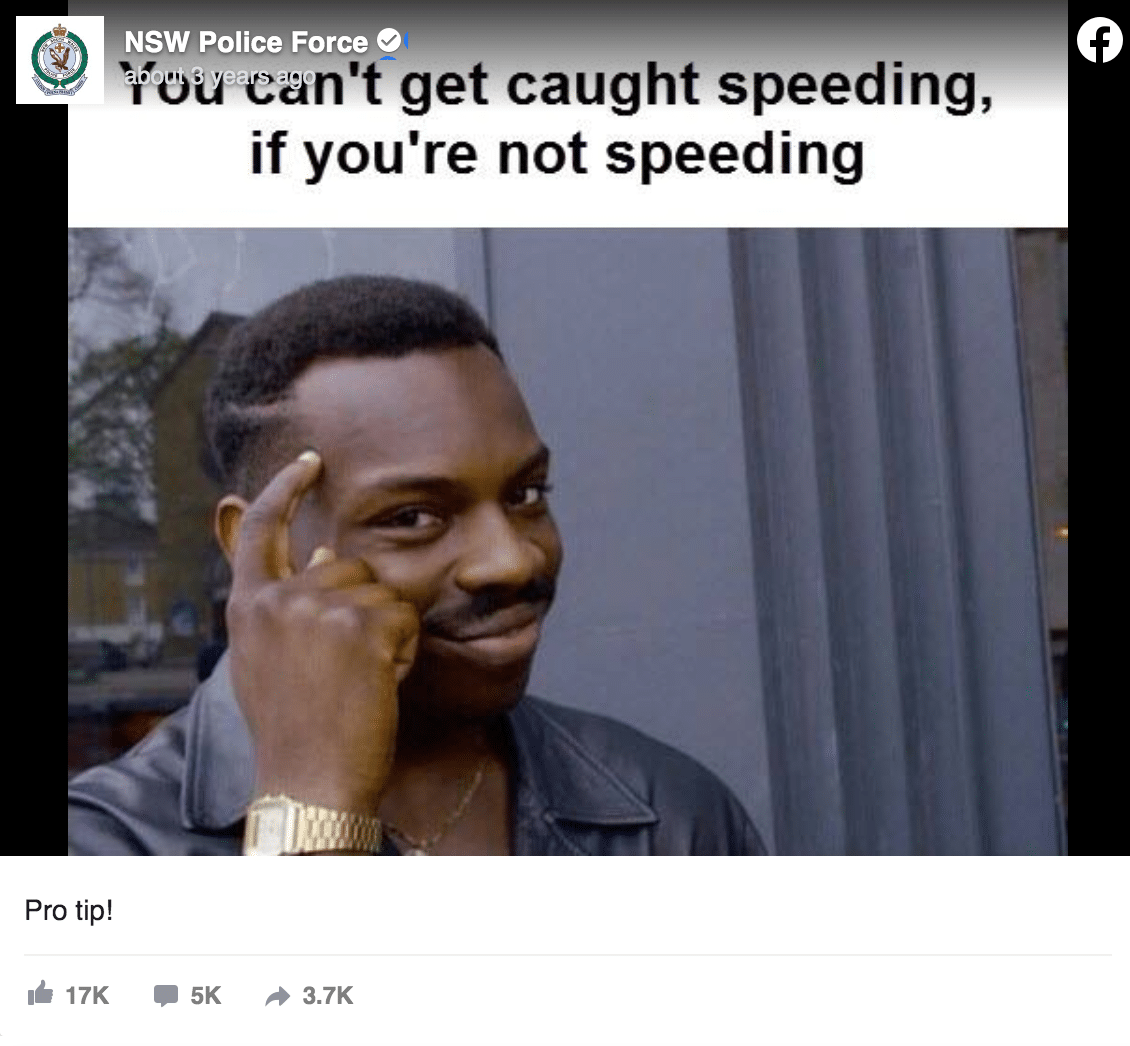 Their strategy is grounded in community engagement and making police officers more approachable. The NSW Police Facebook page now has over 1.2 million followers – a record for an official police Facebook page. 
"We're using humour to show people we're part of the community, we're human. Our argument is that humour is helping the community relate to police more than they would have in the past," said Dejan Stojadinovic, who was part of the digital media team that coordinated the change in strategy.
This meme-based strategy has definitely increased reach and user engagement. The success of this campaign comes down to humanising the brand to encourage better community relations and demystifying any misconceptions. Building campaigns that directly speak to target audiences can heavily impact the way consumers view your brand.


World Health Organisation #SafeHands Challenge
Best in class for: TikTok!
Year: 2020
In light of COVID-19 the World Health Organisation (WHO) created the #SafeHands challenge campaign to encourage people to practice the correct techniques when washing their hands, to prevent the transmission of disease.
Users uploaded videos across their social media accounts – and TikTok took off! Within 48 hours of launch in March 2020, #SafeHands was used nearly half a billion times. Celebrities including The Pussycat Dolls, Billy Porter, Mariah Carey and Charli D'Amelio (she's TikTok famous, trust us) all shared videos of themselves promoting hand hygiene.
This campaign was timely and proactive during the COVID-19 global pandemic. Moreover, from the degree of user friendliness to the fun hashtags that can easily be explored, and where links to WHO's information and local health resources can be accessed, TikTok was a natural fit for this campaign. 
Not only did this campaign benefit WHO (and hopefully public health), it also benefited the social media platform it went viral on! TikTok saw a 27% increase in engagement on sponsored posts between February and March and app downloads increased by 18% between March 16-22.
What makes social media campaigns go viral?
While there is no one size fits all answer, the examples offered above offer some greater insights and clarity around the strategies behind top performing campaigns. Some final takeaways to apply to your next campaign: 
Research and target your audience relentlessly
Sell "what you can do with the product" more than the product itself
Pair your ads with organic posts and cross-channel marketing to unify a single clear message
Be sure campaigns are a genuine, positive reflection of your company mission
Repurpose your best owned and user-generated content in creative ways
Always strive to serve your audience
Whether you're considering your Facebook advertising, Instagram ads, or maybe something we haven't dived into like Snapchat ads or LinkedIn ads, we hope these social media campaigns give you a dose of inspiration! Be sure to share this list with your marketing buddies to start using these tips and tricks (or these 10 easy steps) in your next social media ad campaigns.
Want to create a genius social media campaign of your own? 
Connect all your accounts into the Digivizer platform to receive performance insights across all your campaigns. This gives you the high-level visibility you need to know what works and what doesn't, allowing you to create content that brings you closer to your target audience. 
Sign up for free today to get the insights you need to win on social media.