Your all-in-one agency analytics platform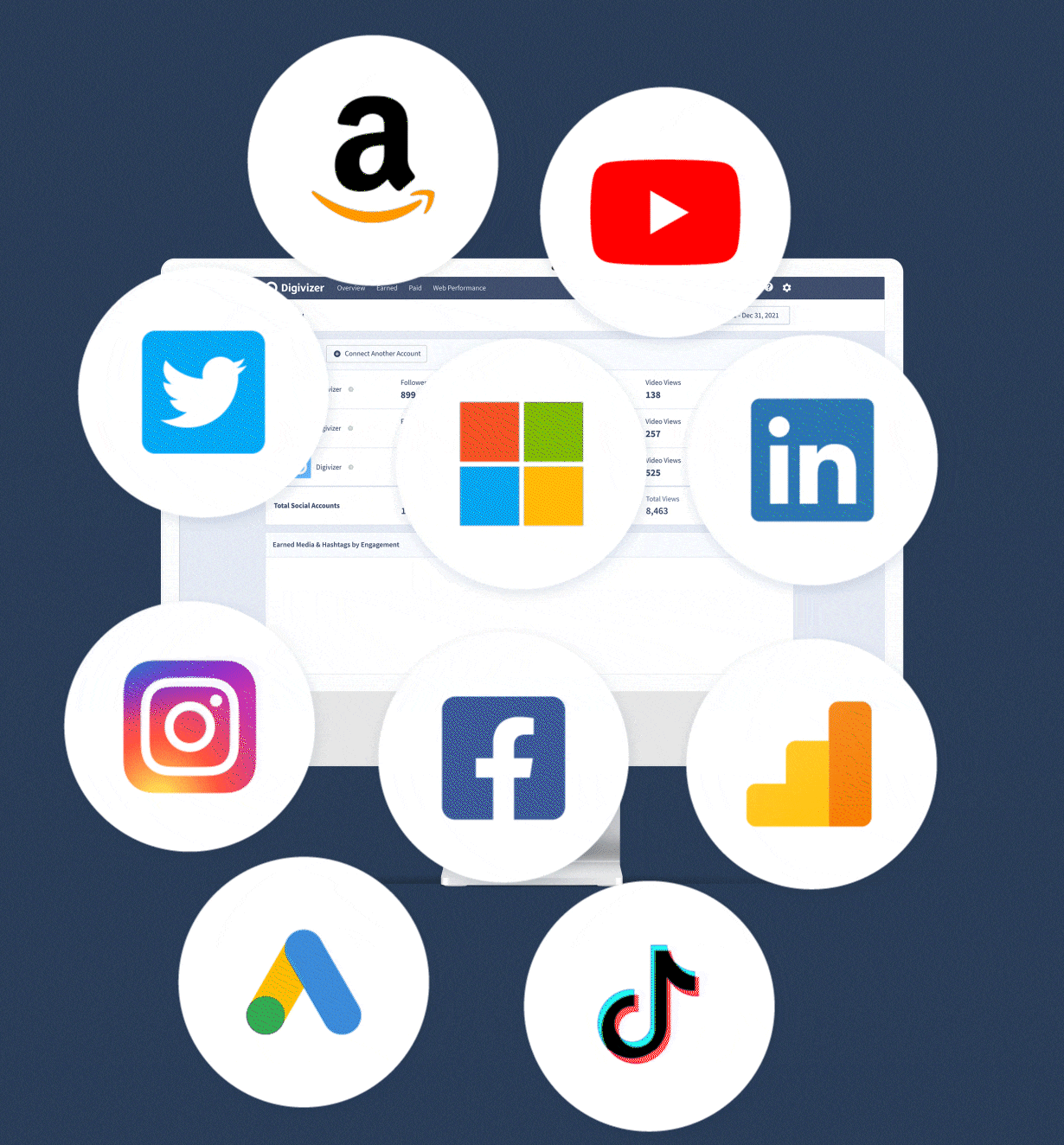 Take your digital marketing strategy to the next level with Digivizer's single agency analytics dashboard.
Track, analyze and optimize clients' social media, search, Google Analytics and website accounts – across organic, earned and paid media.
Save time on agency reporting with access to insights per client Brand Space and invite your team members and customers to see only their relevant insights.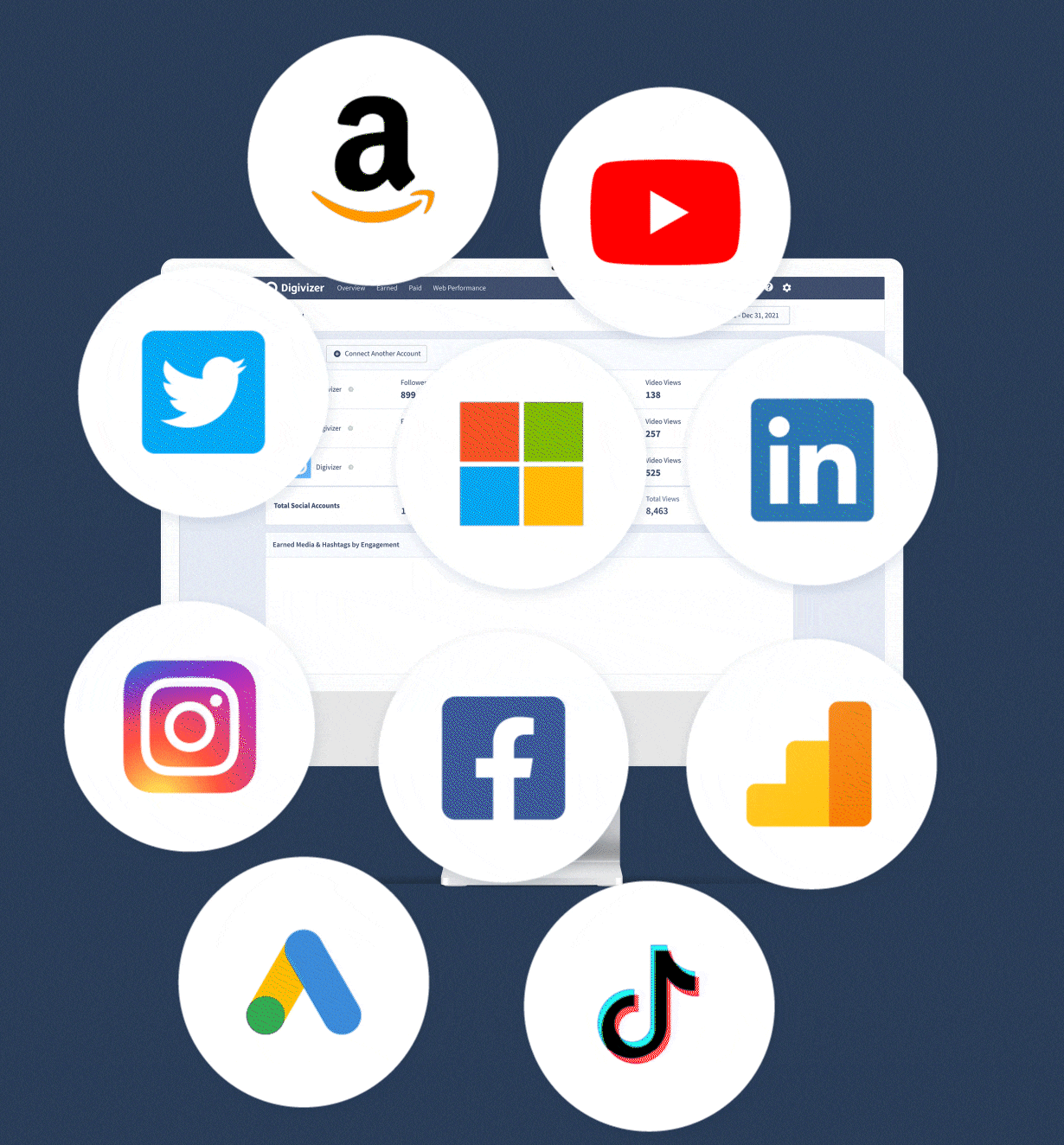 Competitive Agency analytics pricing
Our agency plan unlocks real-time access to one agency analytics dashboard for all your client reporting - it is super affordable at just US$72 per client and an easy way to see, measure, report and manage multiple client brands.

Invite unlimited client and team members to each brand space at no additional cost.

Easily manage client reporting and performance
Digivizer takes minutes to set up and it's easy for you to manage multiple brands, teams and permissions.

You control who sees, actions or receives insights per Brand Space for each of your clients.

Create trust and transparency with one agency analytics dashboard
Enjoy the trust that comes from transparency by having a single source-of-truth agency analytics platform.

Plus easily manage who receives real-time access, flexible automated reporting either weekly and/or monthly, delivered directly to their inbox.
Connect more of your
social
paid
web
platforms​

Help your clients rank better in search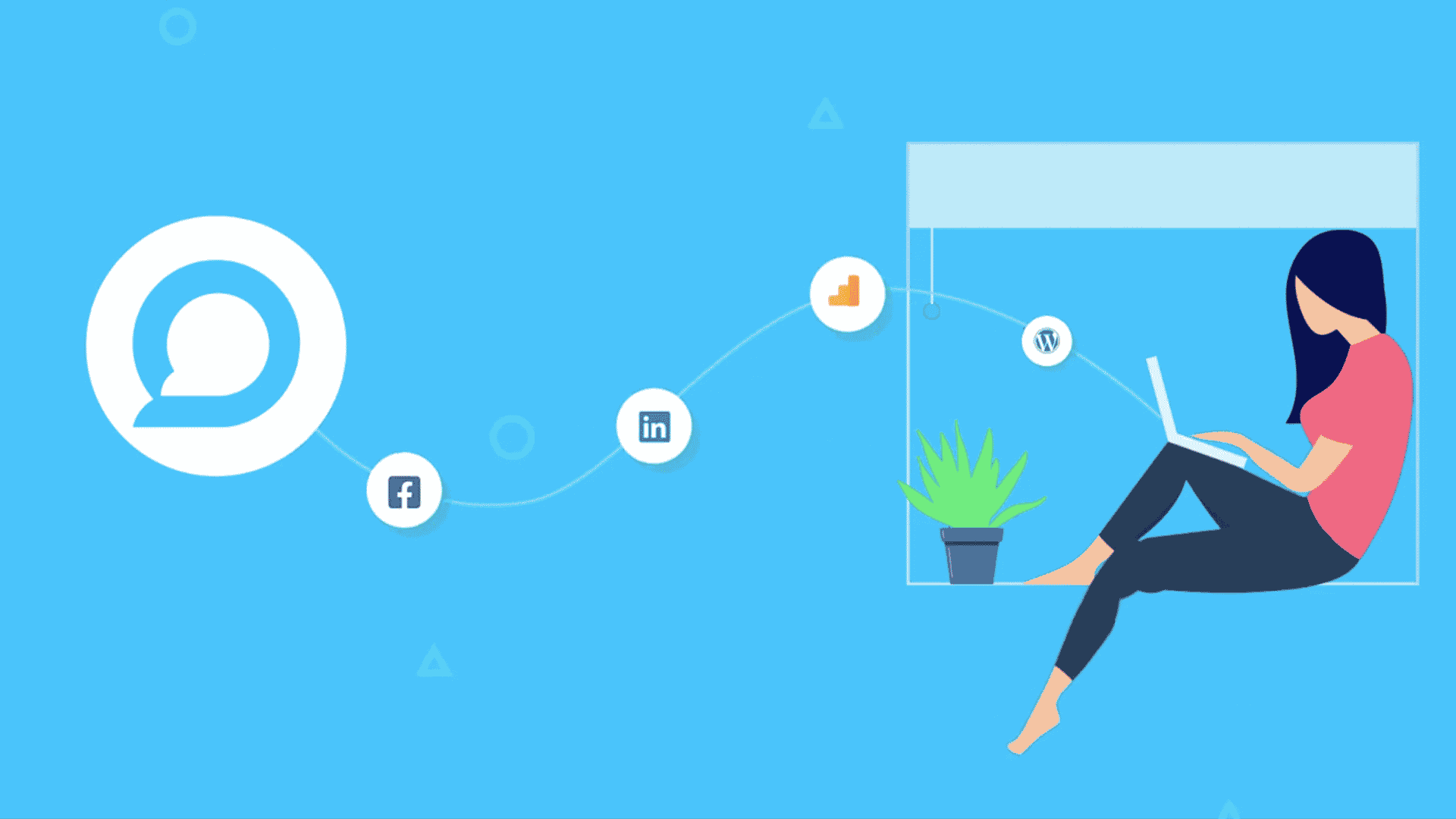 Monitor changes in search engine rankings for your clients across any period in time within seconds.
Identify keyword gaps and improve content.
Pinpoint web traffic source with market-leading accuracy.
Optimize SEO and paid search advertising strategy to bring the highest quality traffic to your client's site.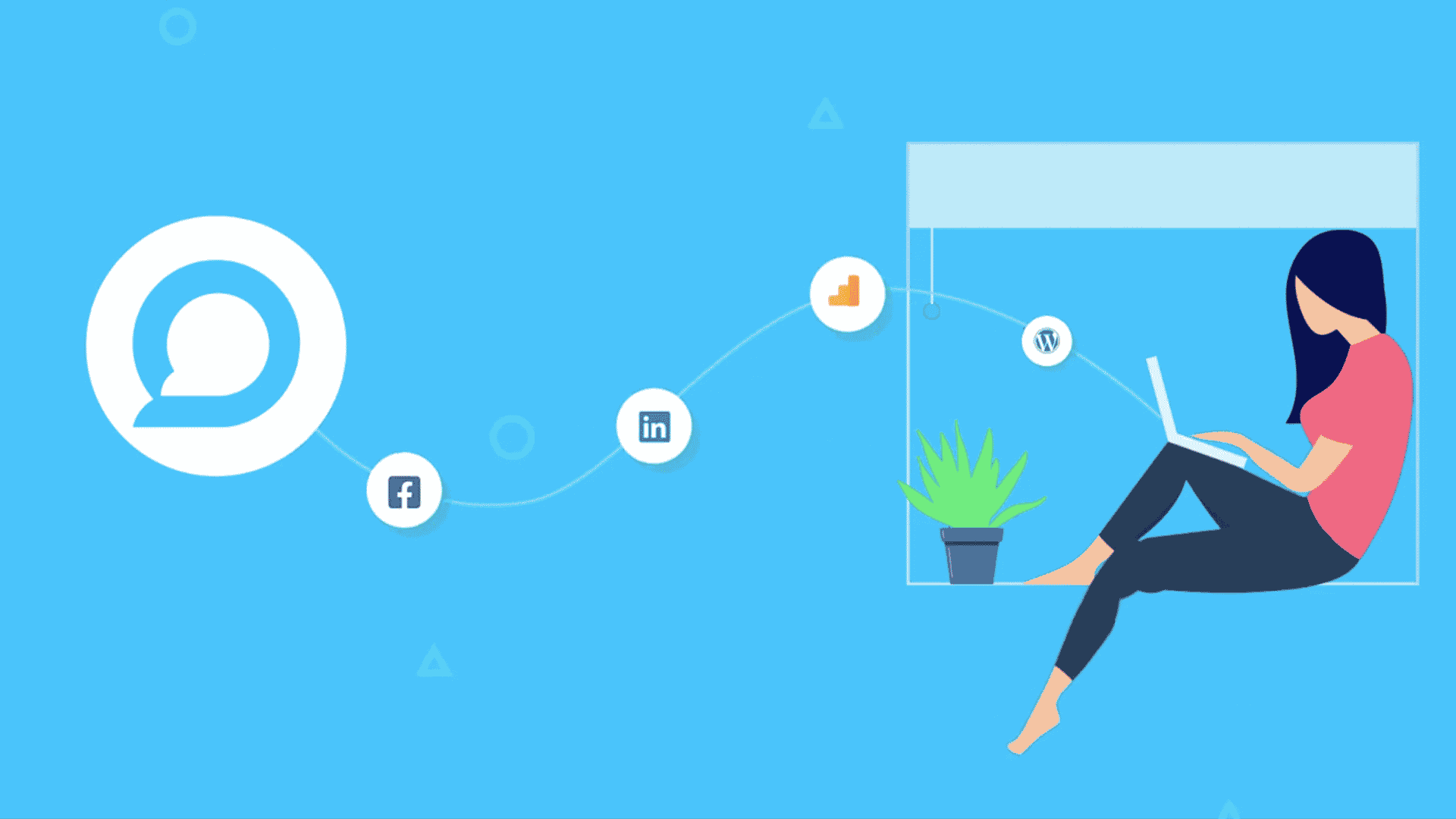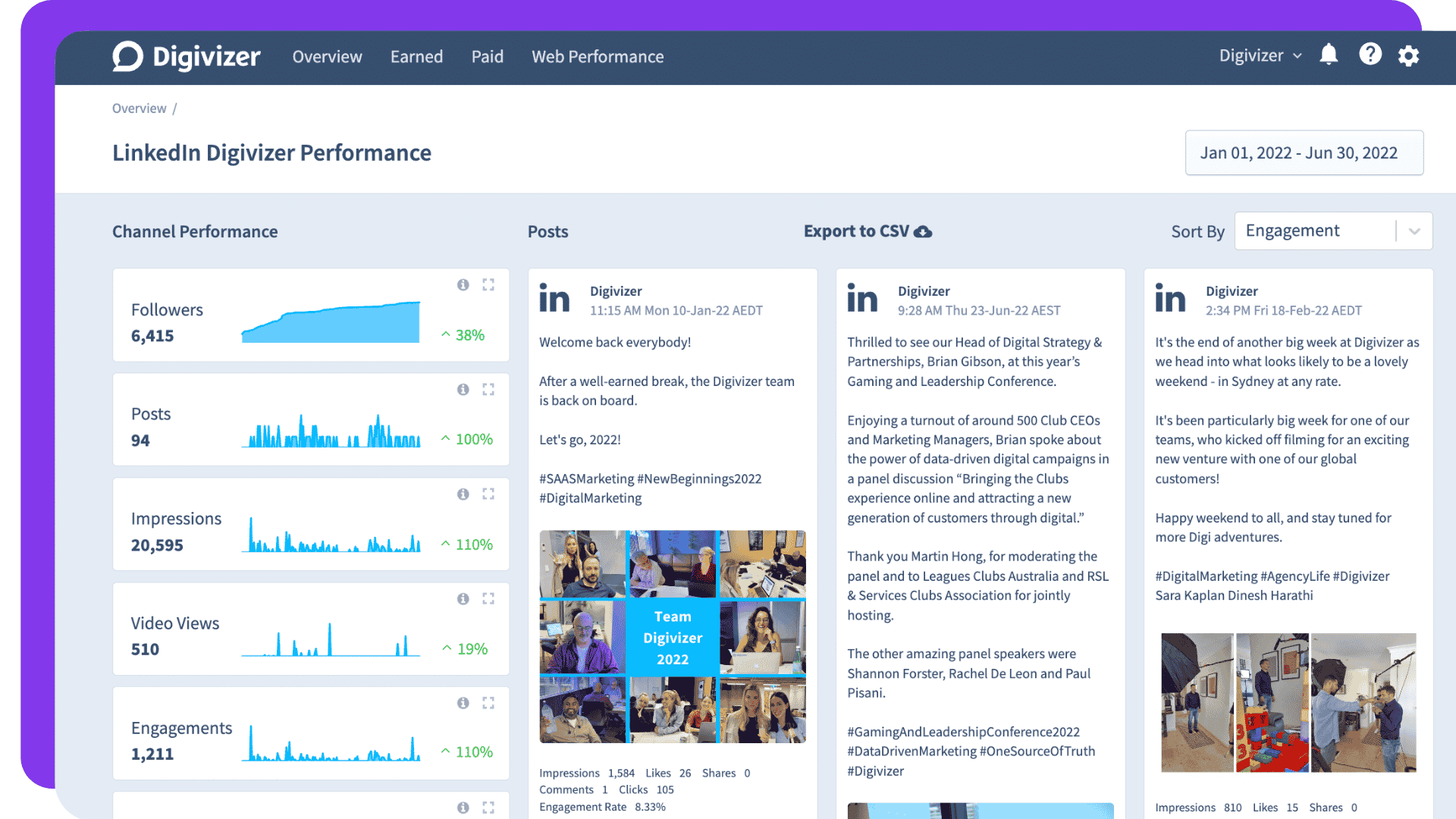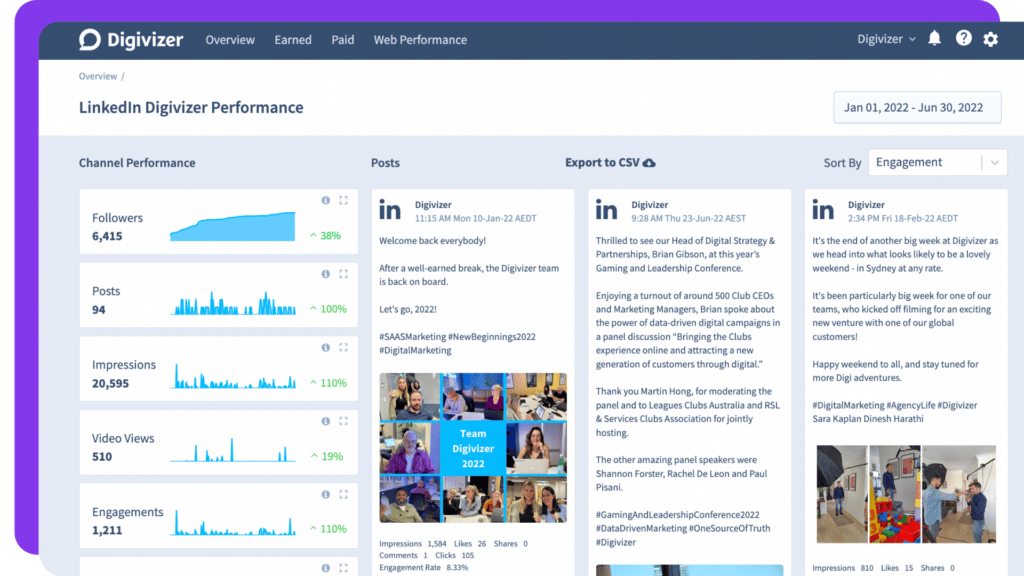 Impress your clients with a killer digital marketing strategy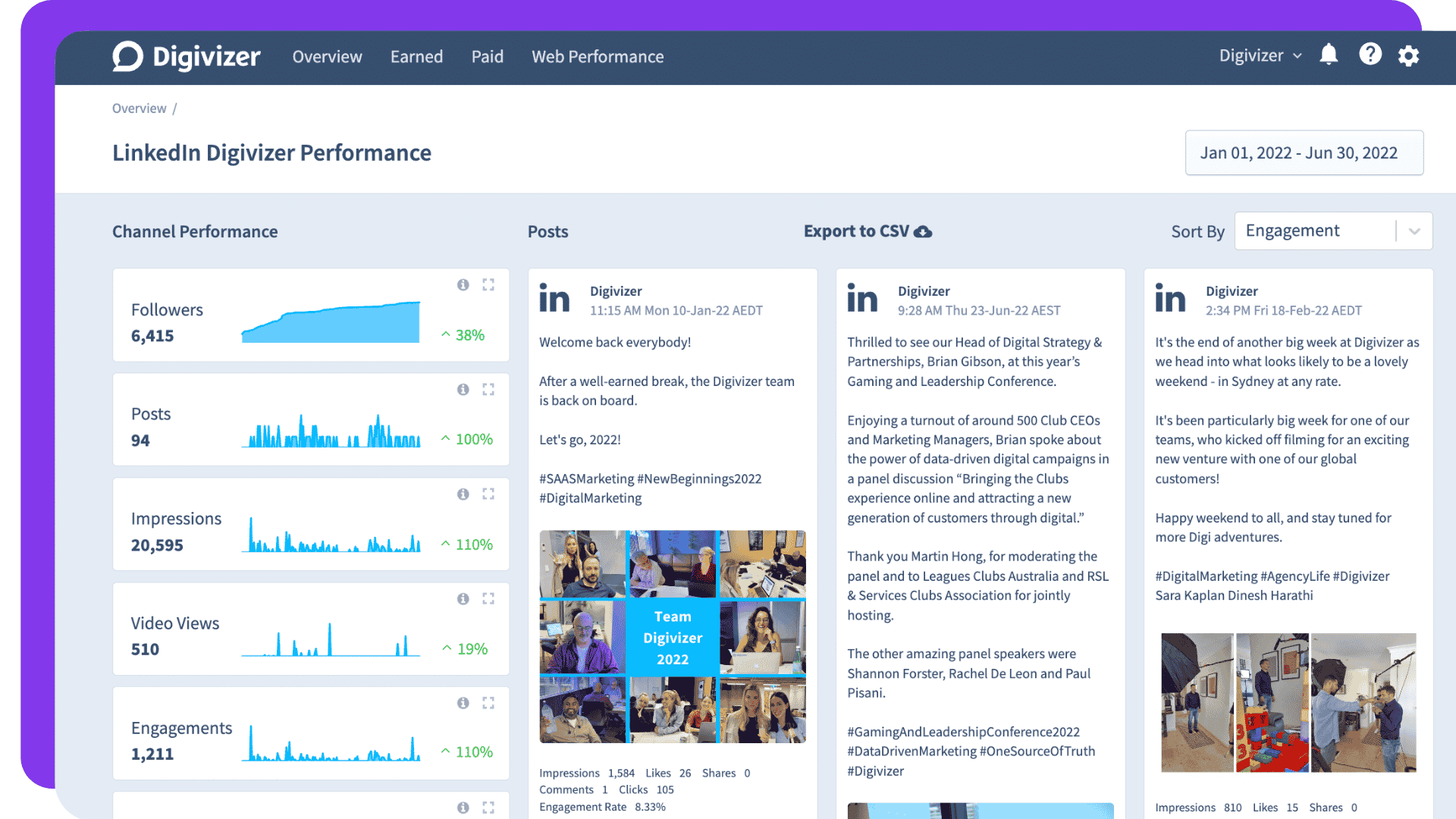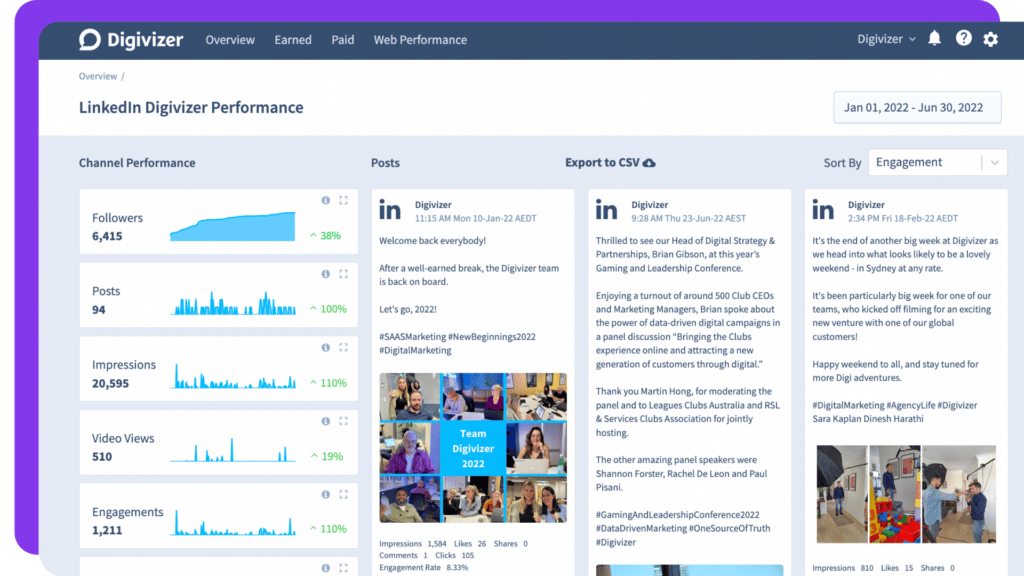 Enable your content marketers to create powerful data-driven content strategies by monitoring top-performing content across all channels.
Track the volume of website traffic, goal competitions and revenue each social channel is driving.
Compare the success of your client's organic versus paid campaigns across your agency tools including email marketing, landing pages, referrals, search engine and social media.
Make better decisions on utilizing your clients budget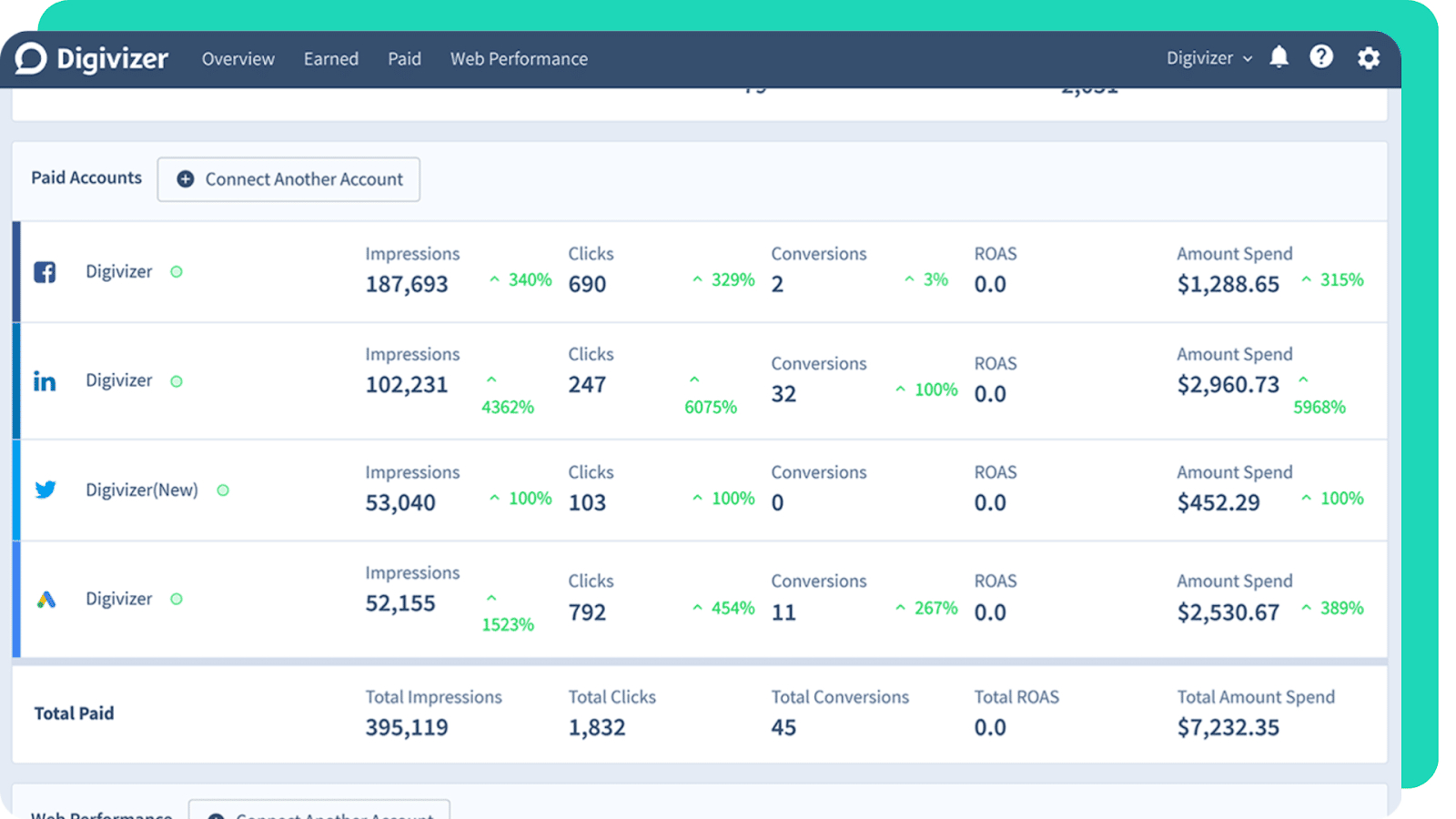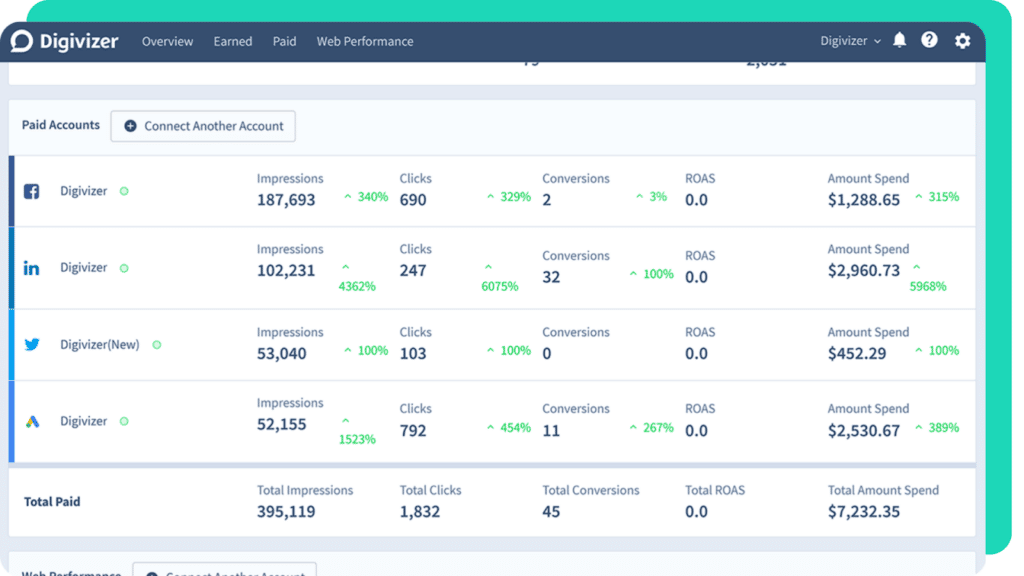 Enhance all client reporting with apples-for-apples comparison across all paid media channels.
Drill down from campaign to advert level to see the performance of your clients' paid media funnel in-detail, right down to the search copy and ad creative.
With Digivizer, you don't need to be an expert to drive down cost per click, increase engagement or sales. Easily monitor your clients' ROAS, conversions and paid media budget in seconds!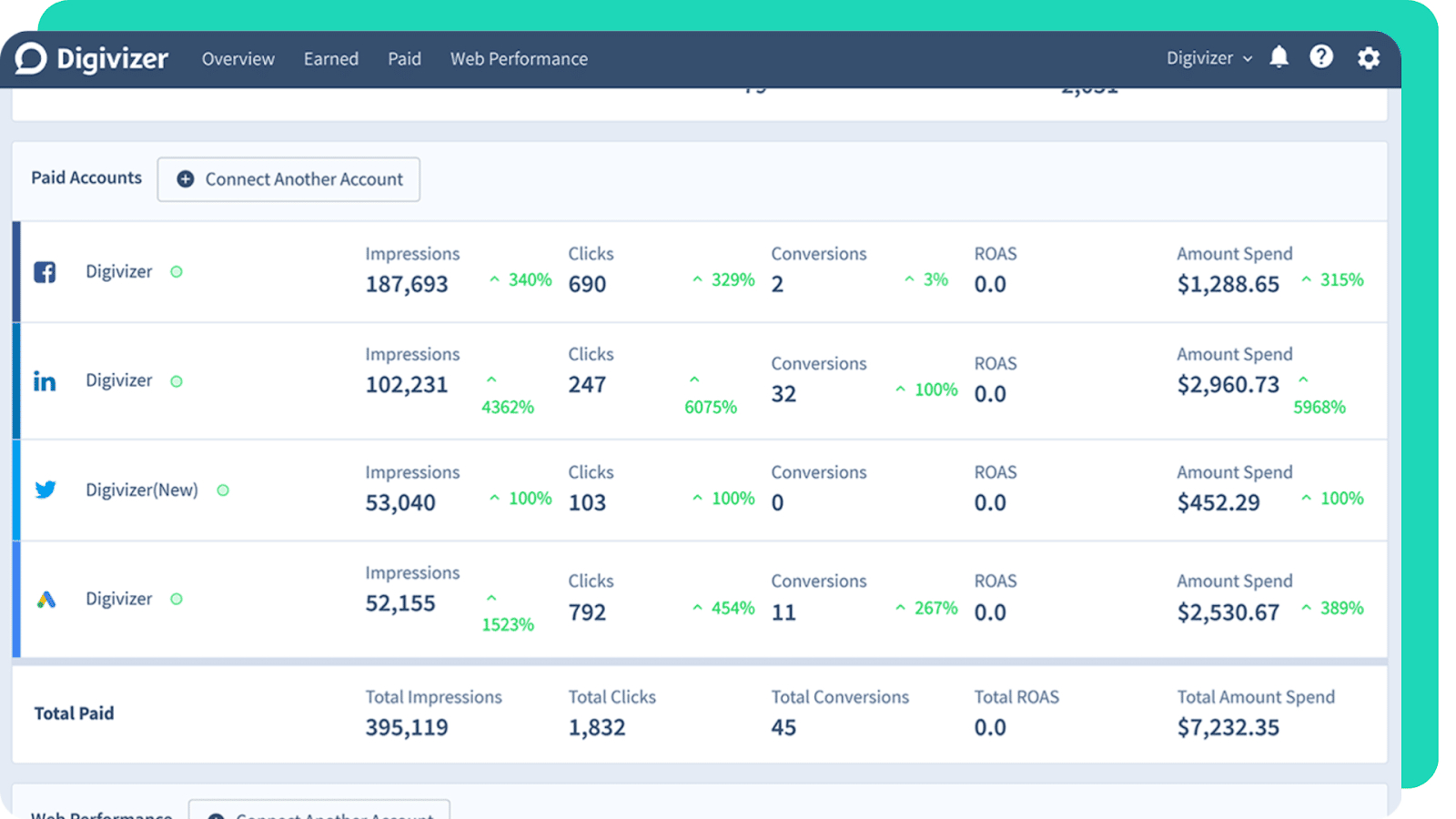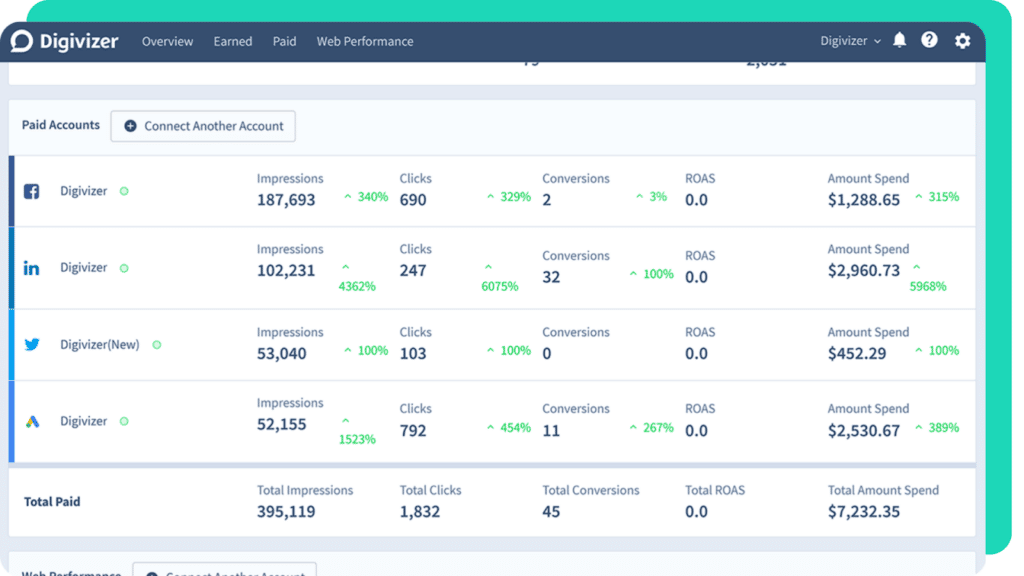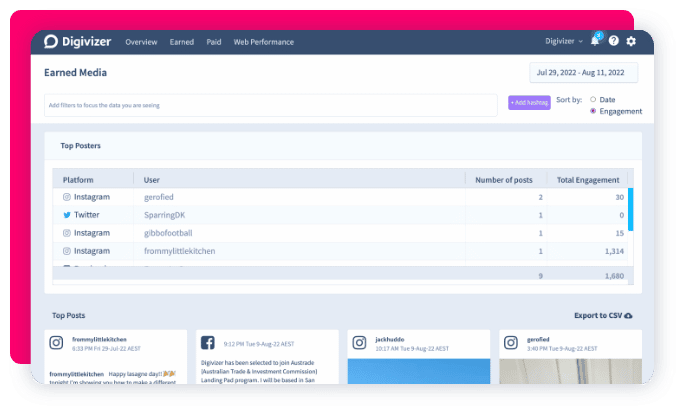 Track your clients earned media exposure and engagement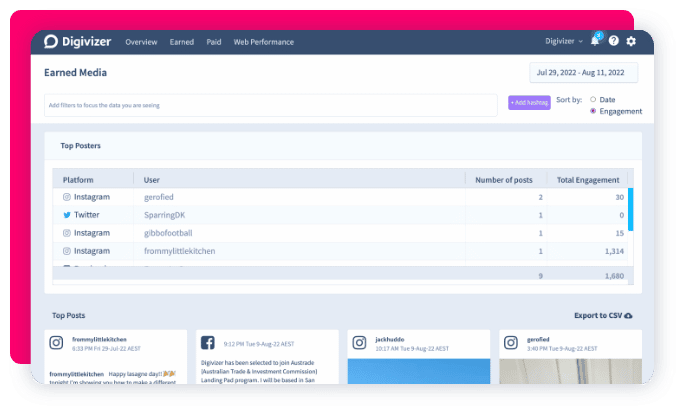 Manage and build your client's online community through social media mentions, and influencer & hashtag tracking – all in one place!
Skyrocket your client's share of voice with agency tools to track brand-relevant conversations and industry competitors.
Respond fast, every time, to build more meaningful relationships with customers.
It's easy to get started.
Global brands that trust Digivizer


















































































































One scalable insights platform for Agencies of all sizes.
Arm your team with high-value insights to drive performance and make reporting and engaging your clients easy, all at one low-cost per month. With the Digivizer for Agency plan you get 8 brand spaces bundled from the start (each representing US72 per brand space, a saving per brand space of US$17 per month). You can easily manage and scale with Digivizer as you grow.
Pay annually and save 15%
Digivizer
Free
Ideal for anyone wanting to understand the value of digital marketing insights.
4 Social, paid or web accounts

Weekly and monthly reports

Help Center docs and videos
Digivizer
For Teams
Ideal for growing teams focused on building more together.
US$
89
per month, billed monthly
20 Social, paid or web accounts

Weekly and monthly reports

Help Center docs and videos

Additional reporting options
Digivizer
For Brands
Ideal for companies wanting to maintain brand health and create strategies for growth.
US$
379
per month, billed monthly
10 Hashtags per Brand Space

20 Social, paid or web accounts

Weekly and monthly reports

Help Center docs and videos

Additional reporting options

Track up to 6 Influencers

Quarterly insights sessions
Digivizer
For Agencies
Ideal for Agencies wanting to access all digital marketing analytics in one platform and impress your clients.
US$
579
per month, billed monthly
12 Hashtags per Brand Space

50 Social, paid or web accounts

Weekly and monthly reports

Help Center docs and videos

Additional reporting options

Track up to 50 Influencers

Quarterly insights sessions
Try Digivizer for Agencies Today
To find out how Digivizer supports agencies and consultancies who manage multiple brands and clients, book a consultation today.
Why our customers love Digivizer
"We needed visibility of our digital marketing results. Digivizer is easy-to-use, provides transparency and real-time insights to create positive team decisions and highlight improvement opportunities. Happy to recommend Digivizer"

"Digivizer delivers cut-through results across social thought-leadership programs for regional executives, ambassador and targeted social programs, built using insights from Digivizer's real-time analytics platform."
"Digivizer lets us identify key influencers in our target segments and clearly understand what our consumers are saying about our brand."
"We use the Digivizer platform to measure performance so that we can continuously understand and fine-tune our programs across multiple channels. "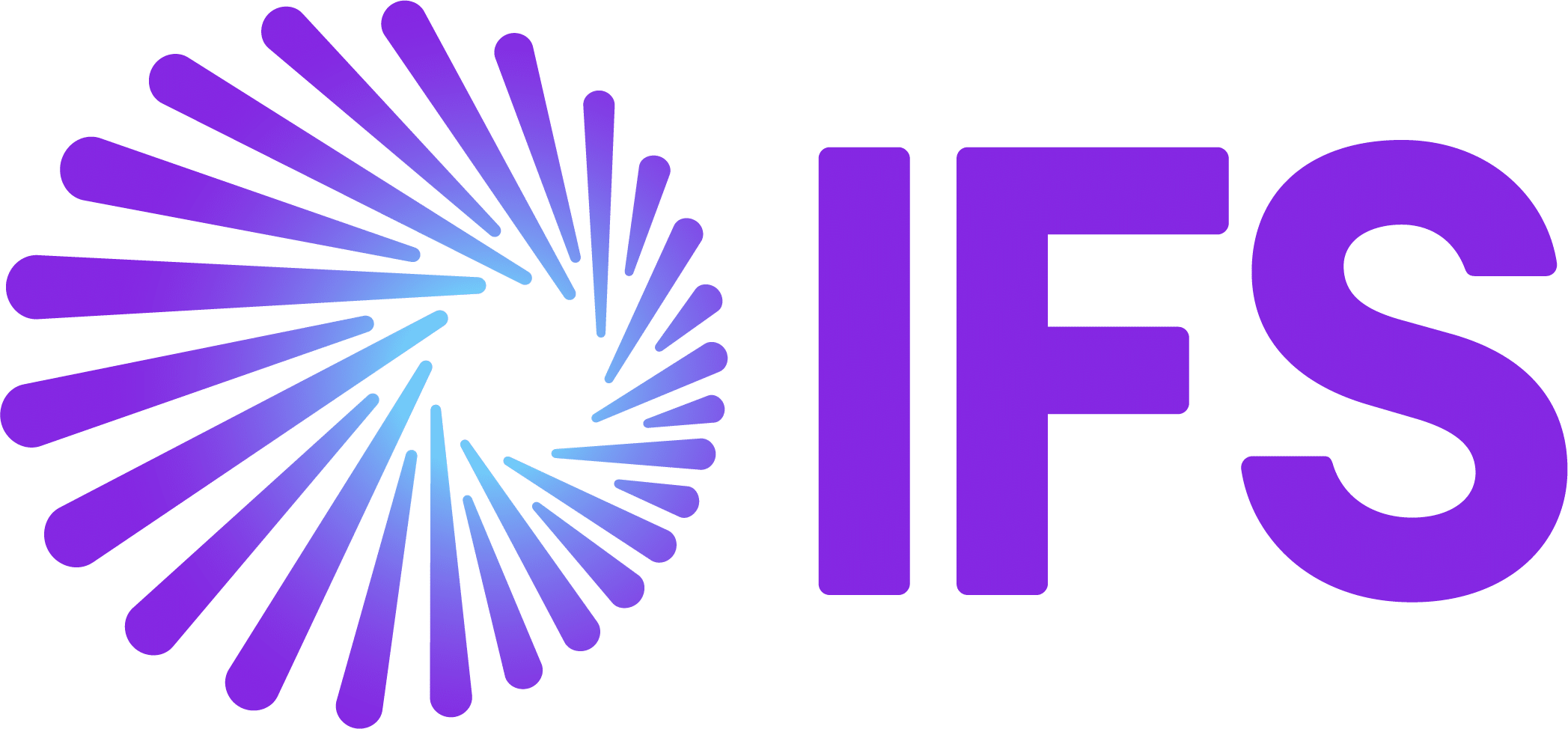 "With Digivizer it is so easy to connect all our social and paid accounts, and get a total end-to-end view of all our key performance metrics. 10/10 for value."

"Digivizer's insights they share on creative, social, paid media and our website gives me confidence to invest in digital and grow my business. I strongly recommend them."

"I love that I can see exactly what potential buyers are searching for and what is driving my engagements, conversions and costs."

"The Digivizer platform provides the ultimate transparency in what we're doing digitally, from paid to actual web performance, so that we can make data driven decisions. Highly Recommend Digivizer."
"It's so powerful to have all our insights in one platform. Digivizer helped us grow our online sales to form a significant part of our revenue and future strategy. Strongly recommend Digivizer for your business, 10/10."

"Having all the main social, search and web data in one central performance platform in Digivizer enables almost instantaneous diagnosis of strategy and decision making on which activity is delivering the greatest ROI."
"The speed at which we see insights enables us to rapidly adjust our messaging to drive greater engagement and outcomes."

"Digivizer insights enabled us to increase sales from 30,000 units to 3 million in just 13 months. To have that power is amazing and it's so affordable for small businesses."
"We are already reaping the benefits of being able to more effectively search for user-generated content and potential brand ambassadors."

"Our best revenue in 4 years, thanks to Digivizer real-time insights. Web revenue increased 117%, ROAS was up 324% and web transactions 83%, giving me confidence to make digital investment decisions."

"Real-time content, social, search and web insights gave us confidence to invest in digital and >400% growth in online bookings. Digivizer is an essential part of any marketing mix. 10 out of 10."

"I strongly recommend Digivizer to all businesses who rely on digital to grow their business."

"Digivizer makes it easy to keep an eye on what is working and what isn't, across all of your platforms, so you can tweak campaigns and keep the numbers heading in the right direction."

"The Digivizer platform makes everything so simple! 10 out of 10"

"We strongly recommend Digivizer for their data-driven approach and their technology platform, which really delivers on their commitment to delivering measurable business results. We really see Digivizer as an important part of our growth."
"It lets you compare two Facebook ad accounts (run by two different agencies) and sort and filter campaigns - it's invaluable."

"Digivizer's technology helps us manage our integrated digital marketing because we can access data and reporting in real-time."

"Digivizer helps us create differentiated propositions for our clients, capturing the real-time value of social data in a structured and efficient way."

"We love being a customer of Digivizer and how they help our own business thrive and grow by leveraging key insights to achieve greater ROI."

"Great platform, very easy enough to navigate. Love that everything is in the one spot for tracking performance! Oh and all the help has been 5 star."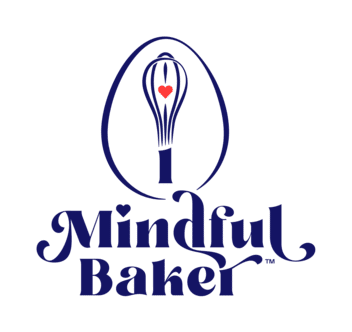 "Digivizer are a wonderful, committed team and business who are seriously good at what they do!"

"Digivizer's insights, affordable platform and support team, have helped us build and understand our go-to-market social media strategy and make a bigger impact."

"I love Digivizer as it provides a centralised location for social and search media data and provides good usability and oversight to help my decision making."

"Was a joy to partner with Digivizer team on some impactful work. An example of what a 10/10 experience looks like!"
Need to know more? Explore some helpful information here:
Register for one our 30-minute discovery webinars for an introduction to Digivizer. Learn how you can save time & money by accessing all your digital marketing analytics in one platform.