Back in 2002, in the now-mythical early era of digital and online marketing, marketing guru Seth Godin published his best-seller, Purple Cow. He introduced the concept of the Law of Large Numbers: no matter how large your investment and impressions, if you rely on sheer volume, and only get tiny fractions of viewers clicking, you still get zero sales.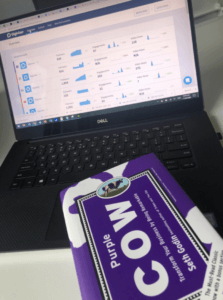 We agree – even in this age of platform machine learning.
Blasting ads at unknown prospects is still blasting ads, and you end up spending a lot more than you need to, with little or no benefit.
Instead, we recommend you start with micro-segments that allow you to test your creative (and different creative and offers) with those you hypothesize really care about what you want to say. Once you know what works best, you can turn on your budget to perform for you, setting frequency measures, and keeping an eye on audience engagement to ensure you don't fatigue your audience or miss the mark based on fast-changing environments.
The other key message of Purple Cow was to ensure that what you produce and share is remarkable – that it causes someone to stop and remark how different and interesting it is. Getting people to stop and consider you is, after all, the key to marketing.
That principle remains today. You need to think entirely from your customer's perspective, showing you know them and making what you have to sell interesting and relevant by making it remarkable.
What's different today from when he wrote the book is that it's now easier to engage with customers and take action to meet their needs. That's desirable: you don't want to pay to reach them, only then to fail to engage them or get them to act.
Of course, when you get them to act, you can keep testing what you have planned next in your digital funnel until you have taken them from lead through to customer and repeat buyer. The key here is ensuring you have integrated tracking so you can easily see what is working for you, where and when it works, and with whom it works.
We continue to deliver results for clients that prove that taking this approach delivers results. One example is an educational institution we've worked with now for over 12 months, which uses a data-led approach to target prospective students for its courses.
The institution's goal is to use marketing to drive qualified leads, applications and enrolments, tracking these from digital and other sources through its marketing and sales funnel. By connecting every part of its go-to-market model, course applications went up 400% and enrolments went up 118% over 12 months. At the same time, it reduced Facebook ad spend by 24%, increased Facebook ad reach by 193%, and increased Facebook click-throughs to its website by 540%. And it continues to target countries that deliver the best conversions.
Nearly 20 years on from the publication of Purple Cow, digital marketing doesn't need big numbers, just targeted numbers. As long as you feed them digital grass, your digital marketing programs will remain purple, stand out – and win business.