Do you feel there is still a lot to learn in business? Unless your last name is Zuckerberg or Gates, most of us fall into the category of wishing secretly that someone will come along and give us some pointers. It's hard to know where to go for help and it's even harder to dedicate a large amount of time and money to self-improvement.
Hungry for some hacks to improve your business?
Where to get business hacks in October
Every year the NSW Government hosts NSW Small Business Month to help support and promote business. It's a month of varied events, but there are two events we want to draw your attention to. Both are free and only take up three hours of your time – the ultimate in business hacks.
How to Drive Sales from Search and Social
This event is for anyone who wants to increase the ROI on their digital marketing spend. To make sure you get the best advice possible, Google's Aleksandra Wocial will be there to show you how to grow your business using search. You will also learn from Digivizer's Emma Lo Russo, on how to make better marketing decisions by reviewing your search and social performance in real time. Not only that, but you will learn from Henry Reith from Oh Crap: the company grew its online stock turn from 10,000 bags to a staggering 1 million, by optimizing its digital marketing.
Better still, this three-hour masterclass is FREE, and everyone who attends will receive a $150 Google Ad Words voucher to give your digital marketing budget a boost (details below).
Unlocking the Big Success Secrets for Small Businesses
Ever wanted to get hacks from people who have been seriously successful in business across marketing, people & culture, finance, risk management and growth? Then this event is for you. You will be able to learn (and ask) everything from people like Gavin Heaton, founder of Disruptors Co, who helped a client increase leads by 200% in one month. Leanne Berry, founder of Love Your Numbers, saved one of her clients from a $80,000 ATO tax bill, by making savings across their business. Vanessa Giannos, CEO and founder of The HR Experts International, helped a company increase its average sales rate by 500% per day. And they are joined by Carole-Anne Priest, CEO and co-founder of Imalia, who helps turn business insurance into business growth.
This three-hour masterclass is FREE, and everyone who attends will receive a $150 Google Ad Words voucher to give your digital marketing budget a boost (details below).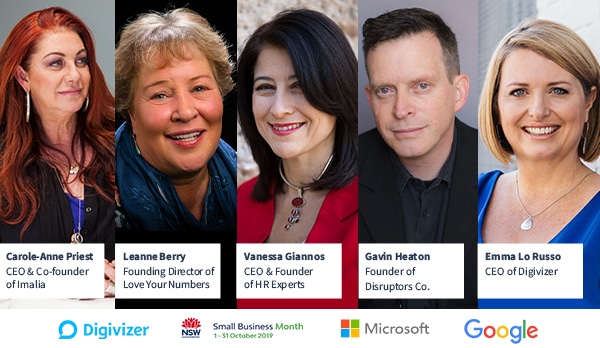 Where you can get hacks everyday
Digivizer helps businesses every day make the most of their marketing spend. Our unique online analytics platform allows you to see how your owned, earned and paid search and social media are performing in real time. Everyone who attends these events and opens a new Digivizer account will:
Enjoy 30 days of retrospective data plus 30 days free
Receive monthly, free digital marketing strategy sessions from Digivizer experts (if you are spending in digital media)
Take advantage of a lifetime per month subscription of $45 providing you continue beyond the initial 30 day free period
For all businesses who are new to Google Ads and open an account within Digivizer and spend $50, will receive a $150 voucher
Those who register and attend go into the draw to win a Google Home. Conditions apply.
Book a demo here or start a new Digivizer account today. Start benefiting from glance marketing.
And may you always be hungry for hacks.