Author: Alan Smith / Head of Strategic Business Communications
New research from the Pew Research Center leads with the headline that: "Western Europeans under 30 view news media less positively, and rely more on digital platforms, than older adults."
Much of these research results seem at odds with each other, with important differences apparent between the eight European countries surveyed, and the ages of the respondents. The rest of the world is not covered in this report.
The five headlines from the research are:
Despite overall doubts about the news media, younger Europeans continue to trust specific outlets
Younger Europeans think the news media is performing worse but agree with older adults on its importance to society
Younger Europeans are less likely to turn to the public news media but more likely to rely on social media and newspaper brands
Younger Europeans are far more likely to get news from social media
Younger Europeans are less likely to get news from legacy platforms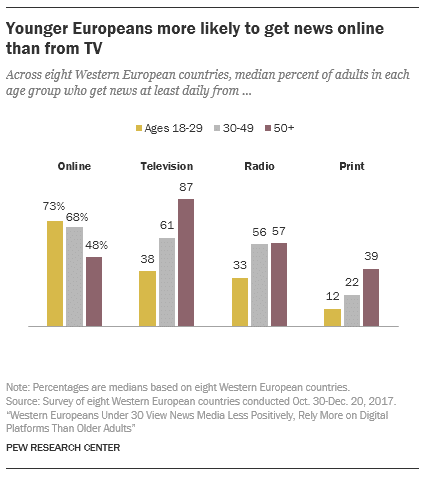 Few surprises here, perhaps, with lots of detail to consider.
RELATED ARTICLE: Digivizer Platform Updates: Now you can see your most popular posts by engagement
So what are digital marketers and communicators, especially in SMBs, to do with this information? How should they consider their digital media?
Whatever those answers might be, they are missing from the Pew Center Research. So we offer the following five strategy elements that we believe can usefully underpin any digital program:
Create a digital strategy before you start any digital program. Alongside inputs on growth, business objectives, intentions around purchases and brand, include analyses of your audiences – where they are and the journey you want them to take (i.e. your sales funnel).
By all means search the web for research such as Pew's especially for regions in which you are active, but also a tool lets you analyse your audiences. Tools such as our own are now affordable by business of any size. Previously locked out of most digital performance tools by price and complexity, SMBs can now play.
Understand the content your audiences consume: do they prefer video? Do they watch through to the end of online content, or do they bounce between channels? What are typical click-through rates to company websites?
Consider the balance between paid media (content you pay to appear online), owned media (content you originate or allow on your own platforms) and earned media (content about your company and brand written and shared by others).
Test, iterate and test again.
RELATED ARTICLE: New Facebook Ad Placement: Facebook Stories
One thing the Pew Research does show is that media is changing, and the way we consume media is changing as well.
And at the centre of productive engagement between organisations and customers is that trust has to be earned. For example, LinkedIn asserts that 10 pieces of content are consumed by potential customers before a purchase is even considered.
Using tools to understand who's talking about your brands the most will help you. Measuring the performance of your digital marketing will help you deploy budget where it's needed most.
In short, know how to plan to win, by first knowing your audiences in all their various details and segments.
Our Platform
We're working to ensure the best of our technology is made available for the lowest per month price so it can be available to all businesses. For US$89 per month, you'll have all your owned, earned and paid social and search media data and insights at your fingertips.
You deserve to get the best out of your digital spend and we have the tools that remove the stress and pain from the process!
We remain committed to serving all businesses. Allow us to serve you!