Just as social media algorithms and strategy change all the time, so do social media job titles, descriptions and responsibilities. Two key in-demand skill areas for paid social and search jobs are: managing/optimizing paid social media campaigns on social networks like Facebook, and managing and optimizing ad campaigns on search engines like Google. 
We're here to help you decode the job titles trending on Indeed, Seek, Jora and other social and freelance networks. Whether you want to…
work in social media full time or part time
engage in paid social media and/or paid search jobs from home or from the office
create content, do media planning and strategizing, manage teams, or work face-to-face with clients and customers
or any combination of the above!
… your job search should start with knowing the difference between certain jobs that sound similar. 
Let's start at entry-level! Along the way, we've linked to helpful resources that should give you an idea of the general responsibilities of the role. Of course each job description and workplace will have its own nuances, but this gives you an idea of what to expect. 
1. Paid social media intern, assistant or trainee
Internships are a great way to get your foot in the door in the social media and digital marketing industry. These days, you won't be expected to fetch coffee or photocopy, but rather put to work on many tasks and be encouraged to shadow a variety of employees to pick up skills like content creation, editing, managing professional or branded social media accounts, customer service and community management, and more. 
A good internship will give you the chance to experience every part of the social media team, so you can see where your passions and skills really lie. When it comes to paid social media in particular, interns will be learning the basics of creating ad campaigns on platforms like Facebook and Instagram, and analysing the results from those campaigns in Google Analytics, in-built social channel's Analytics or advanced social analytics platforms like Digivizer. 
2. Paid social media content creator
Content creators are an important part of organic and paid social media teams. The best ads on social media have powerful visual imagery in terms of both photos and videos, and compelling copy that entices customers to click now, sign up now, buy now. These things are skills that can be learned and honed, and as such, there are many other roles on this list that can encompass creation. 
For example: often specialists of all kinds will have hands in the content creation process; managers and strategists will ideate, edit and approve content if they're leading teams, or straight-up create it themselves if they're working in a smaller business; an analyst's recommendations can be important for improved ads next time around. 
For more about those roles, keep reading!
3. Paid social specialist
When a company is large enough to have more than one paid social media role in their team, a paid social media specialist tends to have more of a focus on day-to-day operations of paid media campaigns. It's often a junior role with an exclusive focus.
For paid social in particular, a specialist will implement, optimize and analyze the campaign performance of all active ads on Facebook, Instagram, Twitter, LinkedIn and more social media platforms depending on the business – places like Snapchat, Pinterest, Tumblr, Reddit and so on. A paid media specialist may assist the paid social strategist or the paid social manager with paid media strategies and audits, and with reporting. 
They might also be called a "digital marketing specialist", and you'll often see titles like "e-commerce marketing specialist", "Facebook ads specialist", "Google ads specialist", "SEO specialist" or "website and social media specialist", just to name a few. Obviously, these titles won't all encompass the same responsibilities as someone working on paid social media in particular, but they're good to be aware of if you have or want to develop skills in those fields too.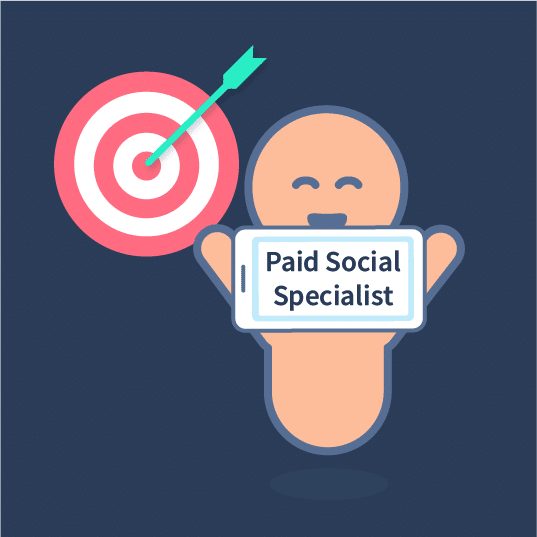 4. Paid social analyst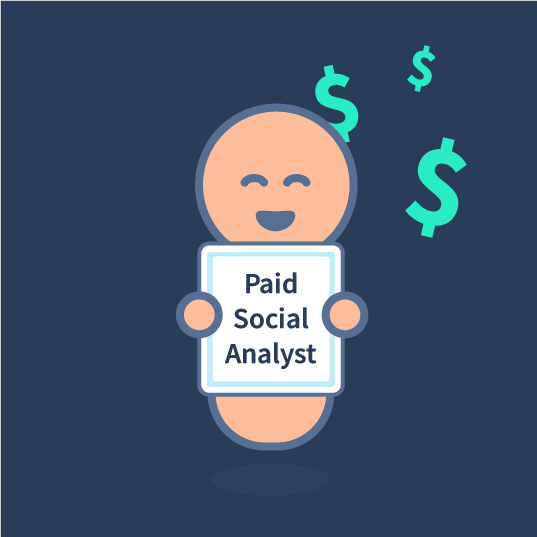 This position can have all kinds of titles, with varying levels of seniority, but you'll always find 'analyst' in there. As all marketing roles become more and more data-driven, it's only going to become more important for those working in paid social media to have good analytics skills and tools themselves, or have a partnership with a strong analyst team.
Social media analysts know where to find the data, how to shape it so it's legible to others, and best of all how to extract insights from numbers and graphs to make recommendations as to improved performance. 
Those implementing campaigns and those deciding on budgets may want weekly, monthly or quarterly reports, but whatever the frequency, social media is always providing data that must be captured and examined. Even a small gap in data can be disastrous, as any analyst will tell you!
5. Paid social manager or marketing manager
"Paid social media manager" or "marketing manager" is a catch-all title, especially in smaller businesses. The role's responsibilities constantly change, but essentially, a paid social media manager is strategic in nature. They typically have at least 3-5 years experience  under their belts.
They are responsible for the execution of their company's paid social media campaigns or even devising their entire marketing strategy – anything from creating campaigns, to budgeting for them, to planning and strategizing them. They may need skills in paid social campaign management, but also in things like e-commerce platforms, search engine advertising and search-engine optimization (SEO), and customer relationship management software (CRM).
A marketing manager can pretty much do it all when it comes to managing marketing! They can work alone or as part of a team, directing others (like artists and copywriters) to bring together cohesive advertising and marketing campaigns across various social networks, websites and search engines. 
6. Paid social strategist
The paid social strategist or content strategist (which encompasses paid and organic content) plans their organization's strategy around marketing, advertising and finding leads using social media. This is often a mid-level role that incorporates strategy across all social media platforms.
Similar to the specialist, this role evolves when a company is large enough to have more than one paid social media role in their team. Other titles that you might see pop up on Indeed, Seek and other job search websites include "Associate strategist" (implying you're working with more than one), "Social media strategist" (might be organic as well as paid), or "Google Ads strategist" (where you're expected to focus on search engine ad strategies like pay-per-click campaigns and website and search-engine optimization, but will probably have to interface with social). 
A strategist will keep an eye on the performance of all existing content and use those results and their expertise to improve future released content of all kinds, including ads. They are typically the ones responsible for reporting a return-on-investment to the higher-ups in the company. 
7. Digital performance marketing manager
"Digital marketing manager", "digital manager", "digital performance manager"… there are lots of ways this title can be remixed. You might also see growth mentioned, as that's often what this role is geared towards: looking at existing performance of ads and digital content, and improving it. This role is typically mid-level to senior and focused on online marketing channels. 
While this role doesn't specifically mention paid social, awareness and management of paid social media campaign results often appears under the responsibilities and expectations for the job. Basically a digital performance manager focuses on all aspects of outgoing digital media, like ads on social and search, organic social media posts, websites, newsletters and more, and the results that arise from those. They then work on optimization of performance to get better results.
It's important to note that "manager" often means that you'll be managing a team. But this isn't always the case with marketing managers or digital performance managers – they stem more from the school of "account manager", where manager means that they manage performance and results, relationships or the production of content, more than manage team members. But it's not uncommon for this role to take a position of leadership, too.
8. Paid social executive
If a company is looking for a paid social media executive to join their ranks, they're looking for a broadly skilled decision-maker to analyze the market, have a firm handle on all marketing and advertising activity in the company, and report to the CEO. This is obviously a senior role!
A chief marketing officer executive role is responsible for all kinds of marketing, including social media marketing. Meanwhile, narrowing it down to a paid social executive implies the company has specialized its top marketing roles in the hopes of making the most of their talent. 
These roles typically set the budgets, authorize and oversee advanced market research, and supervise the design and messaging of ads and marketing of all kinds, including social media marketing, to ensure that it is coherent and conducive to the company goals. 
9. Head of paid performance or head of paid social
This is another title that you might see popping up on job search websites that is new and trending. It's worth separating out from the paid social executive because this title doesn't bring to mind the classic C-suite, but something more tech or startup-oriented. You might also see something like "social media director" that's around the same level as this position, or "head of social media" in general. 
However, much like the paid social executive, the head of paid performance could be responsible for leading a team, reporting to higher management, setting budgets and strategy, working directly with clients, and generally overseeing all paid advertising activity within the organization, such as in social media and search. 
The head of paid performance may participate in day-to-day operations and train staff, as managers often do, especially depending on the size of the organization – the smaller the business, the more flexible responsibilities all these roles take on. All hands on deck!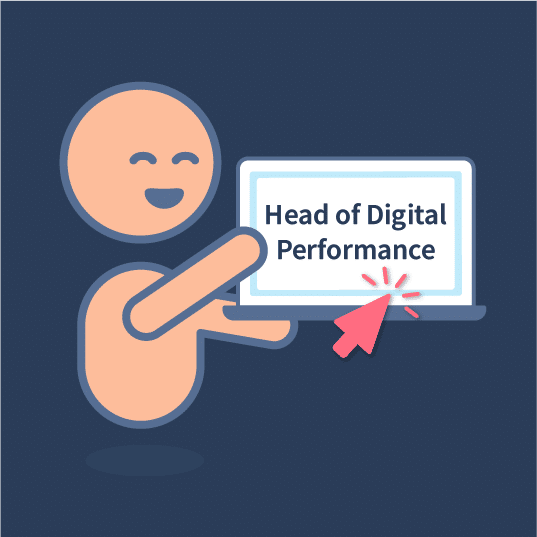 10. Paid social media ninja, wizard, rockstar, or gun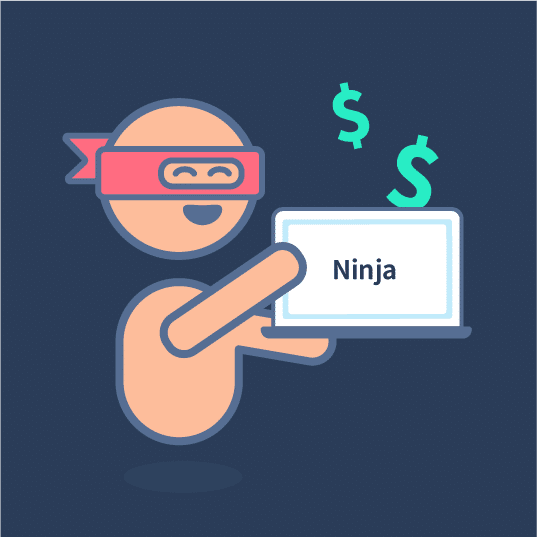 Finally, let's talk about the elephant in the room – tech slang! Often while searching for jobs in social media, either in the title or the description, you'll often see startups and agencies looking for ninjas, wizards and many more fantastic sounding people. While we're an industry with a great sense of humour and we would really love it if you brought fake nunchucks or a wizard hat on your first day, it's not a job requirement.
This kind of slang can pop up in almost any level of social media job. When you see it, often the organization is looking for someone with experience and enthusiasm. It can be entry-level, but it's typically a position with a couple of years of experience and results to back up your true rockstardom. 
Even if you don't feel like you're a ninja or a wizard, think of this job description like an invitation to really back yourself. You can do this. You have the skills. You're awesome!
BONUS: SEO Specialist & E-Commerce Specialist
We've put these roles in the bonus level because they're not always directly involved with paid social media, but they are absolutely key in the industry. Often if you're an SEO Specialist or an E-Commerce Specialist, you're going to be working with Paid Social Specialists as part of an organization's holistic marketing strategy. 
Search engine optimization and e-commerce are also areas that are important in online marketing advertising and worth training in, considering how many businesses now have websites and online stores, and need to advertise those websites and stores to their customers via social media and search engines. You'll pretty much always see the titles show up in your search results when you're looking for jobs in social media.
Whether you're hoping to get into the field of paid social media, or you're looking to stretch your wings and wondering what titles you should be searching for, this list has something in it for you. 
Now, get out there and set some job alerts!